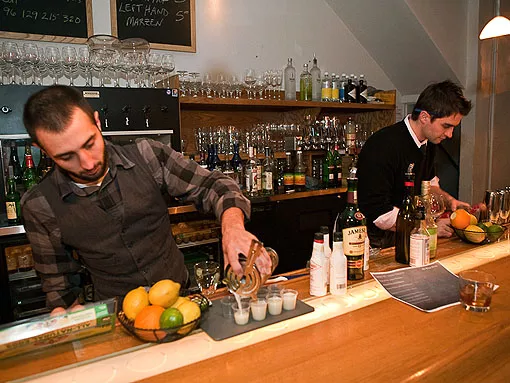 Stew Smith
Nate Selsor of Monarch and TJ Vytlacil of Flamingo Bowl at the "Blood & Sand" Event
At
the "Blood & Sand" event
at
33 Wine Shop & Tasting Bar
on Monday night, Angostura bitters were not used in any of the night's eight featured cocktails, although four other kinds were. The event was sponsored by
Pernod-Ricard
, and as such, each cocktail showcased at least one of their brands. The drinks were $8 per, with proceeds going to promote the new St. Louis chapter of the
United States Bartenders' Guild
. Kind of like a really classy bake sale, with each of the participants (including Ted Kilgore of
Taste by Niche
) mixing up a different signature cocktail for the crowd.
My companion and I dutifully sampled them all. Although each was tasty, for me the standout was the Pastis Plenty mixed by Michelle Bildner of
Monarch
. Several of the evening's drinks featured absinthe, Pernod-Ricard's namesake spirit, but none so prominently as this one. Absinthe has a dangerous reputation, earned through the bad behavior of its enthusiasts, as demonstrated by Ernest Hemingway: "Got tight last night on absinthe and did knife tricks. Great success shooting the knife into the piano." (Some have surmised that it was absinthe that caused Vincent van Gogh to do knife tricks as well.) In modern times, the chief danger in mixing absinthe into your cocktails is in overwhelming the drink with its powerful anise flavor.
Indeed, the first sip of Pastis Plenty was like biting down on a black jelly bean. As that first impression faded, the cocktail distinguished itself from more commonplace mixed drinks. Apricot and maraschino liqueurs layered flavor and added complexity, lemon juice and Peychaud's bitters struck sour and bitter notes that balanced out the sweetness, and the presence of egg white gave the whole thing a pleasing viscosity and a frothy cap. This drink was served in a
coupe glass
-- the saucer-shaped, stemmed glass that champagne was once served in.
Each drink came in a different glass, some up, some on ice, always beautifully presented. The garnishes went beyond decoration, as in Chad George's take on a margarita with a rim of smoked sea salt and a flamed orange twist dropped in. The striking smoky scent and flavor lent a whole new dimension to an otherwise familiar drink.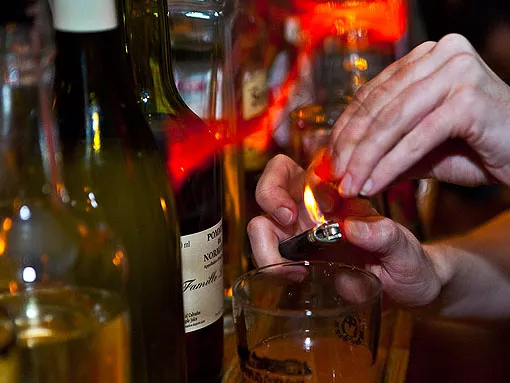 This kind of ingenuity and attention to detail was what the night was all about. In this column in May 2005, Randall Roberts
wrote about a New York speakeasy
that was pioneering the classic cocktail trend:
That Milk and Honey, a quiet bar that holds perhaps 40 patrons and has strict rules of behavior, can exist in high-rent New York is a shocker. Think what a good bartender with brains and passion could do in St. Louis, where the low cost of operation seems tailor-made for such an idea. Who's brave enough to attempt it? Who cares so much about cocktails that he or she will forgo the buzz for the sake of atmosphere?

The question is only louder now, as it has become clear that lack of talent is not the problem. But that talent has yet to find a home. Most of these skilled bartenders ply their trade in high-end restaurants, not bars. Even this fund-raiser was wedged into the small (charming, but small) confines of a wine bar on the night it's normally closed. My companion and I spent a good part of our evening awkwardly standing between tables, waiting for a seat to open up.
The problem that Roberts didn't foresee is that the cocktails have become the buzz. What's in danger of getting lost in the trappings of speakeasy culture -- the vests and ties, the lack of signage, etc. -- was once the point. More than four years later, we're still waiting for a place where drinker and bartender can interact beyond a shouted order, a low-key place where one can focus on a thoughtfully crafted cocktail and thoughtful conversation.
Alicia Lohmar is a south-city dweller and accomplished drinker, to which she credits her German ancestry and Catholic upbringing.