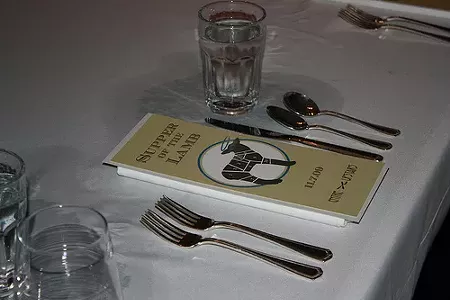 I'd read about underground supper clubs before. The
New York Times
has written
a few
features on them,
as have several of the food magazines. But I didn't have the in on any operating here in St Louis -- being a Novice Foodie and all -- and I was intrigued by the speakeasy-ish allure of the ultimate insider's dinner.
So when my friend Matt's wife unexpectedly couldn't attend an underground supper held this past Saturday, he offered his extra seat on Twitter, and I gladly threw my name in the hat. Lo and behold, I was the lucky one selected to attend the nose-to-tail "Supper of the Lamb" cooked by St Louis' Clandestine Chef as part of his Entre: Upstairs venture.
Entre: Upstairs is the more elaborate, upscale version of the Clandestine Chef's Entre: Underground meal series. I was particularly interested in this menu, as I never cook lamb at home, nor is it a protein I eat a lot. No reason -- I just never seem to gravitate toward it on a menu. I was excited to dig in.
I met Matt and his three friends outside the venue on a gorgeous Saturday evening. The savory aroma of our meal wafted out of the open window. We made our way past other patrons of the establishment, who I suspect were unaware that a dinner club would be taking place in the room next to their own cavorting. We were met by the sommelier of the night. I shook his hand and introduced myself by first name.
"Oh, Kelli Best-Oliver, welcome. Glad you could make it," he replied. Oh, honey. You know how to stroke this fake journalist's ego. This was a good sign.
Kelli Best-Oliver
The "Tater Tot" amuse
We were seated at a large table with several other couples: a doctor and his wife, two lawyers, two local restaurateurs whose names I knew (one of whom I wanted to beg for a certain dessert from their now defunct restaurant, but I erred on the side of manners) and a few other rabid foodies. While we introduced ourselves to one another, I felt myself getting nervous. Awkward small talk with people who undoubtedly know more about food than I do -- and I wasn't drinking.
This could be epically awkward.
I was wrong. Conversation flowed organically and easily, particularly once the food started coming out. Chris Bork, formerly of Revival, came in to assist the Clandestine Chef, along with a server and a sommelier. In addition to the meal, you could order a paired flight of wines or wine by the bottle. The Novice Foodie knows nothing about wine (yet), so the appropriateness of the offerings was a mystery to me. The food, however, was not. It easily spoke for itself.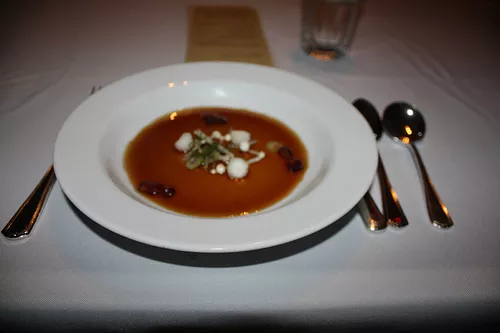 Kelli Best-Oliver
The lamb consommé
At each place setting sat a menu listing five courses. However, we ended up with ten as the night progressed, the chefs presenting us with several "surprise" courses. This could have been too much -- I've left tastings and felt uncomfortably full -- but both the amount of food and the pacing left me still comfortable (though stuffed) at the end of the night.
The amuse was one of those dishes that leave you wishing you had a full trough of 'em: "Tater Tots" made of potato and pâte à choux, sitting in lamb jus. This was a sign of good things to come. While I enjoyed the first three courses, it wasn't until the fourth course that I realized how special the meal would be. The fourth course was a gorgeous lamb consommé poured tableside into our bowls, which held lardoons, enoki mushrooms, daikon, fennel and fennel frond. I love broth, and I've had several great ones recently. This one stood up to all the others: rich and savory, with a touch of smoke. I wanted to lick the bowl several times over.
Kelli Best-Oliver
Porchetta with celeriac purée and brown butter
Dish #6 was porchetta: lamb shoulder rolled with chile flakes and olive oil andt then braised. It sat atp celeriac purée and brown butter, with a bit of fennel pollen and smoked sea salt. As one diner put it, this was your mother's pot roast and mashed potatoes, elevated.
The seventh dish, another "surprise" not on the menu, was ethereal. A deconstructed "Irish stew" utilized what one of the chefs deemed the most flavorful cut -- and, after tasting, I totally agree -- a seared piece of rump on a bread sauce made of brioche, with a potato pavé and a square of carrot butter on the side.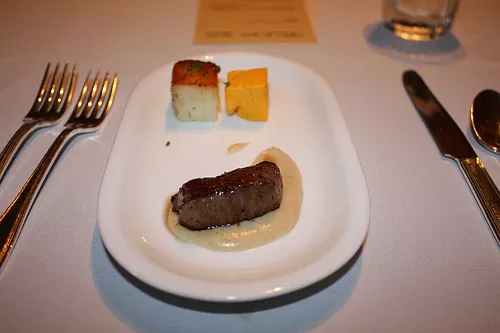 Kelli Best-Oliver
The "Irish Stew"
Whoa, Mama. I will dream about this dish for the rest of my life. The meat was savory, juicy and full of flavor, the bread sauce and potatoes were perfectly seasoned, and the carrot butter brought everything together. It looked like an orange marshmallow on the plate, but it melted in your mouth as a sweet lightness that brightened the other components.
Kelli Best-Oliver
Lamb loin with with roasted Brussels sprout purée, and Parisian potatoes in a lamb jus
The Irish stew, for me, would be impossible to top, but the remaining two savory dishes at least held their ground. Lamb loin with roasted Brussels sprout purée and Parisian potatoes in a lamb jus was hearty, and the Brussels sprout puree was something entirely new for me, and welcome. After nine courses of lamb, dessert had to be something somewhat light: pomegranate and beet poached pears with mascarpone vanilla bean ice cream and truffle honey. (You can find pictures of all courses, with descriptions, on
my Flicker page
.)
For a foodie, this intimate, communal dining experience is a wonderful treat. We talked about St. Louis food for the entire four-hour meal. I learned so much just from listening to those more knowledgeable than me, not just about food, but the restaurant business and the scene here in St Louis. I also learned that I can sit at the grownups table -- I was able to hold my own as the night progressed. When discussing our favorite places, I found that we all liked many of the same restaurants. I had tried many of the dishes my dining companions waxed about so poetically, so I definitely feel like my foodie experimenting is paying off. Besides, the night was just so damn fun. We had a lot of laughs while geeking out over the food.
If you're in the know, you can get on Clandestine Chef's mailing list. He posts a dinner on his website, and you leave a comment to reserve a seat at a given meal. The location varies; you get an e-mail the week of the event letting you know where to go and other salient details. However, what fun would it be if I just told you how to find him? I will tell you this: he is on the Internet if you know where to look. Do that and sign up for a dinner. Entre: Underground is a secret you most definitely want to be in on.
Kelli Best-Oliver is on a quest to become a full-fledged foodie. She chronicles her adventures every Tuesday. She writes about any damn thing she pleases at South City Confidential.