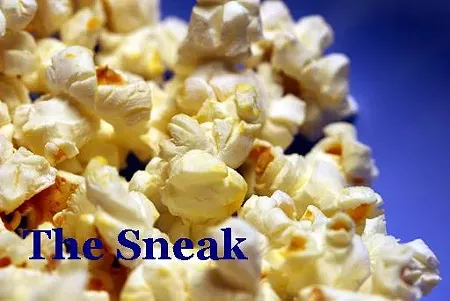 This weekend, I watched the Breeders' Cup from the hospitable living room of a dear friend, pizza in one hand, PBR in the other, yelling for some very fine horses to beat the spread. That's not particularly sneaky, though
sneaking food into horse races
is quite enjoyable. The topic of conversation kept coming around to how different the horses, crowd, and track facilities at Santa Anita were from our own dear Fairmount Park. The horses particularly are not the rib-addled, bow-legged, nearly-asleep ones you can take home for two grand from just over the river but rather astonishingly calibrated muscle machines a hundred generations in the making. Herein lies the overarching metaphor:
Sneaking Food Into a Regular Movie : Tuesday at Fairmount Park :: Sneaking Food Into the St. Louis International Film Festival: The Breeders' Cup

The event for which all my sneaking has prepared me -- and, hopefully, better prepared you -- begins this Thursday, November 12. Here are some tips to get you into marathon shape this week.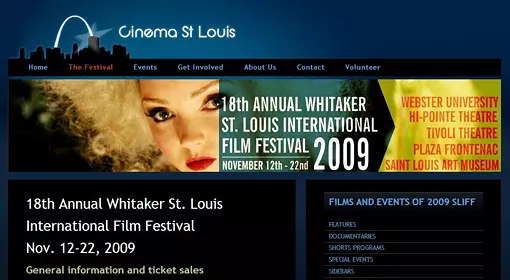 Screenshot: www.cinemastlouis.org
1.
Remember your mental game. Sneaking food into movies is the best thing that ever happened to film festivals. Consider the excellent Friday the 13th trifecta of the Shorts I collection,
Song From the Southern Seas
and
XXY
at Plaza Frontenac. 5 PM to 10:45? That clearly intersects normal human eating-time. But what are your options without bringing your own food? Missing the middle film so you can grab dinner? Bringing your own food and sneaking it into the film festival spares precious time and ticket cost so you can directly contribute as much as possible to the festival itself.
2.
Limber up before you go. Seriously aspiring to sneaking food into the International Film Festival requires more physical commitment than stuffing a burrito in your pocket and heading down to the multiplex. Since some shows may sell out, you have to be flexible about food temperature or take special precautions in your packaging to allow for the possibility of a delay. The safest course of action is to plan a movie menu where proper temperature is not important to enjoying the food itself.
Also, remember that this isn't just any matinee; You'll want to class it up a bit. Sneaking tote looking threadbare? Tie a large scarf low on one of the handles to give it both added bohemian flair and conceal the sharp corners of takeout boxes. The weather this week is ideal for wearing an open trenchcoat, the Cadillac of pocket-sneaking, which won't draw a second look at Webster University or the Art Museum the way a backpack might.
Rusty at sneaking? You'll want to practice your walk and patter. The best concealment of food in a theater is a cloak woven of the warp of your confidence and the weft of theater employee indifference. Your walk, then, should exude a certain comfort, a greater belonging to the theater than any other person in the crowd. Think of it as a polite but firm physical declaration of your right as an American to eat food where you damn well please.
Patter, contrastingly, should be humble and inquisitory. The SLIFF is largely staffed by festival volunteers, especially at the non-commercial theater locations. Smile at them and ask a question about the movie as you walk in, concealing the size of your bag by tucking it behind your torso or dropping it below the normal sight line. Ask them which film the next day they most want to see. This is not only a generally nice thing to do that generates good cinematic karma, it also keeps their eyes on your pleasant, smiling face rather than your bulging, fried-rice smelling pockets.
3.
Get the best equipment. If you, like me, use the next two weeks to trust your true mettle as a long-distance sneak, you'll need to be prepared for eventualities. Here's a good, basic survival kit to keep in your car.
One set heavy-duty plastic cutlery (knife, fork, and spoon)
: preferably in black for lowest visibility. Don't depend on restaurants to include a fork with your order and don't bank on your ability to remember to ask for one when you're running to catch the show. Just bring your own and the problem's solved. Becoming particularly adept at the use of chopsticks also highly recommended.
-
One roll aluminum foil
-
Three plastic zippable sandwich bags
-
One plastic zippable gallon-size bag
-
Individual paper packets of salt and pepper
: These often come prepackaged with plastic utensils and a napkin. Learn to identify the different packages by touch alone or you may end up with an unexpected flavor surprise in a very dark theater. Blindfolding yourself and sorting a mixed handful of these into two piles for practice is the sneaking equivalent of washing Mr. Miyagi's car.
-
Gum
: You never know -- you might meet someone cute in line for
24 City
and have gyro breath. That is assuredly not the international experience that person desired when he or she came to the film festival.
4. Pace yourself. Don't go see every movie you want to see. You'll emerge from the theater next week sometime with pink, wrinkly skin about the eyes like a B-movie moleman. Is this a movie you're likely to see on DVD? Is there a good chance you'll catch it at the Tivoli in three to six months? Then see something else or save your strength for a marathon weekend day. The only exception I've made to this in recent years was seeing
Let The Right One In
when it was at the film festival and already gaining obvious critical traction and on its way to becoming a widely-distributed hit, mostly for the bragging rights.
On the flip side, I try to make as many shorts programs as possible, because even though the Internet has helped tremendously in getting short films of all kinds an audience, there's still not a great venue to see them on anything bigger than a laptop screen. That's an absolute shame, particularly because it reduces the impact of documentary shorts and flat-out robs animated shorts (often done in experimental or more intricate styles than would be feasible for a feature-length film) of the ability to fully pull in an audience.
5. Maintain sportsmanship. Remember to sneak ethically, leaving nothing behind for the regular theater staff to clean up, even if it's something impressive like an entire pizza box. In shows likely to be crowded, don't eat anything that will require you to stick your elbows out into the personal space of the people seated on either side of you to consume (e.g., a giant sandwich). Sneaking as a group can help with these issues as well as spreading the burden of sneaking a meal around.
Most importantly, remember that seeing a flick at the film festival isn't about two hours' distraction any more than bringing food with you is about keeping your stomach from growling before the credits roll. True sneaks seek a fine blend of food and entertainment, the one enhancing the other. I wish you godspeed and sure footing this weekend, but remember: This is only the first half mile of the race.

Dara Strickland is a leading expert on sneaking food and drink into the movies. She reports on her exploits (from an undisclosed location) every Monday.