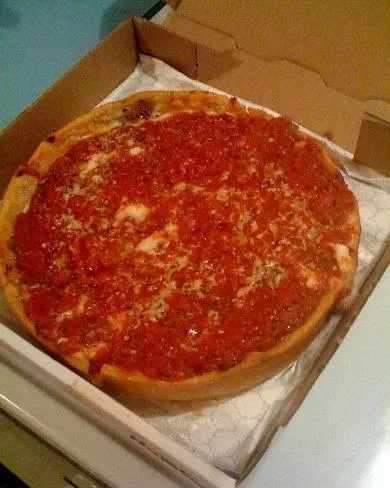 One of the detriments to living in a city that claims its own "style" of pizza? A significant chunk of the locally-owned establishments ignore the alternatives.
Seemingly every neighborhood joint that offers delivery specializes in thin-crust St. Louis-style pizza. As a lifelong resident of the Gateway City, I'm an unabashed lover of St. Louis-style pizza. I typically live by the credo the more provel, the better.
But one problem with our city's trademark pizza is that when a guy has a nice appetite worked up, he can mow through a twelve-inch thin-crust pie in roughly ten minutes and still find himself rifling through the cabinets for a snack within the hour. Simply put: The name of this blog and St.Louis-style pizza are not synonymous.
So what happens when you are craving something a little heavier? Perhaps you're looking for a nice thick-crust, mozzarella-covered treat, only you're too lazy to pick one up at
Black Thorn
or sit down at
Onesto
? The delivery options for non-St. Louis-style pizza in most areas are chains and more chains. Such was the case around my hood.
Then, a few months back, the old
Cecil Whittakers
carry-out/delivery shack on Watson Road in South City closed up shop and relocated a few blocks up the street. Taking over its spot at
3825 Watson
was the new
Bono's Pizzeria
, owned by the family that has operated
Caleco's
in downtown since 1974.
With Bono's came an option that its predecessor was not apt to offer: delivery of a ten-inch Chicago-style deep-dish pizza that was as tall and thick as roughly a dozen of its CWP thin-crust counterparts.
This monster pie is cut into four ample slices and weighs in at a hefty 3.2 pounds of cheesy goodness with the sauce on top. Even after sweating its way through a trip in the delivery vehicle, being smothered in chunky tomato sauce and buried under a mound of mozzarella cheese, the crust somehow manages to fend off the seemingly inevitable sogginess and instead serves as a crunchy compliment to ample toppings. Forget the thought of picking a slice up with your hands and eating it. This baby is a fork-and-knife job all the way.
As delicious as the actual pizza was, perhaps the best part of Bono's deep-dish pie was the fact that a mere two pieces were enough to fill me up, leaving me to look forward to a rendezvous with the third and fourth pieces the next night.
If your disdain for the Cubs is enough to keep you from enjoying anything done "Chicago-style," you'll be happy to know it isn't the only item on Bono's menu. The pizza selection also includes traditional brick-oven and thick-crust options, presented either as a "choose your own" toppings or in a handful of "specialties" such as the Veggie Delight, Buffalo Chicken and Meatball Pizza. Pastas, calzones, appetizers and cannolis help round out an all-Italian, all-the-time menu.
But even with all the other tantalizing options available, even with my love of provel and equal hatred for the Cubs, it's hard to see myself straying from Bono's rendition of the Chitown specialty the next time I'm looking to have a pizza with a little more girth brought to my doorstep.
Just don't tell St. Louis style that I'm cheating on it.
Josh Bacott reports on his journey through one of the unhealthiest cities in the good ol' USA every other Friday. Because who says calories have to count?