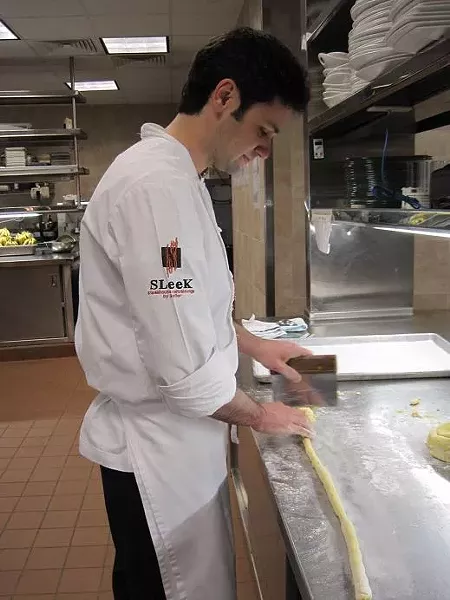 During
my interview with Steven Caravelli
of
Sleek
, he emphasized that combining gnocchi with bacon and truffles isn't an original idea. Ever-deprecating of his own creativity, Caravelli sees himself as more of a craftsman than an artist with food, perfecting techniques and flavor combinations until something unique emerges. Such is the case with his classic Potato Gnocchi with Truffled Bacon Jus. "It's bacon and truffles. How can that ever go wrong?" he asks.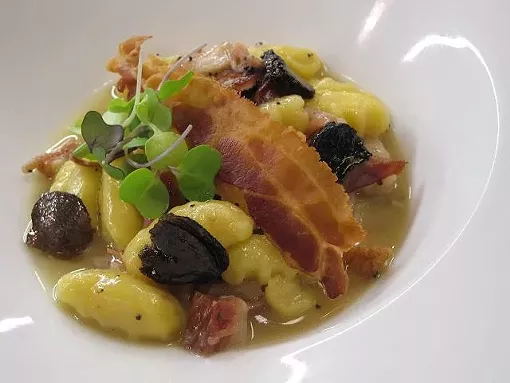 Potato Gnocchi with Truffled Bacon Jus
Serves 6-8 people
For the gnocchi:
2.5 lb russet potato after ricing
7 oz. all-purpose flour
2 egg yolks
salt

For the jus:
2 cups chicken stock
6 oz. piece slab bacon or 8-10 pieces pre-sliced
4 oz. unsalted butter
3 tbsp chopped black truffle
2 tsp truffle oil

For the garnish:
8-10 thin slices of bacon (cooked until crispy)
Truffle slices (optional)
Freshly grated Parmasan
Micro greens, baby arugula or mache

To make the gnocchi, place the potatoes (skin on) in a pot of cold water. Slowly bring to a simmer. Do not boil, or the skin will crack, and the potatoes will absorb water. The goal is to remove the pototoes from the water and put through the ricer or food mill as soon as they are cooked. If they take on water they will need more flour, and they will be chewy.
Place riced potatoes on floured work surface and add 1/3 of the flour. Work in gently to cool slightly. Then, add salt and egg yolks along with 1/3 more flour. Slowly add remaining flour, but stop when dough no longer feels tacky. Bring pot of water to a simmer. Pinch off small piece of dough. Roll into a ball and cook to see if dough holds together. If not add more flour. Taste for seasoning.
To form the gnocchi, cut manageable portions from dough with bench scraper and roll into a thin log shape. Cut half inch sections. Roll those into balls, and then roll off the back of a fork onto a floured sheet pan.
Gnocchi can be poached ahead of time and refrigerated. The gnocchi are cooked when they float to the top. Remove them from the water. Shock them in ice bath. Drain and cover.
For the jus, bring stock and slab bacon to a simmer. Cook until the bacon is tender. Let cool. Remove bacon from liquid and dice. Add truffle and diced bacon to jus. Bring to a boil. Add butter. Reduce until slightly thickened. Add truffle oil and season to taste.
To plate, toss gnocchi in jus. Taste again and season if necessary. Divide into bowls, making sure each has a nice amount of the sauce. Place crispy bacon, truffle slices if using, Parmesan and greens on top of each. Serve with fork and spoon. You will want to get all the truffle and bacon out of the bowl.
Robin Wheeler writes the blog Poppy Mom. She is a regular contributor to Gut Check, including the columns The Dive Bomber and Throwback of the House.