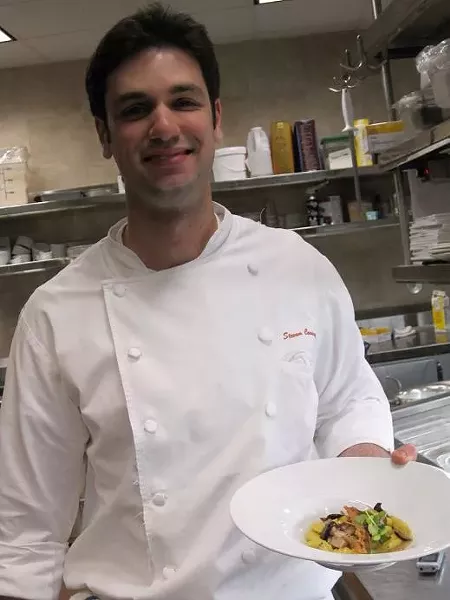 Robin Wheeler
Steven Caravelli, Chef de Cuisine at Sleek
When
Steven Caravelli
taught at
L'École Culinaire
, students always asked him when they would be chefs. They could do it the way Caravelli himself did.
First, earn a degree in journalism at the University of Missouri - Columbia while working in a gourmet shop. Over the course of the next six years, work days as a bank teller and nights in the kitchen at Chez Leon while writing the occasional article for
Sauce Magazine
until there's a full-time position available at the restaurant. Make a stop at a local culinary school for one semester.
Work as a French pastry chef while learning the craft from books, then do some time in a country club kitchen before hitting
An American Place
. Work for Gerard Craft in the early days of
Niche
. Teach. And when a big celebrity chef like, say,
Hubert Keller
, comes to your hometown to open a steakhouse in a new casino, apply for the job.
Hey, it worked for Caravelli.
"People always wonder how you become a chef," he says. "I had no idea how it was going to happen to me, either. It was hard work and working for the right people in St. Louis."
As chef de cuisine at Lumière Place's
Sleek
, he adds a local sensibility to Hubert Keller's concept and corporate chef Laurent Pillard's menus. "I'm from St. Louis so I've tried to get people from St. Louis to come here. I don't want us to be known as a restaurant that's an elite, Herbert Keller fine-dining French restaurant. People here don't go for celebrity. They just want good food."
Caravelli has a rich history with St. Louis food. He grew up with a mother who was a good cook and a father with the Sicilian passion for food. "My dad was always into watching PBS cooking shows when he was home from work. He's the one who got me into appreciating food. Every vacation involved a stop that was culinary-related. I'm the oldest of five, but we always found a way to eat a big meal. Like when we went to Florida, it was whatever fish we could get. Or eating oysters and sardines and olives that most kids don't eat."
His culinary curiosity continued while he studied journalism. He spent most of his college years working part-time at Columbia's now-defunct Village Wine and Cheese Shop. "That's where I started tasting wines and beers. I'd walk around and read the labels on the bottles of wine, taste every cheese and every type of cured meat that we had." A six-week study-abroad program led him to Belgium and Hungary, where he developed a taste for good beer while earning political-science college credits.
Why the journalism degree? "I always liked music, I always liked food. I always liked the arts, so I went to journalism school so I could write about them. I also had the pipe dream of being a real journalist, but I knew that wouldn't work out because I could write real articles, but I wasn't interested in it, really."
(I can understand his path, as I took a similar one that ran opposite Caravelli's. While we talked in Sleek's closed dining room one morning with the jangle of slot machines in the background, I realized I'd catered a lunch at the bank during his teller/food writer/line cook days. A few months later, Caravelli started cooking full-time. I eventually stopped cooking in favor of writing. Such is the tightness of St. Louis' culinary community.)
Despite his love of writing and music, Caravelli claims he's not creative. "I'm not a creative thinker. [Cooking's] more like woodworking where you practice the same thing over and over, and you tweak it and eventually you've got something that's cool and different."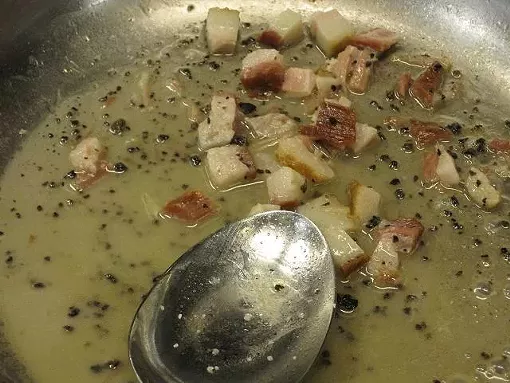 Perhaps "creative doer" is a more apt term. In his fresh gnocchi with bacon and black truffles, Caravelli works with classics: light, slightly chewy handmade dumplings, the potato's earthiness punctuated by the salty kick of a sauce created with bacon-infused chicken stock, butter and grated black truffles. Topped with a single perfect slice of bacon -- crisp, striated, with a little curly-cue on one end -- truffle shavings and a light sprinkle of radish shoots from
Claverach Farm
, the dish balances Caravelli's exacting skills with the European aesthetic he learned from Keller and Pillard.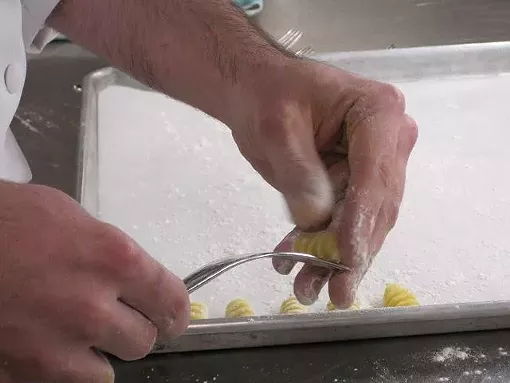 "I've never worked in a Michelin-starred restaurant before. It's a very different style of cooking. All the components are little beautiful things on different areas of the plate. When I was doing a slash of this across the plate and a line of that across the plate, chef [Pillard] would shake his head. 'The flavors are good but I'll show you how to make it look.' The plating wasn't refined."
With his expanding role at Sleek -- he's working to incorporate more local goods into the menu while flexing his creativity with his tasting menus -- Caravelli feels like he is, at last, a real chef. "Sometimes I think I work too hard but then I realize that's why I like what I'm doing. I made the cheese. I made the pasta. None of us have as much experience as
Volpi
, but I prefer to make my own, if I can. I enjoy doing that kind of stuff. Cooking is a self-gratification thing. Chefs are narcissistic." He chuckles. "I like doing things my way."
Tomorrow: The recipe for Caravelli's gnocchi with bacon and black truffles.Robin Wheeler writes the blog Poppy Mom. She is a regular contributor to Gut Check, including the columns The Dive Bomber and Throwback of the House.