Too often we forget that wine is fun. Critics are overcritical, writers try to convey too much useful information, normal people get uptight, and wine geeks have been known to manage all three simultaneously. It can be difficult to turn these qualities off, especially after years of conditioning. Sometimes, though, we need to step back, think about what we're doing and attempt to recapture the fun.
I present myself as exhibit number one. A fundamental wine moment for me occurred in the fall of 1995. It was cold and rainy, and I was cutting class because I didn't feel like walking to Wash U. from my apartment. So I popped a bottle of wine in front of the TV to celebrate my sloth: a 1992 Jayer-Gilles Bourgogne Haut Côtes de Nuits.
I pulled the cork, poured a glass and went into the kitchen to fetch a snack. When I returned, I smelled violets. The cool, damp breeze coming in from my cracked window had filled the room with the scent of the wine. Thus began my fascination with red Burgundy. It was a moment of pure joy.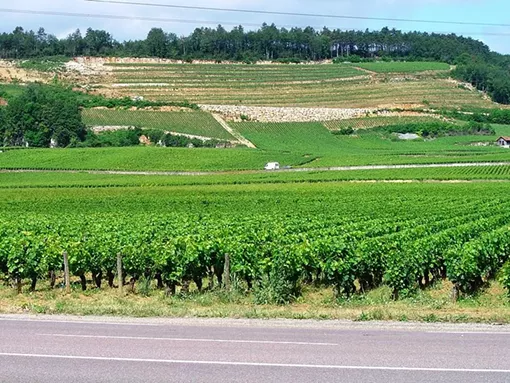 A vineyard in the Côtes de Nuits
In the cold, harsh world of criticism, information and insecurity, Jayer-Gilles is a producer known for a robust use of new oak -- something I generally detest -- '92 was a pretty crap year and Bourgogne Haut Côtes de Nuits is a hardly an appellation to set a Burgundy lover's heart aflutter. On that particular day, however, drinking that wine was an absolute blast. Knowing what I know now (or what I think I know), I still wouldn't trade that experience.
For years afterward, I went down the path of study and criticism, reading incessantly and writing detailed notes on every wine I drank. And I had fun, until I had another epiphany about a decade later.
This time it happened at a large group tasting. There were so many wonderful wines opened and so many interesting people I'd longed to meet that I was forced to choose between proceeding methodically through the wines and ignoring the people -- or missing most of the wines and socializing. After about ten minutes of mental wrestling, I simply put the notebook away and spent the better part of two days drinking (not tasting) wine and getting to know new friends. Only then did I look back and realize how little fun I'd been having recently following my usual routine.
Since that event, I've been much more cognizant of whether I'm having fun with wine. If something's not fun, I'm not doing it. Wine is a passion for me, and I refuse to have the joy stripped out of it in service to some routine into which I've let myself fall or some perceived insecurity I might have about my wine knowledge.
I challenge you to do the same. Find wine intimidating? Take a class, attend a tasting or read a book. Reluctant to pull a bottle from the cellar because you don't feel like writing a tasting note? Drink it and don't write the note! Can't help picking out everything you think is less than perfect about a wine? Try not to -- and, if you succeed, let me know how you did it as I'm still working on this one myself.
Dave Nelson is the author of the blog Beer, Wine and Whisky. He writes about wine every Tuesday.