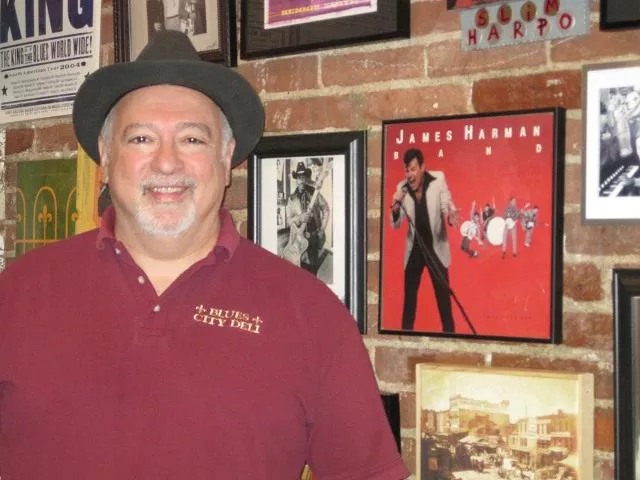 Robin Wheeler
Blues City Deli owner Vince Valenza
Vince Valenza
has traveled a long journey from his childhood in downtown St. Louis' Sicilian neighborhood to celebrating five years of owning
Blues City Deli
in Benton Park. Through it all, he's had his family, good food and a lot of soulful music to keep him going.
As the youngest child in his family, he learned about cooking from his mother's Italian kitchen and his father's barbecue pit while getting a musical education from his older sisters.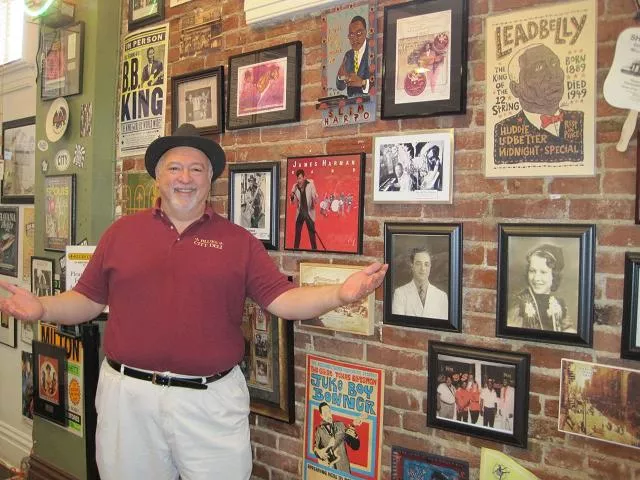 "My sisters listened to race records, as they called them back in those days. Once in a while they'd find a soulful-type, bluesy record. She'd put it on the record player, and I'd like it, as a kid. I liked that soul. R&B, then Stax out of Memphis. I'm more of a Stax guy than a Motown guy. They had more of an edge. The Wilson Picketts and Sam and Daves -- this is different. They're pouring their souls out, and they hit you real hard. That's the stuff that got me going. Then, later on, I started learning about the blues. I was into my 30s when I really started digging in and getting to know about it. The Stax stuff bridged the gap into Muddy Waters."
As an adult, Valenza worked a variety of jobs to pay the bills. He was a laborer and a salesman. In the mid-1980s, his friend Joe Alagna hired him at
Fratelli's
, where he spent a few years getting his restaurant education while working other jobs, playing drums in local blues bands and creating menus for the Italian sandwich and pasta shop he dreamed of opening.
"We were always big on sandwiches at our house. It was sort of a Saturday staple. We had Genoa salami, Italian cheese, Italian bread. Every Saturday we'd sit around the table. That was our tradition. So I always had a love for the sandwiches."
In 1992, a trip to New Orleans inspired Valenza to combine his love of food and music: "They involve the cultures, they put their different styles of food and music together. I love blues music, so why not put together a menu based around blues music cities? I live in one of the blues music cities."
It took twelve years and a lot of false starts before Blues City Deli finally happened. "I tried many times to open Blues City Deli. It just didn't happen. Money, finances, the bank said no, all the things people go through. But I knew. I was formulating things before [1992].
"My wife was ready to kick me out of the house. She was like, 'What are you doing?'" Valenza laughs. "But we were developing the menu long before it actually happened."
The time and care shows in his menu, which features classics from the cities that birthed the blues: St. Louis Italian meats, Memphis pulled pork and slaw, Chicago hot dogs and New Orleans po'boys and muffulettas. Developed with some tips from New Orleans' Central Grocery, the muffuletta is rich and robust, with olive oil and juices soaking into light, soft Italian bread. Valenza's chunky olive salad, filled with strips of pickled carrot and halves of Sicilian green olives, tempers the bread's softness with hearty crunch and bite. It's a sandwich with as much soul as Irma Thomas when she sings that she wishes it would rain.
With his menu tweaked, revised and ready, Valenza came to a crossroads. "I was talking to my family and said that I've got to do something with food. How about going down to Soulard Market and opening a hot dog stand? I talked to Dave, my web guy, said how about doing a web site for this Blues City Red Hots I want to do. He said OK.
"He was a part of the
[St. Louis] Blues Society
when I was playing, and I guess I blabbered off to him one day about wanting to open a blues deli someday. Well, he remembered that and said, 'Look at this corner. It's been sitting there, and the neighborhood's getting ready to move in the right direction.' And that was it. I started making phone calls and everything fell right into place."
Blues City Deli found a home in Benton Park in 2004. Since then, Valenza's filled his space with years of blues memorabilia from his favorite artists, from classics like Slim Harpo and early Fabulous Thunderbirds to locals like Johnnie Johnson and new kids like Rum Drum Ramblers. On Thursdays and Saturdays, the deli doubles as a venue for blues musicians. Valenza still performs occasionally.
With his dream of a blues deli realized, Valenza still hasn't lost any of his love for food and cooking. He and his staff are always tinkering with new sandwich combinations and sauces. At home, he still loves time in the kitchen. "I do the Italian stuff. I try to keep the traditions going and pass them down to my kids. The stuff that I was raised on."
Coming later this afternoon, a recipe for Vince Valenza's muffuletta sandwich.Robin Wheeler writes the blog Poppy Mom. She is a regular contributor to Gut Check, including the columns The Dive Bomber and Throwback of the House.