Much like deadlines, Halloween is a holiday that often sneaks up on me. I always have grand ideas for costumes (or columns), I lose track of time, and then I've got to throw something together. (Except for last year, when
I planned my costume a year in advance
.) This Halloween, I still don't know what my costume will be, and my column this week was thrown together at the last second.
What to do when a deadline looms? Recreate a classic. In this case, the ubiquitous fall sweet, candy corn.
Sadly, homemade candy corn is full of ingredients fairly similar to store-bought: granulated sugar, powdered sugar, light corn syrup, butter, vanilla, powdered milk and food coloring. Basically, a healthy snack. But it's fun to make and would be good for kids, as the majority of the work involves playing with the dough. I used
this recipe from Serious Eats
.
I began by sifting TWO AND A HALF CUPS of powdered sugar with a bit of powdered milk. Powdered milk is a sickly yellowish color and smells weird; powdered sugar is a bitch to sift.
Then, in a saucepan, I melted salted butter, granulated sugar and corn syrup -- except, first, I accidentally started pouring the corn syrup into my sifted sugar/milk combo. (I do stuff like this all the time. The other day in the shower, I put conditioner on my face.) Luckily, corn syrup is slow-moving, and I scooped out the tablespoon or so in the powdered sugar and threw it right in with the butter mixture.
After the butter mixture comes to a boil, you stir it for five minutes or so, turn off the heat, mix in the vanilla and then mix in the powdered sugar and powdered milk.
Then you stir some more and, once smooth, let cool while you go check Twitter and ponder how much sugar you just used in one recipe.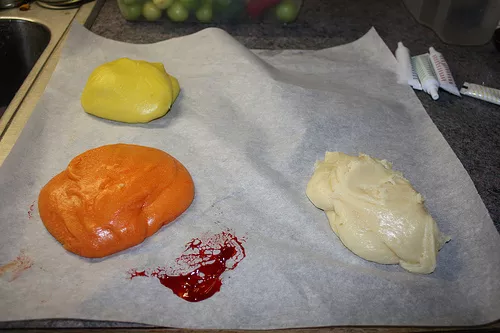 Then comes the fun part: When the dough is cool enough to work with, divide it into three balls. I used food coloring to tint one ball orange and one ball yellow; the other stayed white.
On a piece of parchment, I rolled out pieces of each color into thin ropes. This would have been much easier with the Play-Doh Fun Factory. I pressed the ropes into the familiar orange/yellow/white combination and cut them into triangles.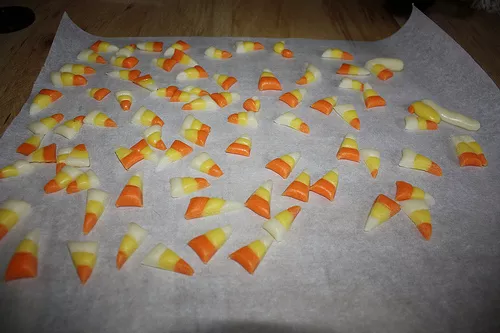 While cutting, I realized that these chunky little wedges looked quite retro. All they needed was a swap-out of the white for a nice olive green to give them the complete 1970s kitchen aesthetic. As my four-pack of food coloring did not include olive green, I used some leftover orange and the regular kelly green. The results are appropriately scary for Halloween:
As for taste, well... they taste like you'd expect something containing mostly sugar with some butter thrown in for laughs: tooth-achingly sweet. But they look Martha Stewart-y, and if you make candy corn yourself, you don't have to share any with trick-or-treaters because their parents would think you were trying to poison their kids and throw it out anyway.
Guess what, parents? The joke's on you. The only thing you'll find in my candy corn is black cat hair. The best part is that, start to finish, this project took only an hour or so, leaving me plenty of time to come up with a costume by Saturday.
Kelli Best-Oliver is on a quest to become a full-fledged foodie. She chronicles her adventures every Tuesday. She writes about any damn thing she pleases at South City Confidential.