Even when I was a kid, I wasn't much of a fan of Jell-O. The only Jell-O-related food I really liked was poke cake. Make a white cake from a mix, poke holes in the top, pour ungelled Jell-O -- I preferred orange since I like that baby aspirin taste -- cover the cake and chill. The results were an extra, unjiggly burst of flavor in the cake, with a thin layer of Jell-O skin on top. All the flavor of Jell-O with none of the creepy, clammy jiggle.
I have lots of poke cake recipes in my collection, but I never think to make them for Throwback because I have fond memories of them.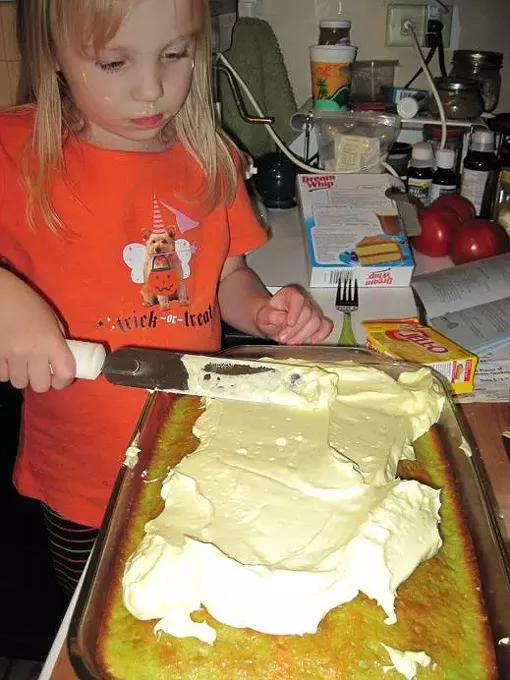 Recently, my parents returned from vacation in Colorado with a bunch of crappy cookbooks for me. They like to go to yard sales on vacation. Out-of-state junk's more interesting than Missouri junk.
Among the treasures was a set of books from Grand Junction's Antiquarian Cub, who hosted an annual dessert and salad luncheon and compiled the recipes into a rudimentary cookbook. The 1976 edition is mimeographed pages bound with red yarn. Irene Lear, who had twenty-four Jell-O-based recipes in the book, called poke cake "Lemon-Lime Refrigerator Sheet Cake."
She used lemon cake mix and lime Jell-O and then made icing with instant lemon pudding and Dream Whip. Aside from the boiling water for the Jell-O and removing the cake from the oven, the recipe's easy enough for a five-year-old to make. I put my daughter to work.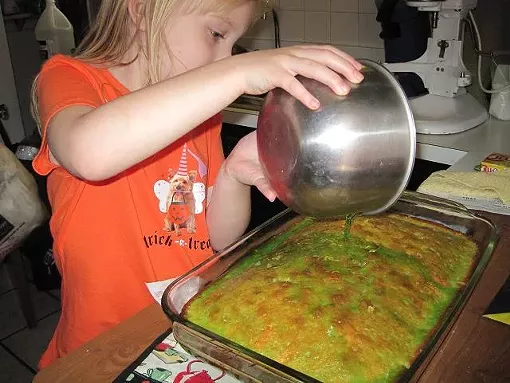 If anyone asks where she got the burn on her pinky, tell them she's been smoking behind the school. She did
not
get that burn because I made her bake a cake for her grandparents, and you can't prove otherwise.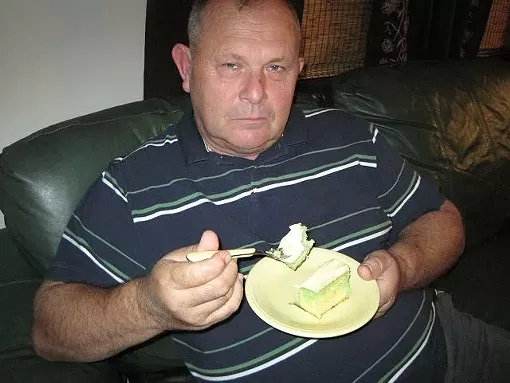 As for the cake, it's the poke cake of my memories -- though I could do without the frosting. My daughter and my dad thought it was awesome. Dad's sixty, so he's in that generation for which processed foods were special treats. My daughter is denied processed foods as much as I can manage. Until now -- because she has the poke-cake power supreme and can make it herself. The Jell-O box has been passed to the next generation, and that's fine with me.
Robin Wheeler writes the blog Poppy Mom and is a regular contributor to Gut Check. After years of making and eating fancy food, Robin is sick of it all. She's returning to the basics: recipes that haven't surfaced in three decades. She reports on the results every Monday.