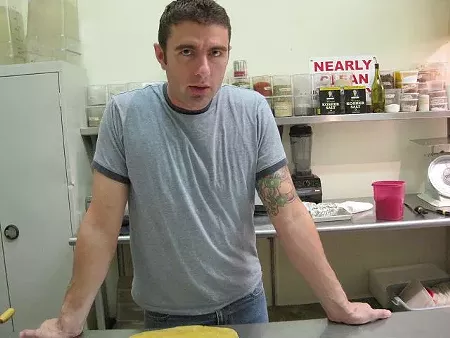 Robin Wheeler
Josh Galliano, executive chef at Monarch
In the summer of 2005,
Monarch
executive chef
Josh Galliano
was working at New York's
Restaurant Daniel
when his girlfriend, Audra, paid him a visit. She wasn't happy with what she saw.
"She said, 'Okay, A, you look anorexic. You're working too much and not eating anything. B, you're broke. I can't believe you're paying for this apartment. C, your subletter just bailed on you.' August 17th, she said to pack my bags, we were going back. Got back to New Orleans and started working at
Restaurant August
."
A native of Laplace, Louisiana, which is 30 miles from New Orleans and sandwiched between the Mississippi River and Lake Pontchartrain, Galliano wasn't fazed by the hurricane warnings for the weekend of August 26th. Audra talked him into leaving with their two dogs and a full laundry basket shortly before Hurricane Katrina struck.
What they thought would be a few days visiting friends in Laplace and Lake Charles, Louisiana, stretched into weeks. They visited her family in Okawville, Illinois, while they waited to be let back into New Orleans. "We started work at the end of September [at St. Louis'
An American Place
]. It was the second weekend in October when they finally let us back into New Orleans to collect our stuff. When we got there it ... there's absolutely nothing for us to do here." Next thing he knew, he and Audra were laying down roots in Okawville.
Such has been the path of Galliano's career: a series of unexpected opportunities coupled with constant striving for the next level. He didn't set out to be a chef. He has a master's degree in political science, but academia bored him. While in college, he waited tables at a location of the chain restaurant
Black-eyed Pea
and cooked at
Macaroni Grill
until he met a pair of caterers who gave him an opportunity to hone his skills.
"My [catering] boss Barbara was like, 'What do you want to do?' and I'd tell her what I wanted to cook and she'd let me. It was awesome. As long as it fit with what her clients wanted, great."
He spent six months cooking at New Orleans institution
Commander's Palace
before enrolling in a nine-month program at London's
Le Cordon Bleu
, where he took advantage of every learning opportunity he could find. "I'd have nothing to do for a week or two, and I didn't have the extra money to spend on travel. Better go to work. I'd go hang out at a restaurant for a week or so. By the end of it they'd offer me a job and I'd say, 'Sorry. Already working. Thanks for the offer.'"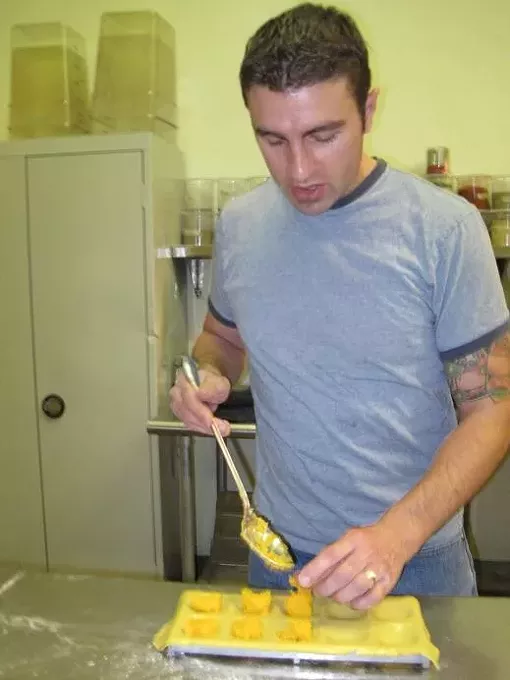 Robin Wheeler
Galliano preparing butternut-squash ravioli
These days, while collecting accolades from the likes of the
James Beard Foundation
-- he was a semifinalist in the "Best Chef - Midwest" category earlier this year -- for his work at Monarch, he's also taking guff for making baby food for his 13-month-old son.
"What you're doing is not natural. Not normal at all. Get over it," he says of the people who've chided him for doing the extra work. "I have industrial equipment. That makes it easy. You have jars of Gerber. He just had his first pork cheeks this week. Even if I wasn't doing this full time, I don't think I'd want to buy all that processed crap." His son had so much home-grown squash this summer that his skin turned yellow.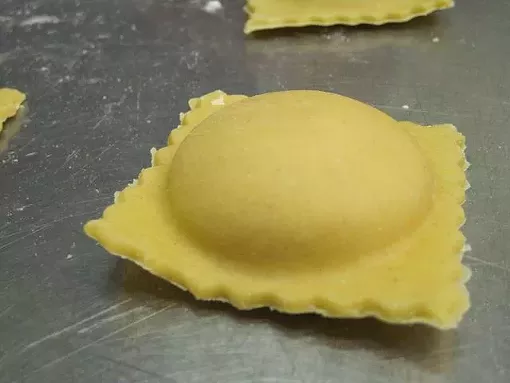 Robin Wheeler
A butternut-squash raviolo
I can understand why, as Galliano worked his magic on some squash for me. Pillows of fresh, eggy pasta dough embraced fluffy roasted butternut squash with just enough ricotta and parmesan to make it creamy. Served in a sage-lemon beurre blanc topped with Chinese bacon (pork belly cured with soy sauce, made by Galliano, whose charcuterie skills are one of Monarch's highlights). He made the dish with ease, down to rolling the pasta dough. The sage, squash, saltiness, and heavy warmth of the dish captured the essence of autumn.
Galliano grew up eating a variety of good food. He spent time in Mississippi at his maternal grandparents' fish camp, where it was all about fish fries and huge country breakfasts complemented with fig preserves and scuppernog jelly, made from fruit picked by the kids. His dad's Sicilian and New Orleans heritage brought a mix of local favorites like tasso along with Aunt Mary's stuffed artichokes. He learned the perks of local food early and continues that education.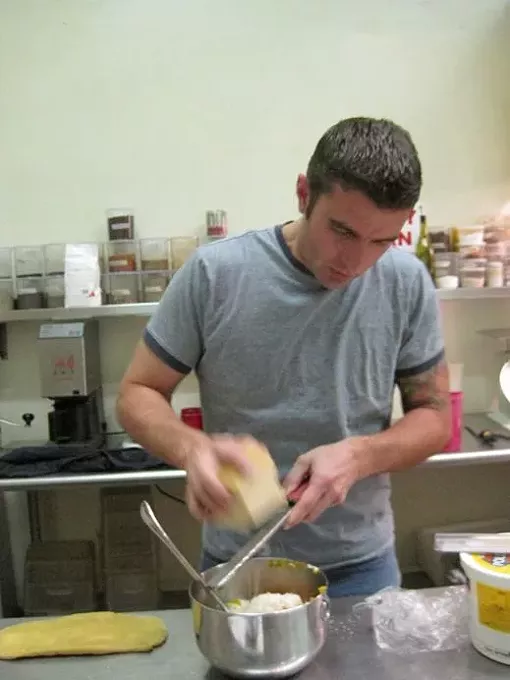 "I like the constant challenge of cooking. I like the constant learning that goes along with it. For me that's most easily accomplished in a fine dining setting. It's the best opportunity for creating a menu that has a lot of variety to it that's in the realm of what I want to do it."
Not that he'll necessarily stay with fine dining, but any change has to be on his terms. "I would love to open a barbecue restaurant, but I also want to buy the local pigs. But you've got to have the clientele that will appreciate it and pay for it. It'll probably take a few years and the one thing about cooking we haven't talked about yet -- instant gratification. Love that.
"We're junkies for it. Adrenaline junkies. Usually it's in the form of feeling good about the dish I made or a customer telling me it's the best thing they've eaten in months, whatever the case may be, I want that gratification."
Robin Wheeler writes the blog Poppy Mom. She is a regular contributor to Gut Check, including the columns The Dive Bomber and Throwback of the House.