Ian Froeb
A glass of Kölsch at the Schlafly Bottleworks
Last week's post on oatmeal stout
mentioned the lovely ale style Kölsch. The Beertender was inspired to give it its proper due, especially now that it's available year round.
Kölsch rhymes with
Grolsch
(unless you pronounce the o-umlaut the way they do in Germany, in which case it sounds something like
kerlsh
). The similarity, however, ends there. Sure, Kölsch is bright yellow like a pale lager, but the taste is something else entirely. The more delicate flavor profile of Kölsch causes many to doubt its designation as an ale, but both ales and lagers can occupy all points on the flavor spectrum. Kölsch shows its ale colors when the top-fermenting yeast and pale malts imbue the brew with a subtle fruitiness many describe as vinous. Combine this with a healthy grain presence, gently balancing hops and a dry finish, and you've got one crisp, flavorful beer.
Kölschbier is often marketed as a summer beer. First brewed only in Köln (Cologne), Germany, this formerly obscure style is now produced all over the United States. Its light yet flavorful nature attracts many brewers who are committed to European traditions but also understand the attraction of a nice quaffer. U.S. brewers will often call their Kölsch a blonde ale to ease the unadventurous into a pint, but with the style's popularity reaching heretofore unseen levels, the original name is sounding less strange to our ears.
The word Kölsch simply refers to something from Köln. When pale lagers swept through Europe in the 19th century, brewers from Köln were eager to make a beer in their ale-friendly city that evoked the new, popular, sunshiney thing. The style has since been embraced by the entire city to the point that Kölsch now enjoys protected geographical status, like Roquefort and Champagne.
Travel to Germany today and you will drink Altbier in Dusseldorf, Dortmunder in Dortmund, Pilsner in the north and Helles in the south, but only in Köln will you be served the fresh, golden treat that is Kölschbier vom fass (on draught).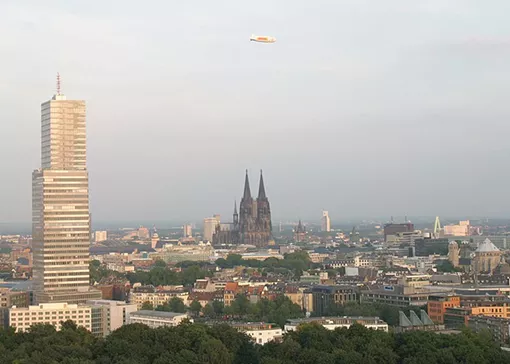 Köln, including the famous cathedral
If you have the chance, take a trip to Köln someday. You will have a great time. As snobbery is frowned upon in the Kölsch drinking culture, drinkers are notoriously egalitarian for such a modern, wealthy city, with servers in the traditional pubs often speaking in the local dialect and throwing out the occasional disarming vulgarity.
It's also tradition in such pubs for the servers to deliver full glasses of beer without being asked and to continue doing so until you place your coaster atop your empty glass -- or make it otherwise abundantly clear that you've had enough. Kölschbier is served in tall, cylindrical glasses to keep the head tight and the delicate aromas concentrated. It's best drunk fresh at the source, in large quantities, in the sunshine.
Now that we can get Kölsch year round in the U.S., there's no reason not to have this light, dry refresher in your fridge at all times, season be damned. Locally available offerings include Reissdorf and Gaffel from Köln, and
Schlafly
and
New Holland
from the U.S.
Matt Thenhaus is a Saint Louis bartender who believes there is a time and place for every beer. He blogs about beer for Gut Check every Wednesday.