Starbucks
this month, you've seen the huge displays announcing the (much anticipated?) arrival of the company's new instant coffee,
Via
. Starbucks claims Via is so good that it tastes just like real Starbucks coffee.
Or is it that real Starbucks is so bad that it tastes just like instant coffee?
Cheap shots aside, the intention to make instant coffee palatable is a noble one, so this weekend, I decided to try some Via for myself.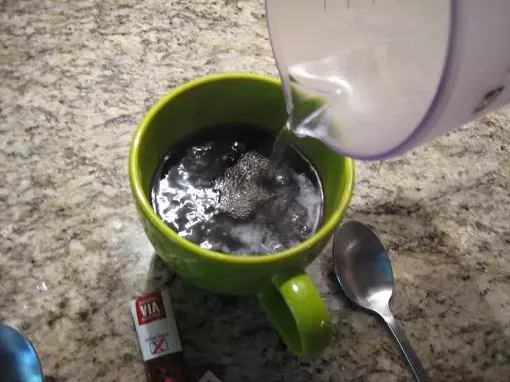 Zach Dyer
Starbucks Via: Simply add 8 oz. hot water to packet...
The first thing you notice when you empty the slim packet's contents into your cup is that Via is a powder rather than the usual instant-coffee granules. According to the Starbucks partner from whom I bought it, this "micro-ground" coffee is so fine that it dissolves instantly into hot water. Supposedly, there are no added chemicals, just very, very finely ground coffee.
If you've made instant coffee before, you know proportions are key. One thing Via has going for it is that you can't add too much: Each tiny sleeve contains a single serving. I carefully measured the recommended eight ounces of hot water and poured it over the powdered coffee. Unlike brewed coffee, the Via had almost no nose to it. There was no burst of aromatics like those you smell after breaking the layer of grounds steeping in a French press.
I tried both of the Via blends available: the "extra-bold" Italian roast and the "medium-bodied" Colombian. The Colombian was my favorite of the two -- though not for the reasons you might think. The Italian roast was pretty similar to the Pike's Place blend Starbucks serves as its house coffee. It even had the telltale Starbucks flavor of faint caramel, the result of its full-city roast. But that darker flavor was actually what turned me off. It reminded me too much of how most instant coffees taste -- they try to provide a darker flavor to make up for their inability to bring out the subtler flavors of a lighter roast. I preferred the Colombian not because it was an amazing coffee, but because it tasted so unlike the instant coffee I'd had before.
Before we get too tied up in my own recollections of instant coffee, let's step back and get some perspective. Since the Starbucks café bubble burst last summer, the only way for the coffee giant to extend its consumer reach is with new products or merchandise. Via does offer a patent-pending micro-ground process. Essentially, though, Starbucks has given us new packaging for the same product.
Zach Dyer
...stir the hot water and Via instant coffee together and enjoy!
A perfect parallel for Via is Go-Gurt. Is your vanilla Yoplait with fruit on the bottom so cumbersome you need it in a form previously reserved for Tour de France cyclists? Is a 12-ounce cup of coffee too much to handle? Just like Go-Gurt, Starbucks is answering a answer question no one asked.
Despite the seeming oxymoron of upscale instant coffee, I
can
see a place for Via. Think about how many awful cups of hotel coffee you've had when all that was available was a bag of anonymous pre-grround coffee? Via is worlds better than that. Also, there's something really satisfying about the packaging: the neatly stacked sleeves, the sleek modern envelope that tucks them together. It could be a stocking stuffer or even a trick-or-treat alternative.
Some analysts have speculated that Starbucks is using Via to get a foothold in the larger instant-coffee market in Europe and Latin America. However, Via's portability and packaging are contradictory to how I've seen instant coffee consumed in Mexico, Spain and Greece. I always saw the house's stout NESCAFÉ jar sitting on the kitchen table or tucked away in the cupboard. Instant coffee was always made with a meal. (I used to get looks when I tried to make it by itself in the afternoon.).
No, Via, especially considering its slick packaging, is geared towards American consumers on the go. The question is, what's more "on the go" than a coffee to go?
Zach Dyer is a writer living in Saint Louis. He did his thesis research on coffee farmers in Southern Mexico. Since then, he has visited coffee plantations in Costa Rica and Mexico as well as roasters and cafés across the U.S. He blogs about coffee for Gut Check every Wednesday.