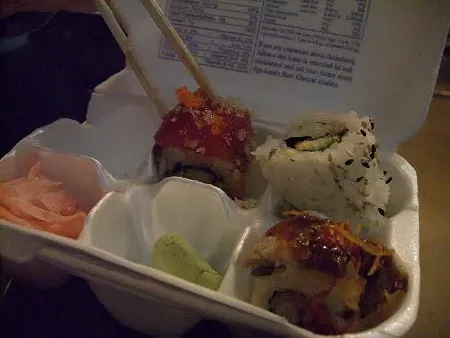 The virtues of sushi as a food are significant, but its value to a sneak may be as elusive as a flying bird's reflection on a rippling pond. I've crafted these handy tables for you to compare the virtues of eating sushi in a restaurant to sneaking it into a movie theater.
Sushi Sensory Input: Sight

In a Restaurant: Preparation is very important to a good chef. Rolls will be punctuated with drizzles of sauce, nigiri displayed in harmonious pairs or fanning out across the plate; chrysanthemum piles of pickled ginger and tiny blobs of wasabi complete the miniature landscape you are about to destroy with your ravening.

Snuck into a Movie: Can't see it. Even if you do, all sushi will look washed out and alarmingly blue-gray, so looking closely is not recommended.

Sushi Sensory Input: Sound

In a Restaurant: One of the things I like best about sushi restaurants is the excellent opportunity to eavesdrop on other people. Seating is much closer together than at most other kinds of restaurants, and staring directly at your own plate while slowly sipping beer is considered the mark of the connoisseur, not someone who is trying too hard not to look like he or she is listening to the awkward date unfolding at the next table.

Snuck into a Movie: Even the most tooth-challenging sushi is quiet compared to popcorn, Goobers and the incessant sluuuuuuurps of straws.

Sushi Sensory Input: Smell

In a Restaurant: If you can smell the sushi the person next to you is eating, it's time to give up and go to Bread Co. (Ironically, exactly the opposite is true at Indian restaurants.)

Snuck into a Movie: Excellent choice for sneaking. Even the spiciest tuna roll or most redolent sea urchin can be consumed undetected by the noses around you. Sushi is the olfactory ninja of sneakable foods.

Sushi Sensory Input: Taste

In a Restaurant: Delicious.

Snuck into a Movie: Equivalently delicious.

Sushi Sensory Input: Tactile

In a Restaurant: The firm-yield-firm texture of biting through an excellent piece of fish and the pearly way rice rolls on the tongue and splits on the teeth is an essential part of the total package.

Snuck into a Movie: With the visual component of the sushi taken away and your active attention on the movie, texture becomes the primary way of understanding the food. It's like eating sushi blindfolded, but while still catching up on what Jim Jarmusch is up to and without the weird Story of O-esque connotations. Chopsticks are usable in the dark, but less preferable to grabbing the sushi with your fingers, which is strangely, viscerally, satisfying.

Sushi Sensory Input: Temperature

In a Restaurant: Most important for complicated rolls or playful presentations that are only possible at restaurants. Recent trends in St. Louis sushi have a lot of things being set on fire. As a sushi fan, I find it distracting. As a lover of a great show, I find it irresistible.

Snuck into a Movie: Sushi can't melt or exactly go appetizingly cold, making it a good sneaking food. Don't wait so long the rice dries out, though. That's a waste.
Perhaps the best argument I can make for eating sushi in a movie has nothing at all to do with its actual properties and more to do with the mystique that surrounds it. The best resource for useful and entertaining information about sushi that I've found is Dave Lowry's
The Connoisseur's Guide to Sushi
, a thin but eternally readable volume. Lowry and I disagree over a major point, however: the avocado. He says it has no place in any sushi, ever. I say it's a welcome addition here in the Midwest, where the fish is never going to be up to the standards of an exacting Tokyo-trained chef, anyway. It's tasty, damn it! Last time I checked, Japan imported all of its asparagus, too.
And here's the problem with sushi: Everyone has something they love but will not order in front of someone else if they are eating sushi together for the first time. There is a secret shame attached to liking the taste of something that's not exactly sophisticated fare.
In the dark, no one can see your Philadelphia Roll.
So what's the best way to bring your sushi into the movie intact? How do you prevent tragic separation of fish and pillow finger of nigiri rice, how do you keep slippery rods of cucumber ensconced in their rolls? Behold, half of an egg carton. The poor man's bento.
Each compartment hold two pieces of maki comfortably and can be stacked up to four high if you're careful about opening the top. Nigiri can be nestled into the cups individually or parked like pink and red cars across the flat "top" section with the cratered "bottom" holding them in place. Cut in half again to produce a single line of 3 egg cups. This makeshift bento will fit in any coat pocket. The whole 12-egg carton will fit in the bottom of a larger bag or, if appetite and fashion demand, in a the deep interior pocket of a knee-length winter coat.
This fine example sushi came from
Blue Ocean Sushi
, which has better sushi than anyone has any right to expect at a place with an all-you-can-eat option. They have recently added a surcharge to
ikura
(salmon roe) out of, I believe, direct response to the consumption habits of myself and the Doctor, my mysterious longtime gentleman caller. Some couples have a song - we have a piece of sushi.
In conclusion, a haiku:
Like leaves in a pond,
Vermilion layered on white.
Dinner in my coat!
Dara Strickland is a leading expert on sneaking food and drink into the movies. She reports on her exploits for Gut Check (from an undisclosed location) every Monday.