Robin Wheeler
Chef Jeffrey Constance of Hanley's Grille and Tap
What do you mean, you haven't heard of
Hanley's Grille and Tap
? Chef
Jeff Constance
took over the former J.Buck's locations at St. Clair Square in Fairview Heights, Illinois, and West County Center in Des Peres a few months ago. Though brand new, Hanely's is already providing Euro-inspired comfort food and excellent service like an old pro. For the 42-year-old Belleville, Illinois, native, it's the culmination of many years in the kitchen.
"I started cooking as a kid with my dad," says Constance. "He'd just had a heart attack and had been trying to change his diet. He was home a lot because he couldn't work. I was always close with my dad so that was an opportunity to spend time with him."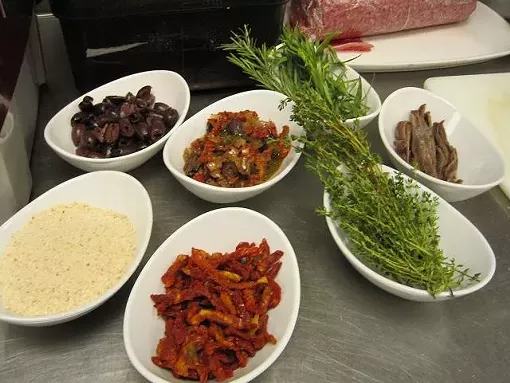 Robin Wheeler
Ingredients prepped for Constance's meatloaf recipe
He didn't plan on making cooking a career until he found himself spending a lot of time in a local bar and restaurant for another reason. "My friends were big into music -- Uncle Tupelo were all good buddies of mine. Jay Farrar and Jeff Tweedy were my best friends. We were hanging out at Cicero's all the time. I wanted to work at a place like Cicero's at that time in my life. I was in my late teens, early twenties. I got a job on the spot at eleven at night and started cooking."
During that time, a family friend returned to Belleville after studying at Johnson and Wales University in Rhode Island, inspiring Constance to expand his culinary horizons.
While his friends were rattling the music world, he found success in the less-publicized culinary realm. (This, of course, was before chefs were treated like rock stars.) After an internship at a New Jersey country club, he landed at
chef Charlie Palmer's Aureole
in New York City. There he learned to apply classic French and Italian techniques to American comfort food, the concept that's his primary influence today.
Robin Wheeler
Constance shapes his stuffed meatloaf
After Aureole, Constance married his Belleville girlfriend and returned to New York for a stint at
Gramercy Tavern
under Tom Colicchio. Even though he moved through the ranks quickly, he and his wife missed the Midwest. He worked as executive sous chef at Chicago's Spruce the year executive chef Keith Luce won a James Beard Award. Constance took over the executive spot, but when he and his wife became parents, they longed for home and their families.
He got involved with J. Buck's in its first year. When J. Buck's closed several locations last year, Constance jumped at the opportunity to fulfill his culinary vision with his own restaurants.
"[J. Buck's] was a concept-driven restaurant, not a chef-driven restaurant, and I wanted to get back to that. I developed a lot of concepts of my own but I couldn't do them inside that group. When I left the company back in October of last year, the opportunities came forward. The concept I'd developed was quite a bit different at that time, but at the same time I had these buildings -- I had two locations with quite a bit of volume, so I tweaked the concept a little bit, refined it a touch because it was even more casual than what I developed, but it was always going to be chef-driven with the casual price. And I love comfort food. It gets back to what my dad and I were doing when I first learned how to cook."
Robin Wheeler
Hanley slices the finished meatloaf, which is filled with goat cheese and tapenade
At Hanley's, Constance is able to combine his original love for the comfort food he and his dad made with the French and Italian techniques he's learned in his work. The meatloaf he made for me highlighted his love of these different culinary worlds. The meat was textured like pâté, filled with chèvre and a Provençal sun-dried tomato and olive tapenade and then served with a mustard bordelaise sauce.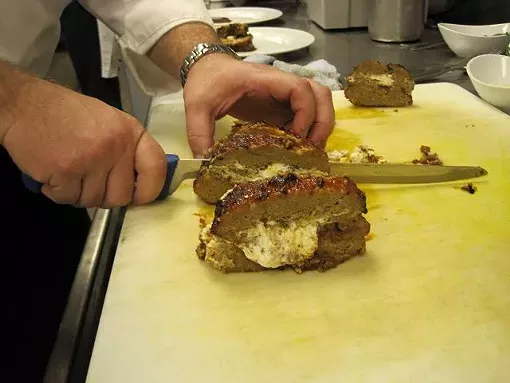 Robin Wheeler
The meatloaf, in close-up
Such strong, complex flavors combined with the ultimate American dish might sound like strange bedfellows, but they work together beautifully. Meatloaf doesn't have to taste like a crumb-filled giant burger slathered in burnt ketchup.
With his two new restaurants and his family settled back in his old stomping grounds, Constance has more restaurants planned. "I've got a sister concept that's going to be more upscale that I want to do down the road. Also, I'd like to do a fine dining restaurant."
In the meantime, he's reconnected with his roots. Dade Farrar, the original drummer for Uncle Tupelo back when they called themselve The Plebes and the Primitives, plays occasional gigs at the Illinois location. Constance has also remained close with Dade's brother, Jay, whose gigs provided Constance with his start in the culinary business.
For Constance, the worlds of music and food aren't far removed from each other: "I can equate writing menus with writing music. I often talk with Jay about it, and how as a chef you write the menu and that's your album and the cooks are like cover bands. They're cooking them for you but keeping them consistent and true to the recipes, and not letting them evolve.
"A lot of times a menu item goes bad because one guy does it a little different and the next thing you know you've got a completely different dish on your menu than what you created. It's not the same, but it's hard to get it back."
Coming later this afternoon, the recipe for Jeffrey Constance's meatloaf.Robin Wheeler writes the blog Poppy Mom. She is a regular contributor to Gut Check, including the columns The Dive Bomber and Throwback of the House.