Taqueria La Monarca
8531 Olive Blvd.
314-995-7018
314-814-5864
It's your birthday, and you and your friends are all heading out to that Mexican joint near Olive and Interstate 170. You chose it because it's big (you would have no problem getting a seat if everyone else in town didn't have the same idea), your friends are all familiar with the menu (there are five other area locations), and the staff will sing to you and send you home drunk on margaritas (¡
Olé
!).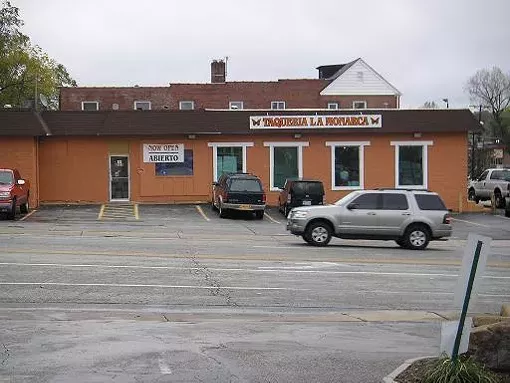 In case you missed the reference, I'm talking about Chevy's Fresh Mex. Chevy's does happen to have some delicious food for a chain restaurant. I love the salsa there. And why doesn't every Mexican restaurant serve sweet corn tamalito with combo platters? I could eat a bowl of it!
I'm not saying give up on Chevy's. But the next time you want to take your group for Mexican near 170 and Olive, consider Taqueria La Monarca.
I'll warn you: There are some things that you won't get at La Monarca:
1. No free chips and salsa. I don't dare downplay this. We all expect chips and salsa to appear on the table as soon as we sit down at any Mexican joint.
2. No attention to décor. Plan to eat in the back of a grocery store.
3. Sit down for this one...no margaritas. La Monarca is alcohol-free.
However, more adventurous groups should be able to get past these things (you can always go out for drinks after dinner) and enjoy the experience of a more authentic Mexican place (think Cherokee street, but in University City).
At La Monarca, you should expect:
1. A menu in Spanish and English with Spanish listed first. You won't be surrounded by crowds of gringos getting their happy hour on.
2. Happy hour prices on your food all of the time! Tacos are $1.99 each; a HUGE plate of three enchiladas is $6.99. The fajitas, which could easily serve two or three, are $10.99 for chicken or steak.
3. Your group to enjoy their food completely. Ours did. The only complaint was that both people who ordered chicken fajitas had some steak mixed in. This would be fine if you like steak, but one of our members does not. Also, you should know that with authenticity comes a bit more spice: The salsas are quite hot, especially the green salsa.
4. A selection of non-alcoholic drinks. You'll have a choice of regular or Mexican Coke (the one in the cool little bottle made with real sugar rather than high-fructose corn syrup). If you've never tried it, you should also make sure that someone orders the horchata, a rice beverage with cinnamon and vanilla.
5. To pay for your meal at the counter in the grocery. This makes it really easy to handle split checks. While none of us left with a free sombrero, we all went home with full bellies, leftovers and the knowledge that we supported a small, independent, local business.
Stefani Pollack is the author of the food blogs Cupcake Project and Food Interviews. She is also a member of the St. Louis Dinner Club. She blogs about her large-group dining experiences twice a month for Gut Check.Correction: Due to my mistake, the original post listed the restaurant's fax, not phone number. The correct number is now included. - Ian