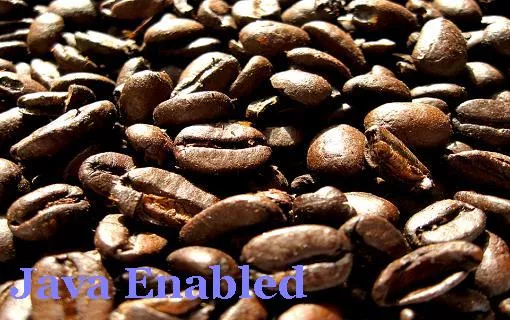 Lo Mejor de Monserrate
. It means, "the best of Monserrate." This perhaps presumptuous claim is the name of a tiny cooperative nestled high in the mountains of Colombia's Huila coffee region. Last month Tyler Zimmer and Mike Marquard of
Kaldi's Coffee Roasting Company
visited Monserrate. This was a rare opportunity for a U.S. roasting company to get the chance to visit one of the farms where its coffee originates, so I was curious to hear about the trip. After returning from
my own visit
to Latin America, I sat down with them last week to hear about their adventure.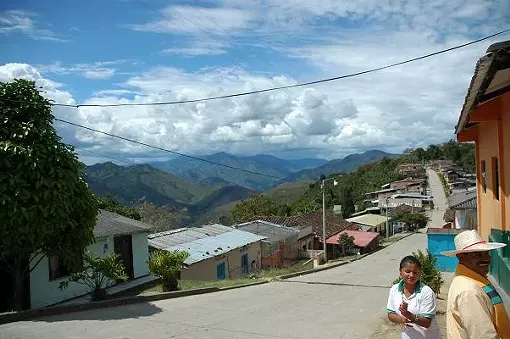 Courtesy Mike Marquard
The village of Monserrate and its co-op president, Don Gabriel
Recklessly perched at 1,800 meters above sea level, Monserrate sinuously winds along the ridge of a mountain. Coffee is the lifeblood of this remote village. Farmers dry their coffee on the streets in front of their houses; plots full of coffee trees crowd against the farmers' homes.
The Kaldi's duo was eager to see how the coffee was grown. "We hadn't gotten a chance to really walk the fields," Marquard said. "They asked us if we wanted to take the easy way or the hard way. We said the hard way. They walked us up, and the hill's angle had to be at 70 degrees. Even when we took the 'easy' way, it was still a really hard climb."
Though only a couple of hours by car from the capital, Bogotá, Monserrate is a world away from anything most Americans will ever see. There is only one rugged road to connect this tiny town to the outside world. When a flood last year wiped out this road at the peak of the harvest, farmers were forced to carry their coffee down the mountain on their backs.
Mountain passes aren't the only obstacles to reaching Monserrate. Only recently was this territory wrestled away from narco-trafficking
FARC guerrillas
. Zimmer and Marquard said some areas are still dangerous for tourist travel.
Courtesy Mike Marquard
2008 Lo Mejor de Monserrate cupping winner, Mesael Iquinas, and Atlas Coffee Importer president, Craig Holt, discuss this years increased rain fall, which leads to increased presence of Coffee Leaf Rust, a plant disease that leads to a smaller harvest
Through Atlas Coffee Importers and Racafe, one of Colombia's biggest coffee exporters, Kaldi's has been cultivating a relationship with Lo Mejor de Monserrate. Starting last year, Atlas and Racafe worked with the town to host a cupping competition to recognize the cooperative's highest scoring coffee lots. The winner receives a premium for their coffee on top of the fair-trade premium. The premium for the top winners ends up being almost 100% higher than the "c" price, which is the base price set by New York's commodity markets.
Courtesy Mike Marquard
2009 Lo Mejor de Monserrate first place cupping competition farmer Oscar Fernando Medina (center-left), 22, is congratulated by Nicolas Rodrigues of Atlas Coffee (far left), Craig Holt of Atlas Coffee (middle-right), and Juan Manuel Villegas of C.I. RACAFE Coffee Exporters (far right)
Mesael Iquinas, last year's champion, used his winnings to buy a new motorcycle. This year's winner, Oscar Fernando Medina, was only twenty-two when his coffee averaged the winning score of 88.10.
Last year, Kaldi's purchased coffee from the first place and fourth place winners totaling almost 1,000 pounds. On top of these premium microlot coffees, Kaldi's also purchases the cooperative's mixed lot, a combination of coffees from all 60 co-op members. We can expect to see this coffee on the shelves in late November.
I asked if the cooperative's coffees had similar flavors. "We tasted radically different flavors in every coffee," Zimmer told me. "Some of the coffees had a typical South America flavor, but a lot of the higher scoring coffees tasted more like Ethiopian Yirgacheffe."
A glance at the calibration table used to score and describe the coffees reads like a tea room's dessert menu: peaches and cream, bergamot, green apple, dark cherry, granola, honeysuckle. Micro-climates along the mountainside, farmer care and the weather all contribute to the coffee's abundant diversity.
Courtesy Mike Marquard
Coffee in parchment drying atop Monserrate
"Microlot" coffee might be too big a term to describe how the Monserrate co-op members grow their coffee. While Costa Rican microlot cooperatives selectively share a small mill between several family farms, many Monserrate's farmers mill all their coffee on location. Carefully isolating the crop allows for reliable sourcing and better prices if the particular lot is good.
Monserrate wasn't always a coffee powerhouse. Don Gabriel, a community leader, approached Atlas and Racafe and asked what the town had to do to improve its coffee. Don Gabriel was concerned that without a reliable, profitable crop, more notorious things would end up planted along the town's mountainsides. Dedication to quality coffee has been a boon for the community. Today, Monserrate is an example of how direct relationships with quality-oriented farmers.
Monserrate's annual Cupping Competition is about more than allowing roasters to bid on the best of the best coffee; it's about establishing lasting relationships with quality farmers. There are challenges every year to producing the best coffee. Coffee borers, leaf rust and excessive rainfall can all negatively impact the quality of a year's crop. When Mesael Iquinas' coffee didn't rank, he worried that he wouldn't make enough money to support his family and himself over the next year. The roaster that bought his coffee last year came back to buy his entire lot again this year.
"Middlemen get a bad name in coffee," Zimmer said, referring to how unscrupulous middlemen or
coyotes
are portrayed in the fair-trade dialogue. "But without guys like these [Atlas, Racafe], none of this would be possible."
With so many visitors to the town, a spontaneous soccer game has taken root as a closing ceremony of sorts. The "Copa de Monserrate" pits the town's second graders against the visiting gringos. "Last year was a blow out, but this year we put up a good fight," Zimmer told me.
The kids won again this year.
Zach Dyer is a writer living in Saint Louis. He did his thesis research on coffee farmers in Southern Mexico. Since then, he has visited coffee plantations in Costa Rica and Mexico as well as roasters and cafés across the U.S. He blogs about coffee for Gut Check every Wednesday.