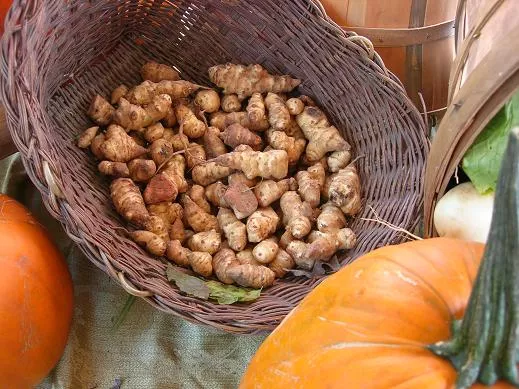 A few years ago, local chefs started hopping on the sunchoke bandwagon. Suddenly you had sunchoke purées and soups and risottos popping up like mushrooms after a week of fall rain. This happened to correspond to my first farm-share experience. As it turns out, Biver Farms is quite the purveyor of sunchokes. Every week for about a month, I would find myself with about two pounds of the little guys. I got sunchoke fatigue, to be honest.
But like all things there is a season (turn, turn). The fall is prime root vegetable season in general, so it's no surprise that sunchokes have started working their way into the markets again. They're homely -- they look a lot like stubby little ginger roots -- and their irregular shapes can make them a pain to deal with. But bear with me here, since they're surprisingly versatile.
Some fun facts about sunchokes: They're also known as Jerusalem artichokes, but not because they have anything to do with the Holy Land or artichokes. I prefer "sunchoke" because they're actually the roots of a certain type of sunflower, found throughout the U.S. They're not the most beautiful flower (they're actually pretty spindly as far as sunflowers go), and if you fail to dig up the roots, they're basically a weed. But thanks to good old (probably Native) American ingenuity, we can eat them, and they're tasty.
Sunchokes are a good starch substitute for diabetics and those with elevated blood sugar in general. Since the sugars are stored as inulin instead of starch, they generate less of an insulin spike after eating. In other words, they have a low glycemic index. They're also a great source of potassium, iron, fiber, B vitamins, copper and phosphorus. Who knew?
But nothing ruins the fun of food more than pharmaceuticalizing it, so here's the straight dope: Sunchokes are delicious -- kind of nutty and crisp, like a less juicy jicama -- and they tolerate just about anything you can throw at them. Making a stir fry? Slice a few and throw them in the wok with a little soy sauce, garlic and ginger. Roasting a pan of fall vegetables? Cut them into chunks and throw them on in. Making a vegetable puree (à la mashed potatoes)? Boil them alongside your other veggies and have at it. It's nice to have vegetables that are so forgiving to your every culinary whim.
Sunchoke and Potato Gratin
Adapted from Mark Bittman's
How to Cook Everything Vegetarian
My very favorite kitchen gadget these days is my mandoline. How gratifying is it to be able to slice a pile of potatoes to uniform thinness? Very, very satisfying. And fast. So if you don't have a food processor with a slicing attachment, consider shelling out the forty bucks for a decent mandoline.
Also, feel free to replace the potatoes with winter squash or sweet potatoes. It would be more visually interesting and maybe more like a main dish rather than a side. This is almost a blank slate, so you can also add various herbs and spices for some kick. And to veganize, if you've got a favorite fake cheese replacement (I frequently like using vegetable/tofu purees), I would use that here. Use a favorite complimentary dairy replacer or even a vegetable broth instead of milk.
1 pound potatoes, peeled and thinly sliced
1 pound sunchokes, thinly sliced
1 tbsp fresh thyme leaves
2 tsp salt
Generous amount of fresh pepper
1 ½ cups grated gruyere or swiss cheese
2 cups milk, heated in a saucepan until almost boiling
1. Preheat your oven to 375.
2. In a 9x13 pan, layer half your potatoes, sprinkle on half the thyme, salt and pepper evenly, add half the sunchokes, and finish with half the cheese. Repeat the layering pattern with the other half. Pour the milk over everything, and bake until you can slide a knife through all of the layers without resistance, about 45 minutes.
Alissa Nelson is a graduate student and compulsive buyer of cookbooks. She enjoys scouring seed catalogs and thrift stores alike. Every Wednesday she seeks the bounty of local farmers' markets for Gut Check -- and then cooks it.