After
the sushi class I attended a few weeks ago
, I knew I wanted to have the ingredients on hand to roll my own sushi. I decided to pay a visit to
Jay's International Food Company
on South Grand to check out what it had to offer. Since rice is stacked in giant bags in the window, I figured I'd find what I need and probably more, too.
There are several reason to forgo your grocery store's (probably limited) international foods section and hit up Jay's. One, it's undoubtedly cheaper. Trust me on this. Two, you can find all sorts of food items you never knew existed. Three, Jay's is a fascinating place perfectly situated on South Grand, full of character and characters. Four, I'm a big fan of the unintentional comedy provided by foreign foods as typified by the infamous British spotted dick.
Some things are just lost in translation and I feel as though those things are a gift from God meant to share with others.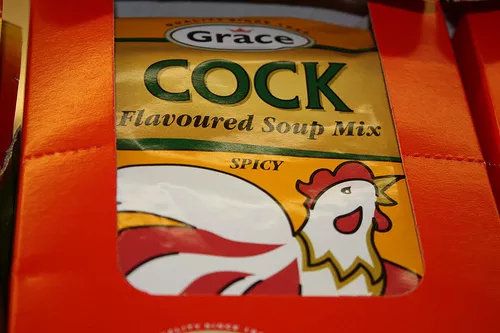 For example: cock-flavored soup mix. Never not funny. This is a joke that keeps on giving.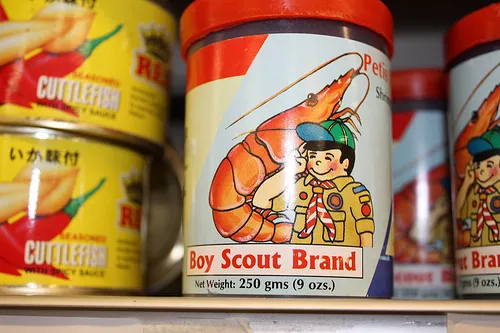 Boy Scout-brand shrimp paste? Yes, that is a logical pairing.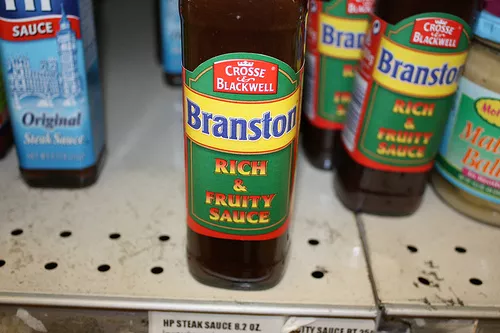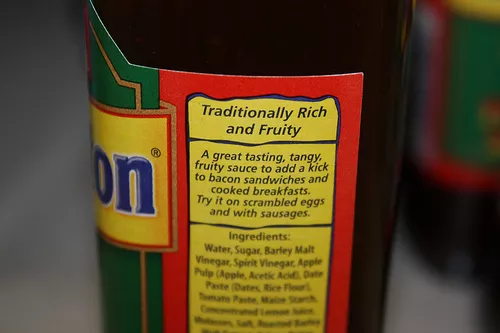 Rich and Fruity sauce adds a kick to bacon sandwiches? Wow, that's just how I like my friends: rich, (slightly) fruity and perfectly paired with pork.
What flavor is "ice cream"? Is it vanilla? Tastes like cold? I don't know.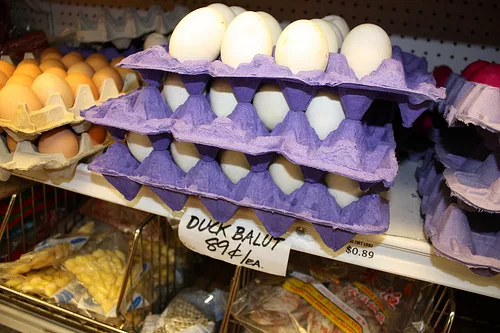 Jay's is a veritable bonanza of unusual food items I've seen only on TV. If you're planning a backyard game of
Survivor
and need some balut (fertilized duck/chicken eggs) for your eating challenge, make sure to stop by Jay's. You can get a whole flat.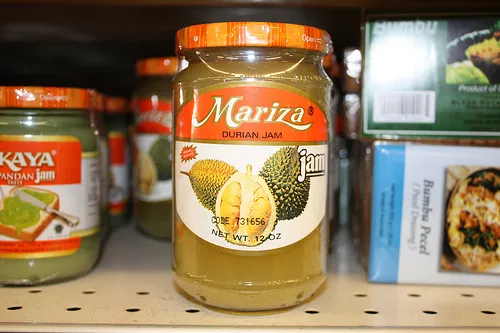 The next time you have a hankering for a peanut butter and durian jam sandwich, again, go to Jay's. I noticed the jar is sealed tightly in cellophane.
You can buy blood at Jay's. Yup.
The variety of oils, spices and sauces available at Jay's is mind-boggling. For those of you bored by your meal routine, one visit to Jay's will help you break out of your rut. I didn't even think I was in a rut, but wandering the aisles, I couldn't help but brainstorm all the dishes I could make with ingredients I probably wouldn't have considered had I stayed in my usual shopping routine.
Keep in mind that Jay's is relatively heavy on the Asian products. If you're looking for a more balanced global variety, you might want to check out
Global Foods Market
in Kirkwood. However, Jay's is more convenient for us city-dwellers (and, I think, more interesting).
Jay's is like Target in two ways: It's cheap, and you'll inevitably walk out with more than you intended to buy. Besides rice, rice wine vinegar and nori, I bought some fluffy naan, a package of Bustelo coffee (love the packaging), tapioca flour (which I will use to attempt to duplicate the awesome cheese bread at Niche), Pocky (thin Japanese cookie sticks) and several spices -- all for less than $20.
Cock jokes: free.
Kelli Best-Oliver is on a quest to become a full-fledged foodie. She chronicles her adventures for Gut Check every Tuesday. She writes about any damn thing she pleases at South City Confidential.