​
It's October, the baseball playoffs are underway, and Cards fans are already contemplating suicide. We here at Gut Check are avowed baseball fans -- an old-school Baltimore Orioles ballcap and a picture of Baltimore's late Memorial Stadium sit on a shelf above my desk -- so I thought a celebration of foods branded with the name and likeness of famous ballplayers was in order.
I don't just mean any old ballplayer's face on a Wheaties box, either. I mean examples like the cereal named after former Cardinal (current Padre) David Eckstein:
Ecks O's
. Because nothing says scrappy World Series MVP like a bowl full of honey nut toasted oats.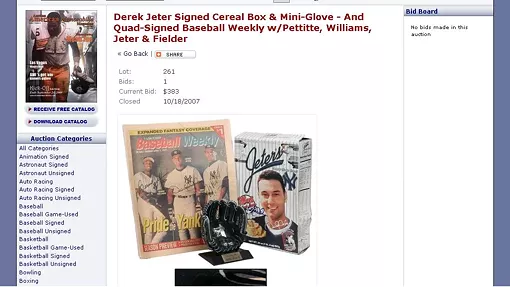 www.americanmemorabilia.com
Four World Series rings? Check. Beautiful women falling over you? Check. A place in the heart of Yankees fans that ARod has driven himself into a self-destructive frenzy trying to match? Check. Your own frosted-flakes cereal called
Jeter's
? Check, bitches. Check.
The influence of Latin Americans on baseball can't be understated. It can, however, be inexplicably undermined by
Dustin Pedroia's Premium Black Bean and Corn Salsa
.
Candy bars might be the most popular way to honor ballplayers in food:
Reggie Jackson
,
Pete Rose
and, pictured here,
Ken Griffey Jr.
, among many others. Of course, not every ballplayer deserves a candy bar...
achievercardblog.blogspot.com
Case in point: The
Travis Hafner Pronk Bar
. Pronk is Hafner's nickname, not -- as some have suggested -- a new, synthetic nougat. At any rate, Hafner enjoyed a couple of years as a feared slugger for the Cleveland Indians before his power mysteriously (ahem) disappeared. I actually had a chance to try this bar a few years ago, thanks to
a certain Indians fan of my acquaintance.
Not bad.
Scott Ehardt, Wikimedia Commons
The granddaddy of all ballplayer foods is the
Baby Ruth
candy bar. "Aha!" you say. "Got you. The Baby Ruth isn't named for slugger Babe Ruth but, rather, for Grover Cleveland's daughter, Ruth. The company itself claims so." To which I calmly reply: "Bullshit." Urban-legend debunker extraordinaire
Snopes puts forth a persuasive case
that the Ruth Cleveland story is a smokescreen devised to save the candy company's ass from using Babe Ruth's name without permission.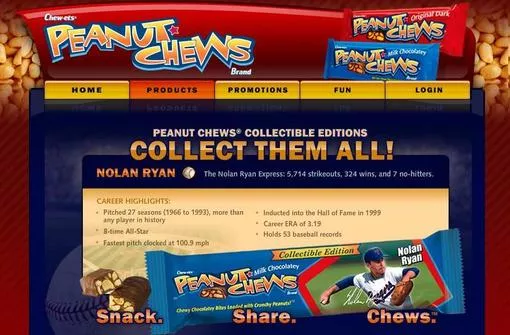 www.justborn.com/peanut-chews
The great Nolan Ryan -- along with Cards superstar Lou Brock and Phillies ace Cole Hamels -- is honored with his own collectible edition
Chew-ets brand Peanut Chews
. Raise your hand if you've heard of Chew-ets brand Peanut Chews. That's what I thought. But this is only the second-best Nolan Ryan product on the market...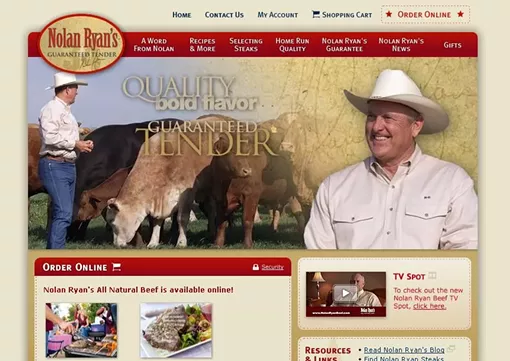 http://www.nolanryanbeef.com/
Yup. It's
Nolan Ryan's Guaranteed Tender Beef
. I don't have any jokes here.
Yes, I know Ben Roethlisberger plays football, but as a Baltimore Ravens fan, I couldn't resist the opportunity to include
Big Ben's Beef Jerky
(Teriyaki Flavor). Soft and tender. That's what the package says!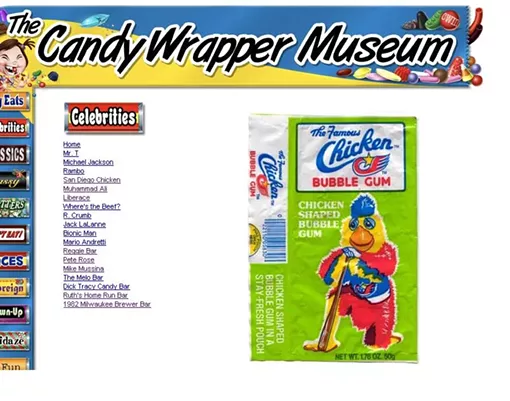 www.candywrappermuseum.com
The Famous Chicken Bubble Gum
defies words, really. But what I want to know is how much the city of San Diego paid to keep its name out of this.