I don't like coffee. Nor do I consider myself a fan of any of its more elaborately named siblings. I've always found that there are much more appealing vehicles for pumping caffeine into your bloodstream every morning.
So it probably doesn't come as a surprise that I don't spend much time in coffee shops. There are approximately 10,000 Starbucks in this country, and I have never knowingly turned over a single dollar of my money to any of them.
Which makes my appreciation for
Murdoch Perk
all the more vexing.
View Larger Map
At first glance, this neighborhood spot at the corner of Murdoch and Macklind in the
"SoHa"
neighborhood (that's trendy-speak for South Hampton) looks like the quintessential coffee shop. It has a java-based pun for a name, carries an overwhelming aroma of coffee beans, features a fireplace and oversized chairs for people who are reading random textbooks and offers free Wi-Fi that is actually being used by customers for stuff other than fantasy football.
In spite of that résumé, it also brings a few things to the table that challenge the traditional "coffee shop" label, several of which are particularly appealing to someone like myself:
1. It serves breakfast all day.
2. Depending on your preference, you can have sausage gravy and/or chili poured on top of said breakfast.
3. It has unlimited fountain soda for non-coffee drinkers to wash down their chili-covered breakfast.
These traits alone (to say nothing of the otherwise extensive food menu) make Murdoch Perk a tough place to pigeonhole. If a customer walks in looking to do the traditional things one does in a coffee shop -- sip a hazelnut latte, read Tolstoy, write dissertations, etc. -- then they have ample opportunity to do so.
If a customer walks in looking to do things one doesn't traditionally do anywhere near a coffee house -- eat a plate of breakfast potatoes and scrambled eggs swimming in a generous helping of "Ed's Spicy Chili" at 7:00pm for example -- then it can meet that demand as well.
If it's a middle ground you're looking for, there are options galore. Perhaps you can drink a Cafe au Lait next to the fireplace while you scarf down a St. Louis Cheesesteak. Or enjoy a "Big Breakfast" of scrambled eggs, bacon, toast and potatoes and read the sports page on your laptop while you nurse your "Spiced Mocha."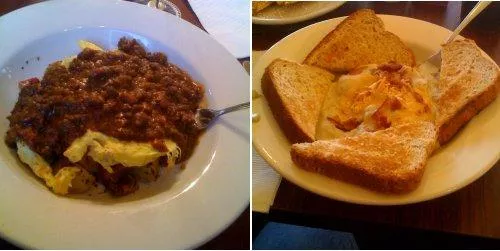 On my two recent trips to Murdoch Perk, I managed to stay true to my roots and avoid that middle ground. Meal number one consisted of the "Hungryman Breakfast" (for dinner): a medley of homestyle potatoes, topped with scrambled eggs, further topped with "Ed's Spicy Chili." Should I ever get a chance to meet Ed, I wouldn't hesitate to offer a kind word for a chili recipe so thick with meat that it will have you reaching for a fork instead of a spoon.
Back for round number two a few days later -- this time for breakfast -- I elected to go with the same core of homestyle potatoes and scrambled eggs, only this time covered in sausage gravy, bacon bits, cheese and wheat toast to make sure nothing went to waste.
I'm nothing if not adventurous.
For the more curious, Murdoch Perk isn't short on options. Breakfast is served anytime and offers tempting variations such as banana-pecan waffles or croissant sandwiches featuring anything from the standard bacon and cheese to the "T.E.S.S." (tomato, egg, spinach and Swiss cheese). If you prefer to limit your breakfast food to the mornings, your lunch and dinner options include ample salads, sandwiches, crêpes and wraps.
Regardless of the time of day, as you stand at the register placing your order, your eyes will inevitably drift towards the pastry case, where desserts such as the "Life Through Chocolate" cake and turtle cheesecake will be staring right back at you daring you to splurge. After all, nothing goes with a mocha quite like a giant slice of chocolate cake, right?
You know, maybe it's time I give this coffee stuff another shot.
Josh Bacott reports on his journey through one of the unhealthiest cities in the good ol' USA every other Friday for Gut Check. Because who says calories have to count?