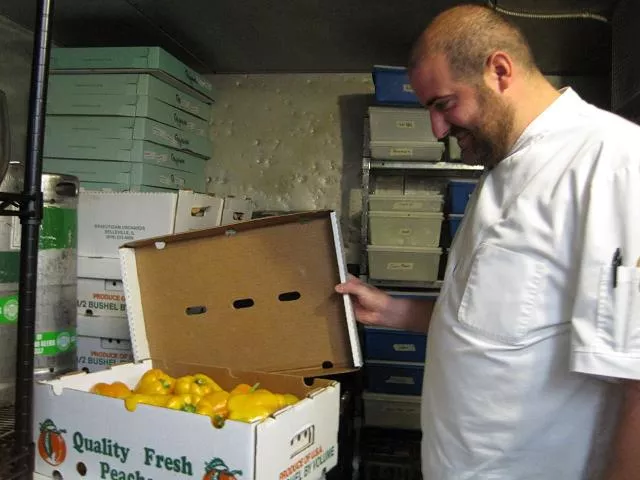 Robin Wheeler
Vito Racanelli of Onesto Pizza & Trattoria
Vito Racanelli
, owner and chef of
Onesto Pizza and Trattoria
(
website
), comes by his food roots honestly. Born in New York City to parents from Bari and Calabria, he moved with his family to St. Louis when he was thirteen years old.
The Racanellis brought a lot of Old World ways with them: "I didn't have peanut butter and jelly and things like that. Breakfast at my house was a couple of raw egg yolks beat with sugar. More of a European fare, and that's what we were raised on. Most kids' lunch bags were Oscar Meyer bologna and cheese. Mine was olives and eggplant Parmigiana. I was the kid who had the brown lunch bag that was stained with olive oil."
Despite his family's success with
Racanelli's New York Pizzeria
(
website
), which is operated by Vito's brother, John, Vito opted to go a different route. "Onesto means 'honest' in Italian. I guess I'm going to have to get back to my roots and really go that way. So I started visiting the farmers' markets to see what was out there. It just inspired me. It's something I wanted to do."
While Racanelli and I talk in Onesto's dining room, he stops to place an order with Kim Vogel of Eilerman Brothers Orchard, who stopped by with her truck of fresh produce. "I know her husband. I laugh with her children. I couldn't imagine doing it any other way now."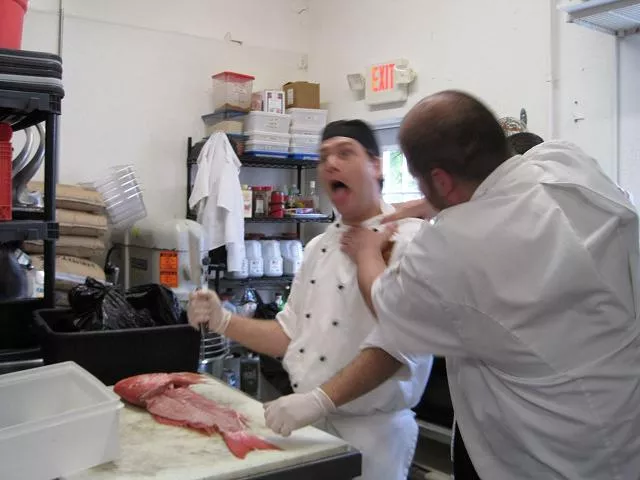 Robin Wheeler
Vito Racanelli, in action
The same care went into developing Onesto's recipes before the restaurant opened. "When we opened this place we really thought about it and drove it towards the neighborhood. We wanted to keep the menu simple so we went straight trattoria. Let's look at the Italian immigrants that got here. When we wrote the menu I was like, we gotta have pizza, calzones, stromboli. But we just can't make it regular. We gotta take that flavor and we've gotta make it right.
"So I started with flour. I need really good flour to make really good pizza. I must have gone through six or seven different mills until I found one I liked. We've got that part down. What next? We need to use olive oil. We need to use sea salt. We need to use fresh yeast. It needs to be brought up a notch. But we're going to stay true to the pizza."
From there Racanelli and his staff found the perfect small-batch mozzarella producer,
Grande Cheese
, then onto the perfect oven-roasted sauce. Next, he's tackling Italian sausage. "As soon as I think I've got this figured out and I've got free time, it's like let's start making the sausage now. Let's keep everyone on that 15-hour work day. Everyone's too comfortable so let's make 100 pounds of Italian sausage!"
Racanelli is a perpetual motion machine, tapping his foot and his hand while we talk, slugging back a bottle of Vitamin Water between breakneck-speed sentences, effectively chatting with me, his employees, his wife Michele (who oversees the restaurant's public relations), Vogel and several customers at the same time.
He does slow for food, especially his mother's cooking. "If I'm not here, my mother usually cooks. I'll call her up and say I'm coming for dinner. My mom's chicken and rice is the best. I love it. It's such a simple thing and it's delicious."
Robin Wheeler
Vito Racanelli tucks in to his mother's chicken and rice: "Whoever I worked for, I always thought my mom could do better than this. "
Michele brings him a carry-out container of the dish from his mom's house. As he fluffs the rice, he says, "Fast food took the romance out of food. Because why would you come here and sit down and enjoy the art of dining when you can sit in your car and spend five bucks at a drive-thru? And that's where our society has gone. It's about I want three pizzas for $5 a pizza and let's feed the family that crap and move on to the next thing.
"That doesn't exist in Italy. You go to Italy and get the simplest of meals, and you sit down in a cafe, it's always elegant. You sit down, they come over, they talk to you, you order your pizza, you relax. You're never rushed. It's always that kind of experience, and that's what I like.
"I think if I were to go back, who influenced me the most? The French guy in New York? No. Where is the basis of it all? Where does it begin for me? Whoever I worked for, I always thought my mom could do better than this. And most of the time I was right. Because nobody has the care that she does. She's not cooking to impress anybody. She's not cooking for self-gratification. She's not cooking for $19.95. She's cooking for her family."
For Racanelli, his family extends to his staff, most who've been with Onesto from the beginning. "I can't do this all myself. I'm fortunate that I have people who really believe in -not me, but they like the restaurant the way we work. It's like a family. It really is."
But as with his own family, there has to remain room for the individual. "You have to do this for yourself. You can't cook for the critics. You can't try to please everybody. Not everybody likes this restaurant, and I don't want everybody to like the restaurant. I don't want all the pressure of being perfect. I like not being perfect. I like being rough around the edges."

Coming later this afternoon: The recipe for Vito Racanelli's Calabrese chicken and rice.
Robin Wheeler writes the blog Poppy Mom. She is a regular contributor to Gut Check, including the columns The Dive Bomber and Throwback of the House.