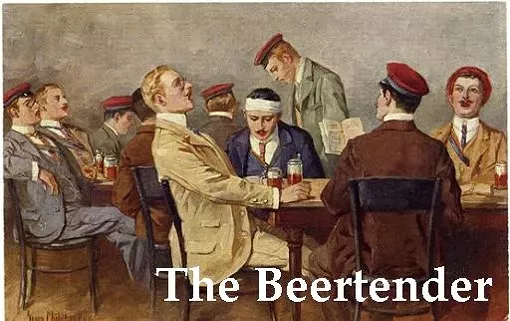 Ever seen that ad where Jim Koch of Samuel Adams noses around a hops field and says, "Hops are to beer what grapes are to wine"? While it's not quite an SAT-worthy analogy, it does make the point that there are different varieties of hops -- and that they are crucial to beer.
Hops are the spice of beer, providing flavor and aroma. They also add bitterness to balance the sweetness of the malt, and they increase the shelf life of the finished beer. Getting to know beer? Get to know hops.
User "Wildfeuer," Wikimedia Commons
Native to the Northern Hemisphere, hops are in the same plant family as cannabis, as evidenced by both plants' production of small, fragrant nuggets of psychotropic resins. Hops grow on bines, which are like vines -- though bines grow only in a circular pattern around a support, making them very easy to train.
The cultivation of hops has been traced back to the 8th century in what is now the German state of Bavaria, yet hops weren't used in the production of beer until the 11th century. Before that, and going back to our earliest records, beer was flavored and preserved by an array of herbs, flowers, roots and spices, creating many brews that would be hardly identifiable today. The function of these ingredients was the same, however: flavoring the beer, bittering the malt and preserving the brew.
In 11th century Rhineland -- a time when an herb mixture called gruit dominated the brewing world -- a Benedictine abbess named Hildegard of Bingen wrote about using hops to spice beer. Since the formulation and sale of gruit was often controlled by local muckety-mucks, suggesting that brewers switch to a single freely-grown plant was revolutionary indeed. (There was a lot about Hildegard that was revolutionary.
You should look her up.
) After being fought by everyone from Henry VIII to the Catholic Church itself, the humble hop finally, gradually, won out, becoming de rigueur in European brewing during the 16th century.
Different strains of hops have been developed over the centuries, each possessing its own character. Some are used mainly for bittering, while others are added for the aromas and flavors they impart to the brew. Hops from Germany's Hallertau region are revered for their mild, gently spicy aroma, while an English hop called Fuggles is prized for its soft fruity and woody character. West Coast American hops are known for their big citrus and pine flavors.
A brewer will usually use several different strains in a single beer, balancing one aspect of the hops' profiles against another, until the right complexity is achieved. Sierra Nevada's iconic pale ale uses seven different strains of hops, for example, while brewers like Denmark's Mikkeller are now making single hop beers to showcase individual varieties.
To take your hop grokking to the next level, consider investing in a Hop Appreciation Kit, a snazzy little product from
TasteYourBeer.com
that includes samples of several popular strains. Smell your beer, sniff the sample, take a sip: It's a sensory adventure that just might change the way you drink beer. Also, check out a brewery tour, particularly at a small local brewery. You may just be given a chance to get all Jim Koch on a handful of fresh, green heaven.
Matt Thenhaus is a Saint Louis bartender who believes there is a time and place for every beer. He blogs about beer for Gut Check every Wednesday.