I introduced you
to one of my favorite people in the world, my British pal
Sally
. This week, I got a care package from the U.K.: two cookbooks from Sally's mom's collection, copyright 1962. They're weathered with use, which I love, and full of notes from Sally about which recipes her mom used to make. She even left some clipped magazine recipes hidden among the pages.
Sally's mom, Gill, was classmates with Mick Jagger at the
London School of Economics
. There's much debate on the nature of their relationship. Gill claims they lunched regularly. Sally and her sister think Gill's not telling the whole story.
Yes, I'm giddy to own cookbooks that nourished one of my favorite people with recipes cooked by someone who shared sandwiches with Sir Mick.
I'm not going to make fun of British food. That's so overdone. Most jokes about British food stem from our being picky-ass Americans who get grossed out by offal.
I am going to make fun of British canned food.
Gill's 1962 edition of
500 Recipes for Budget Meals
by Catherine Kirkpatrick doesn't lack, especially in dishes built on
Heinz Baked Beanz
. I'm fascinated by these beans because of
that Who album cover
, but I've never tried them. Global Foods only carries the plain version, not the kind with sausage required for Bean and Sausage Crumble. No matter. They did have the real
Heinz Cream of Tomato Soup
.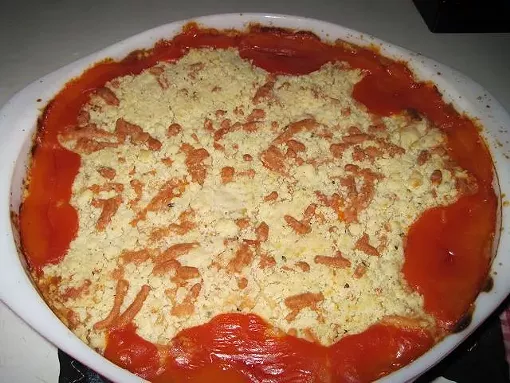 Combine the two, which seems redundant since the beans are packed in tomato sauce. Top with a mixture of flour, salt, pepper, butter, and cheese (basically, a savory shortbread). Bake the hell out of it for 30 minutes at 400 degrees.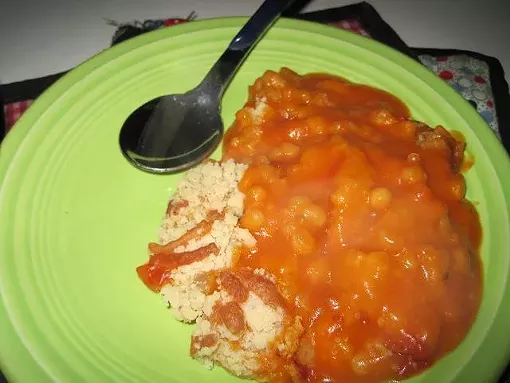 I expected to hate this, but you know what? There's a reason why Brits eat so many of those damn beans. They're good! Navy beans, mild tomato sauce, a little vinegar and a load of salt and sugar. They don't taste a bit like Roger Daltrey's been sitting in them. Hell, I'd eat that off toast for breakfast, too.
It's probably just as well that I didn't have the sausages. I can't imagine they'd improve on something that was right tasty.
I don't know if Gill ever made this for her family. I do know that next time they're Stateside, I'm making it for them.
Robin Wheeler writes the blog Poppy Mom. After years of making and eating fancy food, Robin is sick of it all. She's returning to the basics: recipes that haven't surfaced in three decades. She reports on the results for Gut Check every Monday.