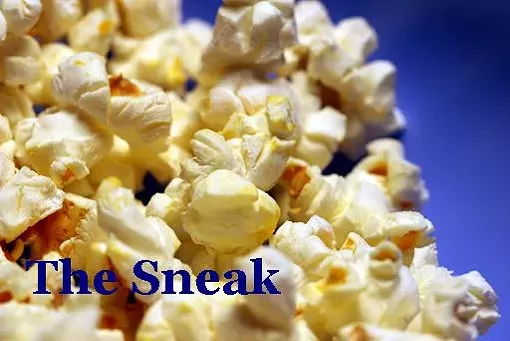 Show
: St. Louis Shakespeare's cunning blood-n-gore production of
Macbeth
, a terrific play about terrible people.
Food
: Globe Theatre Apple-Hazelnut Tart, baked by yours truly.
Difficulty
: Extreme. While the initial sneak phases of repackaging the food in aluminum foil and taking it into the theater were easy, the tart recipe had to be significantly altered to be appropriate for sneaking, and even then its deliciously crumbly crust nearly blew the whole operation. Close quarters and bright lighting in the Grandel Theater also made me feel like I was being impolite by not offering my neighbor a slice.
Apples, pears, oranges, pastries, roasted meat and nuts: all things eaten and/or thrown at the actors during plays at Shakespeare's Globe Theatre. A single penny dropped into a wooden box would let you stand in the yard with the rest of the groundlings for the afternoon show in the open amphitheater. Raining? Too bad, and you probably needed a bath, anyway. Illiterate? Join the club. For just a few pence more, you could get an entire meal from vendors wandering around inside the theater or from stalls set up just outside. Truly, it was a golden age of the nexus of eating and entertainment.
Bubble, bubble, sneaking and trouble
St. Louis Shakespeare's production of
Macbeth
is well-matched to the text: It's a story of embers of ambition fanned into a consuming crescendo of conflagration, lean and muscular. One of Shakespeare's shortest plays, it coyly places the Act II murder of King Duncan, the event that shifts the rest of the action from history to tragedy, off-stage. Macbeth and Lady Macbeth wander onstage from the scene of the grisly crime covered in blood and have varying stages of total nervous breakdown about something that's never shown. Every other murder in the play after Macbeth becomes king -- friends, enemies, women, children -- are presented onstage, with mounting cruelty and indifference, showing exactly how quickly ambition can turn an honest man into a monster.
The staging of this production was perfectly suited to the material. Athletic, not only in interesting choreographed fight scenes where bright sparks sometimes fly off the clashing edges of weapons, but also in the way Macbeth is haunted by the ghost of Banquo, his murdered former friend. This is no Scooby-Doo ghost who clanks his chains and runs three steps behind through and endless corridor, but one that chases you over the table, chokes you, then slices your throat as the blood from his mortal wounds glistens in the stage lights.
A particularly clever twist in this version: Before intermission, the audience sees what Macbeth sees when the ghost of Banquo comes for him in his feasting hall; after intermission, the same scene is repeated as the banquet guests see it, with only Macbeth running around the dining room like the raving lunatic he is. Everyone in this production, including Lady Macbeth, projects an aura of physicality that makes it utterly believable that they are battle-ready warriors locked in mutual combat, often quite literally.
The first scenes are slow, lots of exposition about a war fought off-stage and some staging choices made to spice up the opening scenes actually made the dialogue difficult to understand. The best ideas were clearly saved for the unusual but incredibly effective ramped set design and the later, more dramatic, scenes. As such, there are two severed heads in the second half of the play, which I found rather satisfying -- and an excellent nod to events that are certain to take place after the play ends.
here
. Considering I changed the quantity of most of the ingredients for my recipe, this produces a completely different dessert. I include it here for two reasons: It's a good if not terribly interesting base recipe for a tart to be eaten with a fork, and it supposedly came from an article called "An Alsatian Sausage-Tasting Party." I couldn't find any more pornoriffic title in my collection of cookbooks, though I did start looking at
Williams-Sonoma Entertains
and
The Joy of Cooking
a little askance.
Here's the highly modified recipe I actually used:
Globe Theatre Tart
Butter Crust
1 cup whole wheat flour
6 tbsp butter, softened
2 tbsp powdered sugar
1 tsp ground ginger
1 tsp ground clove

Apple-Hazelnut Filling
3 Tbs. butter
1/4 cup sugar plus 1/8 cup sugar in reserve
4 tart apples, peeled, cored, and thinly sliced
1/2 cup chopped, toasted hazelnuts
1/4 tsp. of cinnamon

Preheat the oven to 425. Cut butter, sugar and flour together in a food processor or by hand (for Michelle Obama arms) until you get sandy, uniform crumbs. Press crumbs into a buttered tart pan (I used a silicone mold meant for tarte tatin and it worked beautifully) and pop the whole pan in the freezer for about 10 minutes. Bake the crust on the center rack of the oven until it's just brown -- 8 minutes, max, depending on your oven. Take the crust out and let it cool while you peel and slice apples or brush up on your Shakespeare.
Put the remaining butter in a large saucepan on medium-high heat and mix in the 1/8 cup of sugar, stirring constantly to prevent sticking. When the butter has completely melted, add the apple slices and stir to coat. Cook the apples on medium heat until they just begin to caramelize, stirring frequently to evenly cook. When the apples are done, fill the tart crust with the toasted hazelnuts, then spoon the apples over the top in a thin layer. Sprinkle the remaining 1/8 cup sugar and the cinnamon over the apples and return the tart until the to the oven until the apples have evenly browned, 10-15 minutes.
For the unsneakable, fork-only version, just use twice as many apples and possibly more sugar sprinkled over them, if it's to your taste. The lower total apple count and higher butter-to-apples ratio in the filling of the sneakable version makes it less juicy and thus less likely to drip or leak. The entire tart, cut into wedges with layers of wax paper of aluminum foil separating each piece, fits easily into a mid-sized evening bag or a deep coat pocket. You could probably fit five of them in a standard trenchcoat.
As for the recipe, I recommend playing around with it, as it's fairly forgiving. Some ideas: Substitutions for all or part of the apples that will still give you an authentic Elizabethan taste are firm pears, candied oranges or figs (fresh, or dried but reconstituted in a solution of half warm water, half sweet red wine).
Because this torte is not too sweet, it makes an excellent complement to cheese. A sharp English cheddar or smoother blue cheese would be great if you use all apples. A variation on this with pears in for the apples, almonds in for the hazelnuts, and shavings of manchego is pretty much all-in-one tapas -- perhaps the Spanish Armada Tart?
When the tart is done, brushing the top with rosewater or clove
simple syrup
would give it a great sheen and even more of an Elizabethan taste. For serving the unsneakable fork-only version, I'd probably top it with whipped cream sweetened with Frangelico.
Sometimes I try to imagine what a groundling would think of the unassailable place Will's plays have now. He wrote for the queen and the king, but he also wrote for the lowest common denominator. With its horrorshow of witchcraft, suicide and multiple onstage murders (which would almost certainly have been accentuated with bursting pig bladders full of real blood), Macbeth wouldn't have been that different from Zombieland.
When Shakespeare's performed outside in the summer, cakes and ale! Inside...I'm not even allowed to throw hazelnuts as a sign of enjoyment. How far we've fallen since that gilded time. We can read the programs and we smell better, but we've lost or made furtive one of the fundamental pleasures of 17th-century theatre.
Dara Strickland is a leading expert on sneaking food and drink into the movies. She reports on her exploits for Gut Check (from an undisclosed location) every Monday.