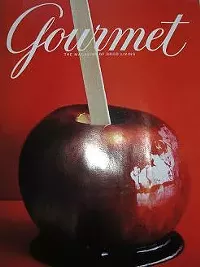 The
New York Times
reports
that magazine publisher Condé Nast will shutter
Gourmet
magazine after almost 70 years:
The magazine has suffered a severe decline in ad pages, but the cut still comes as a shock. There was speculation that Condé Nast would close one of its food titles -- Gourmet or Bon Appétit -- but most bets were on the latter. Gourmet has a richer history than Bon Appétit, and its editor Ruth Reichl is powerful in the food world.

No word yet on whether
Bon Appétit
will subsume some of
Gourmet
's writers. That would seem logical, but the intricate rivalries of magazines that share a publisher never fail to confound me. I imagine the great Ruth Reichl will land on her feet, however.
Update:
From the internal Condé Nast memo, via
Gawker
:
Gourmet magazine will cease monthly publication, but we will remain committed to the brand, retaining Gourmet's book publishing and television programming, and Gourmet recipes on Epicurious.com. We will concentrate our publishing activities in the epicurean category on Bon Appétit.