Despite being an avowedly city-livin', farmers' market-shoppin', Fair Trade coffee-sippin' -- did I mention self-loathin'? -- walking cliché, I need to clear out my mind and lungs periodically.
Believe it or not, I actually grew up 45 minutes from the nearest city, where I was surrounded by pick-your-own options. The first warm days of spring were inevitably marked by my family squatting in the middle of a strawberry field, sneaking occasional berries while filling up a cardboard flat in the May sunshine. Summers were all about blueberries, massive quantities that would make your head spin.
Then when the weather got crisp, we would make a trek on narrow winding New England farm roads to one of the old orchards. If I was really lucky -- like, really REALLY lucky -- I would even get a caramel apple.
When I first moved to St. Louis, I missed apple season three years in a row. Who knew that it was over in October? Who knew that you could pick apples without wanting -- hell, needing -- hot apple cider at the end of the day? Y'all are crazy here.
While I miss my apples of Irish ancestry -- McIntoshes, Macouns and Courtlands, in particular -- I've come to appreciate the sun on my shoulders as I pick Ozark Golds and Jonathans. Last year, I discovered Mills Apple Farm in Marine, Illinois. I'm a girl of predictable tastes, and I was completely won over by their two dogs that jog alongside the tractor as you head out to the orchards. That aside, their farmers are lovely people, and they make a killer flaxseed cookie.
With all that down-hominess, you'd think I would be weaving my own basket crust for apple pie. Um, no. So even though I grew up in a little rural college town, we had a killer Indian restaurant in an old-school house building, where I first cut my teeth on coconut soup. For my first years of cooking, Indian food was the one thing that I refused to attempt, since I knew I couldn't do it as well as the professionals, nor did I have the time or inclination.
About a year ago I found myself seduced by the fantastic food photography in Madhur Jaffrey's
Quick & Easy Indian Cooking
, and I discovered that I could do a completely acceptable multicourse Indian feast in a totally reasonable length of time, dessert included. I'd consider these the grown-up version of the caramel apples of my youth, a fitting reward for my hard work in the orchards.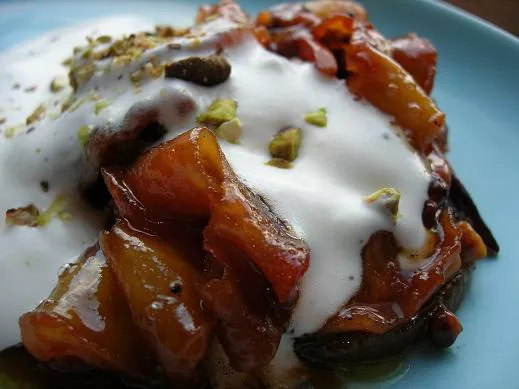 Caramelized Cardamom Apples with Pistachio Cream

Adapted from
Madhur Jaffrey's Quick & Easy Indian Cooking
This is NOT HEALTHY. I just wanted to make that clear up front. The beauty is that -- like any particularly rich food -- you will feel completely sated without eating too much. Moderation!
1 cup heavy whipping cream
2 tbsp pistachios, finely chopped (She says unsalted, but I think that salted pistachios provide a nice counter to the sweetness.)
1 stick unsalted butter
4 medium-sized tart apples (I used Jonathans, which are everywhere these days.)
1/4 tsp ground cardamom
1/8 tsp ground cinnamon
1/8 tsp ground cloves
2/3 cup sugar
3 tbsp blanched slivered almonds
2 tbsp chopped walnuts

1. Whip the cream lightly in a bowl until it starts to form soft peaks. You don't want to keep going until you have full-on whipped cream -- it should stay relatively soft. Fold in 1 tablespoon of the pistachios, cover and refrigerate.
2. Melt the butter over low heat in a cast iron skillet. Take the pan off the heat.
3. Peel, core (an apple corer is key here) and slice the apples crosswise. Place the slices in the butter as you slice them to avoid discoloration.
4. Add the spices, sugar and nuts. Turn the heat to medium and cook while stirring for 2-3 minutes until the sugar melts.
5. Turn the heat to high and cook for 10 minutes, stirring only occasionally, until the apples caramelize lightly. Resist the urge to turn the heat up too high because it's taking a while to cook: The caramelization reaction goes really fast once it starts, and you might run the risk of burning your nuts and eventually, your sugar.
6. Let the apples cool a bit before plating, then top with the cream. Sprinkle some of the reserved pistachios on top.
Alissa Nelson is a graduate student and compulsive buyer of cookbooks. She enjoys scouring seed catalogs and thrift stores alike. Every Wednesday she seeks the bounty of local farmers' markets for Gut Check -- and then cooks it.