I'm a terrible baker. Horrible. While I'd like to blame it on our shitty oven, I'm pretty sure it's because of my devil-may-care attitude when it comes to both measuring ingredients and closely following directions. You know that
no-knead bread
everyone said was
soooooo
easy? The kind with a crispy shell and a chewy, glutinous inside perfect for sopping up sauces and gravies? The one that's supposed to be fail-proof? All three times I tried it, my loaves ended up flatter and harder than a post-lipo abdomen.
The only baked good I can churn out with any regularity is pizza dough, and I even screw that up every now and again. (I then call it
flatbread
.) But fall is here, apples are at the farmers' markets and that means hearty comfort food. When I saw
a Gourmet recipe for apple pie
with -- wait for it -- cheddar baked into the crust, my mouth watered and I knew it was a project I'd like to take on.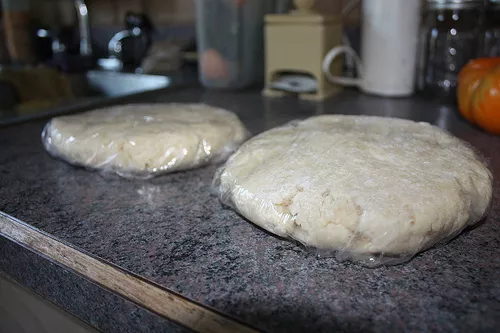 Have you missed out on loveliness that is apple pie with cheese? Nineteenth-century poet Eugene Fields opined
But I, when I undress me
Each night upon my knees
Will ask the Lord to bless me
With apple pie and cheese.

There's even a saying that goes along with the classic pairing: "An apple pie without some cheese is like a kiss without a squeeze."
I did not make this up.
Apple pie served with a wedge of cheddar is regional favorite in New England as well as parts of the Midwest. Since I love the sweet/savory combination of apples and cheese as a snack -- who am I kidding, I like cheese with pretty much anything -- I figured even I couldn't turn this into a failure.
The recipe is fairly straightforward: sugar, flour, cold butter, shredded sharp white cheddar, shortening, salt and ice water for the dough, which is combined, chilled and then patted into two rounds. I really, really tried to follow the directions to the letter. I put the butter in the freezer to chill. I used actual ice water, just like the recipe called for, which is to ensure that the butter and shortening do not melt. Should they melt, the crust would not be as flaky.
I don't own a rolling pin, so I used a half-empty bottle of wine, and then I drank the rest of the wine. This was my only deviation from the printed recipe, I swear. I even bought the exact variety of apples requested: half Gala, half Granny Smith. Both varieties have a firmer flesh that will still maintain their shape during the baking process, and the sweetness of the Gala tempers the tartness of the Granny Smith.
Prepping the apples was simple and satisfying. There's something about peeling an apple that makes me feel like a real cook -- so much so that I did it while sitting on the couch and watching
Supernanny
without feeling the least bit odd. I like how a knife in my hand can turn into a lathe for the apple. Simple, but effective. Try it. It's fun. Six peeled, cored, and sliced apples were coated with a mixture of sugar, flour, salt and lemon juice and spooned into the bottom crust.
I topped this with the other crust, which I crimped and trimmed. If you enjoy such novelties as the Play-Doh Fun Factory, you will enjoy this part of the process. I thought about trying to cut a fancy shape out of the top crust but with my track record, this would have resulted in both a complete ruination of the pie and the utter destruction of my kitchen itself, so I STUCK TO THE RECIPE and cut five one-inch slits in the top crust.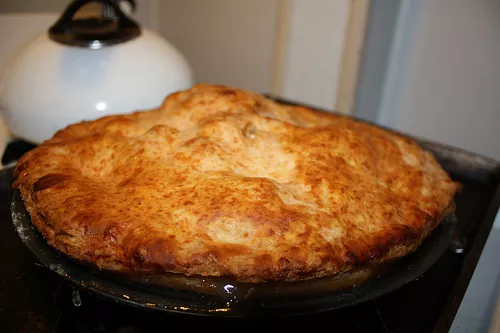 Sixty minutes later, I pulled the bubbling pie out of the over, perfectly brown and surprisingly savory smelling, as if I were taking macaroni and cheese out of the oven instead of dessert. I sampled a piece after it cooled. The crust was definitely cheesy -- like a Cheez-It (!), but
better
, subtler. It was buttery and flaky, although the top crust developed an almost crust from the cheese. The filling was tart, but just sweet enough to go well with the savory crust.
It was a welcome change from a standard apple pie -- different enough to be memorable, but with enough traditional elements to keep it inviting. While I'm still skeptical of all things involving yeast (pizza dough excepted), I do feel confident that I've got a go-to dessert for entertaining and that someday, if I
get a new oven
work real hard and FOLLOW THE RECIPE, I just may yet master the artisan bread of my dreams.
Kelli Best-Oliver is on a quest to become a full-fledged foodie. She chronicles her adventures for Gut Check every Tuesday. She writes about any damn thing she pleases at South City Confidential.