Time to decode and deconstruct another term that gets thrown around way too often in the wine world: the "great" year or vintage.
In the early days of my fascination with wine, I marveled at connoisseurs' ability to rattle off all of the "great" years for the world's "great" wine-producing regions.
As with points
, though, it's very easy to transform "great" to "best" and quickly decide that -- given limited time, budget, liver and brain cells -- "great" should mean "only." This is especially true when vintage rankings are reduced to a handy, wallet-sized chart summarizing some critic's take on all of the world's "important" wine regions.
This path is unfortunate for several reasons.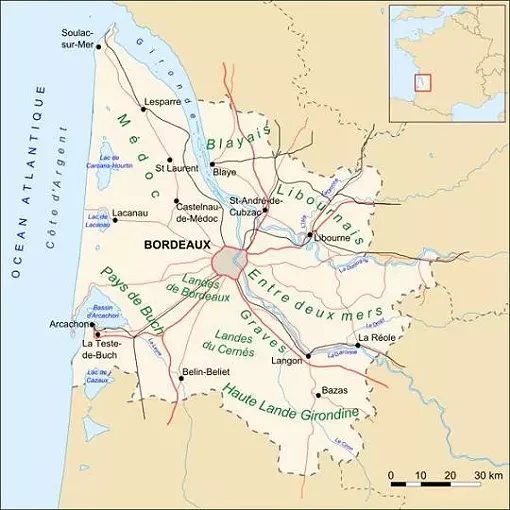 User "Larrousiney," Wikimedia Commons
Even Bordeaux covers a lot of ground.
First, what do the wine press or merchants mean when they coronate a year as "great"? Generally, in a "great" year the grapes were able to get really ripe. Once upon a time, in areas that are traditionally somewhat marginal climates, like Bordeaux and Burgundy, this used to mean something. If you were looking for wines to lay down in your cellar for decades, choosing from a "great" vintage for these purposes made some sense.
But these days just about everything gets ripe just about every year no matter where you are. What once was rare and therefore "great" is now ordinary, if not slightly disappointing -- and what is now "great" would have been incomprehensibly ripe. If, like me, you're not into super-ripe wines, a "great" year is nothing but a warning to proceed with caution.
The second problem with vintage generalizations is the scope of the summation. California had a great vintage in 2007? That's about 525,000 acres of vineyard spanning some 450 miles from Mendocino County to Santa Barbara, populated by 2,843 producers. Obviously, claiming that such a monstrous, diverse area was uniformly "great" is ridiculous.
Bordeaux? Sure, it doesn't cover as much distance as California, so the climate may be more uniform -- but there are still some 10,000 producers in the area and 300,000 acres of vineyard! The potential exceptions so completely overwhelm any potential utility as to render vintage generalizations the vinious equivalent of a good bleeding by leaches.
Defenders will assert that "everyone" knows that vintage characterizations apply simply to the "top" wines. Of course, a reference to the strength of a vintage is never used in conjunction with the sale of these wines, but only to push unknown or underachieving properties on a public hungry to have "the best" at the lowest cost and with the least effort.
I'm afraid that those defenders are right to a degree. What matters is the performance of particular properties, and the efforts of well-run, quality-minded producers (which exist just about everywhere and in every price range) are much more reliable than any sampling of wines made from a region in a "great" year. But the only way real insight accrues is to taste the wines from the same producers in vintage after vintage.
While drinking lots of wine is fun, unless you find a stash of well-preserved older vintages of a wine, the accretion of this knowledge is necessarily slow as producers release only one new vintage a year. If you find a wine you really enjoy, make sure to buy at least the next vintage and preferably the next few. You may not like them all, and your personal tastes may change in the interim, but the ability to track the changes in the wine over several vintages is invaluable.
My experience is that good producers almost always make good wine, regardless of the perceived quality of the vintage. This is not to say that the wine will always taste the same each year, but rather that it will provide a range of tastes and aromas that reflect careful cultivation and vinification under the circumstances nature presents. I love these variations on a theme, and I'm always able to find a time or a mood or a place at the table for each of them. It's vicariously experiencing this struggle between humans and the natural world to produce a captivating beverage that I find "great."
Dave Nelson is the author of the blog Beer, Wine and Whisky. He writes about wine for Gut Check every Tuesday.