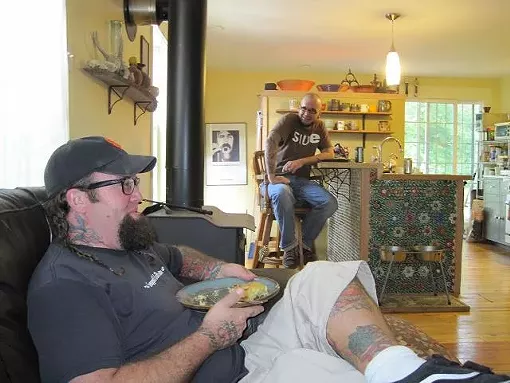 Robin Wheeler
Matt Herren (foreground) and Goshen Coffee's DJ Fisher
Which came first, the coffee or the bread? For Matt Herren, co-owner of
Goshen Coffee
and
222 Artisan Bakery
, beer came first. He brewed huge amounts of home brew while working at coffee houses in his native northern California and Seattle. When he moved to Edwardsville, Illinois, with his then-wife and co-owner of Goshen and 222 Debbie Sultan, his focus shifted to coffee. Specifically, becoming the first single-origin, 100%-organic roaster in the St. Louis area.
When he couldn't find a coffee roaster that suited his needs, he built one himself. How did he do it? "The same way I build everything -- I just did it," Herren, 38, said as we we strolled his wooded backyard on the edge of Edwardsville, drinking cans of Ska Brewing's Modus Hoperandi. And no, he's not telling where he found the impossible-to-find beer.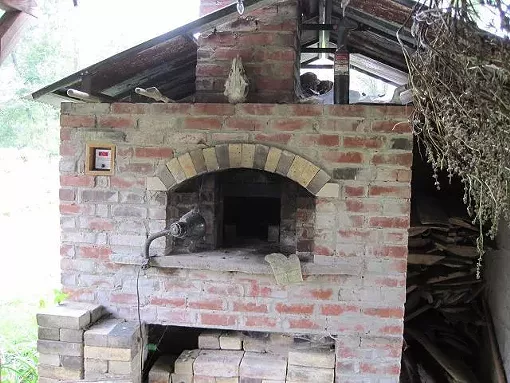 Robin Wheeler
Herren's self-built backyard brick oven.
Herren built the brick oven behind his storage shed while undergoing cancer treatment. "I wanted to make bread after I found out I had cancer, so I started baking, and it was bad. I thought I'd build the brick oven, but my bread was still bad."
"You built this while you had cancer?" I asked. The oven's bigger than some of the places I've called home, and sturdier.
"Yeah. I mean, between treatments."
Post-recovery, he got some baking instruction in San Francisco. Now, his hand-built home oven mainly functions as a pizza oven for the 400 or so friends he invites to his place once or twice a year.
Robin Wheeler
Herren preparing his savory bread pudding in his kitchen.
During these gatherings, Herren fixes a savory bread pudding for breakfast, prepared the night before with leftover pizza toppings, stale bread and home-raised eggs, baked in the brick oven. Since we didn't have a pizza party, he improvised with andouille, onion and the professional oven in his home kitchen while listening to Ozzy-era Black Sabbath. Herren made the stove's hood (pictured above) from a keg split in half, and tap handles from pizza parties past line his walls. The breakfast bar's covered with a mosaic of microbrew caps.
Robin Wheeler
DJ Fisher with Goshen Coffee's roaster.
While the pudding bakes, we go to the warehouse where Goshen roasts its coffee. Herren putters around on a skateboard while DJ Fisher, who swapped life as a librarian for bean-roasting, seals bags of coffee beans. "We used to have a skate ramp in here," Herren says. "We had to move it to make room for another roaster." He then invites Fisher to join us for lunch at the house.
We settle in, cleansing our palettes with cans of Stag. "Strong, tall and gorgeous!" Herren extolls. "People who know beer will only drink Stag when they drink cheap beer."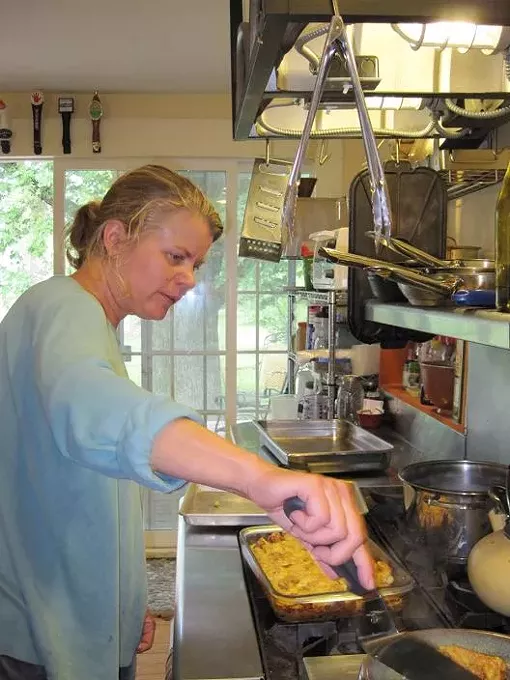 Robin Wheeler
222 and Goshen Coffee co-owner Debbie Sultan.
Sultan arrives as lunch cools. She lets herself in, greets the two black dogs who are thrilled to see her, introduces herself and joins us in the living room for lunch.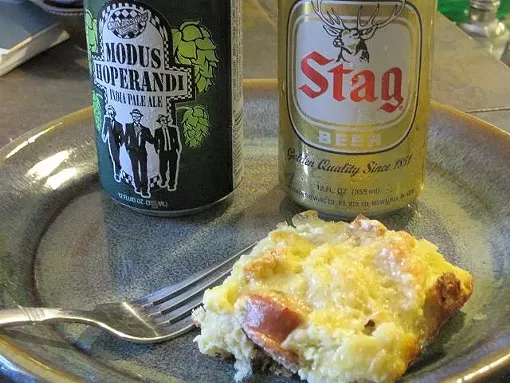 Robin Wheeler
Savory bread pudding and beer.
Since Herren doesn't add milk or liquid to his bread pudding, it's more like a dense soufflé. The spicy bite and the crunch of the andouille's natural casing contrast with the comforting richness of the egg and bread.
The conversation, peppered with Tom Robbins references, turns to a friend of Herren, Sultan and Fisher who was having trouble getting into Canada. "It's because he knows you," Sultan accuses Herren.
"Why?" I ask.
"Oh," says Herren, "back in '90 we were following the Dead and we had to cross into Canada. There were six of us in a Ford Festiva, and we had a pit bull. I didn't know my girlfriend had a stun gun. They searched the car and wouldn't let us in. I asked why, and they said we were a threat to national security. I said, 'You think I'm going to take down Canada with a pit bull and a nine-volt battery? Why don't you send down one of those cops with the horse and the big hat?' I spent the night in jail for being a smart-ass, and they told me to never come to Canada again."
When I left, following Sultan back to 222 for a box of pastry, Herren talked of how you've got to do what you love to do with people you enjoy. That's why you'll never find anyone in a suit and tie working for him. If it's not fun, what's the point?
Suits and ties might be verboten, but clothes pins aren't. It wasn't until the next day, when I picked up the clothes I'd worn during my visit with Herren, that I noticed the clothespin stamped with Goshen Coffee's website dangling from the tail of my shirt. I have no idea which member of the Smarty Pants Gang tagged me for my return to the wild or even when it happened. Any embarrassment I might have felt at having spent the rest of that day walking around, ignorant of my tagging, never occurred. Erleichda.
Coming later today: Matt Herren's recipe for his savory bread pudding.Robin Wheeler writes the blog Poppy Mom. She is a regular contributor to Gut Check, including the columns The Dive Bomber and Throwback of the House.