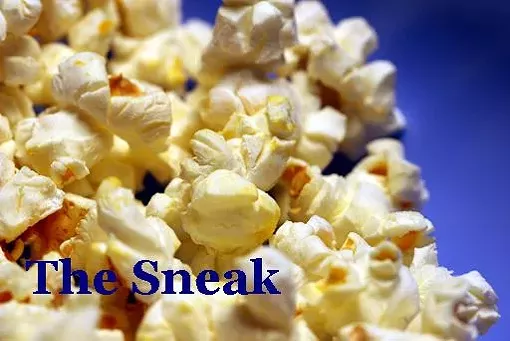 Late yesterday, the hamsters that power Gut Check went on strike. The dispute has since been resolved. Thus, a special Tuesday edition of the Sneak!

The windows of my house are comfortably open, and Labor Day has passed us by. You know what this means? I mean, aside from being the sartorial solstice, the final waning days of white shoes and seersucker? Summer movie season is over. Jerry Bruckheimer has to go back into his fetid subterranean burrow for another six months of plotting how to rob twelve-year-olds blind with special effects in 2010. Movies have somehow taken on additional weight in the cooling air, like dirigibles ponderously descending to Award Season cruising altitude as the gas inside expands more slowly inside their rippling silk flanks.
Ironically, this is also the only time of year when watching a movie outdoors is actually a goofy pleasure in St. Louis and not a masterclass in places on your body you didn't know could sweat.
Frontyard Features, which has been providing free movies in locations all over Missouri this summer (though they
angered audiences
in Old Post Office Plaza by not warning them ahead of time that they were going to show a significantly edited version of
The Big Lebowski
-- "significantly edited" in the way that a cow is significantly edited into ground round) stops their own programs at the end of September, but they offer
a large array
of inflatable outdoor screens for rent for your own movie night.
Don't underestimate the joy of sitting in the drive-in theater with the windows open on a nice night, either. If you catch the excellent social-science-as-fantasy double feature of
Inglourious Basterds
and
District 9
at the
Skyview
, for instance, you're going to need some caloric fuel to sustain all that ultraviolence-is-a-criticism-of-violence fervor. On the other screen?
The Final Destination
and Rob Zombie's
Halloween II
. Desperate college students, midterms are coming and there's a paper in that alone. You're welcome. Go see a movie.
A dear friend once got her dad, a master tailgater, a gas-powered blender for Father's Day. The
Daiquiri Whacker
soon became the thing of legends, a weapon mightier than Thor's Mjolnir or Athena's gorgon-head shield. This would be the perfect place to bust that out and get many hoots of admiration.
Inflatable screens and re-purposed weed eaters are at the high end of the technology scale when it comes to eating at an outdoor event. Don't overlook the low-tech end, too. At the St. Louis Symphony Orchestra's season opening outdoor concert last week, a friend of mine brought what looked like a sleek, padded laptop sleeve with a handle and a long zipper around the perimeter. It turned out to be a blanket of ideal size for outdoor events, easily opened and easily returned to bag state. Amazing. She chalked it up to the benefits of getting married, since everyone who doesn't really want to get you a setting of dishes or a picture frame is under the impression that getting married means you're going to be going on a lot more picnics than you were when you were dating.
(Anecdotally, I've had friends who had to return upwards of half a dozen appreciated but unnecessary picnic-for-two sets because getting married neither a) cured their allergies or b) spontaneously incinerated their previous picnic gear.)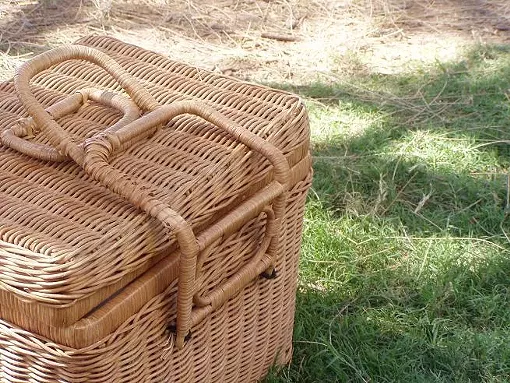 If you're interested in a nice hamper as a first-time buyer and don't have upcoming nuptials, I highly recommend getting them on the cheap in the overflow seasonal sections of grocery and drug stores. Don't neglect the thrift stores, either. I went camping with a friend this weekend who had a huge, classic wicker basket with utensils and everything that even kept the food inside dry through a whole night of rain: Goodwill. Probably something that couldn't be returned after it was given as a gift.
One of the other innovations I noticed at the SLSO outdoor concert were wineglass stakes: thin metal poles sized for either sitting on the ground or in a chair with a loop of rope attached to the top to rest the bowl of the glass, regardless of size. Wow. Lowered chance of spilled wine, higher chance of chilled wine not going warm in my hot, cello-loving hands? Fantastic. I'd seen the cousin, the wine-bottle stake before, but this struck me as more elegant. I suppose the best practice for minimal wine spillage would be using both together, but that involves more staking than a season of Buffy.
This is too brilliant an idea to leave entirely to the summer and early autumn season. I've undertaken a great task now, to implement modifications to the design to perfect it for indoor use through the winter. First, it needs a suction cup base for concrete theater seats. Even the most barbaric theater seats offer cupholders on the arms, but those are designed to hold the ever-swelling paper buckets of soda from the concessions stand, not the foot of a wine glass. It's wobbly and top heavy, thus poorly-placed next to the natural position of the wrist. A separate, specifically-designed holder suits much better. I'm also looking into the possibility of including some sort of telescoping action in the stake itself, inspired by the six-foot-long collapsible blow-gun that the Doctor, my long-time gentleman caller, recently got in the mail.
High- or low-tech, nothing novel beats the classics for sneaking. A messenger or tote bag is still your best and most flexible option for sneaking food into any and all events. A coat with deep pockets will not only allow you to bring your choice of food with you wherever you go, it will also keep you warm as frost touches autumn's red and beating heart. The oldies are still the goodies, like having a concealed carry permit for sandwiches.
Dara Strickland is a leading expert on sneaking food and drink into the movies. She reports on her exploits for Gut Check (from an undisclosed location) every Monday.