Clock-Watchers' Cook Book
. Because nothing says "barbecue" quite like "clock-watcher."
The best barbecue's fast and zippy, right?
Combine tomato sauce with a splash of Worcestershire sauce, a squirt of yellow mustard and a handful of crushed Saltines and bring to a boil.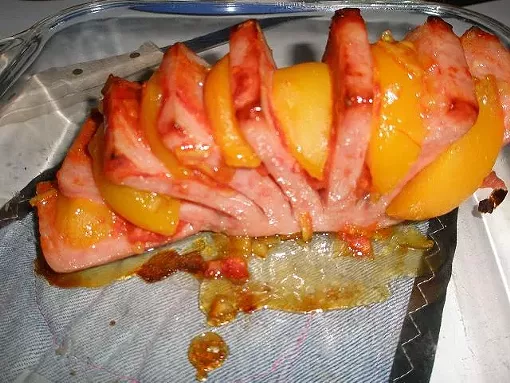 Take some Spam and cut eight slots into it, similar to what we did with the
Treet Crown Roast
. Brush the cracker-chunky "barbecue" sauce into the cuts, then insert a canned peach slice into each slot. Bake, then coat with melted jelly.
Spam needs jelly as badly as barbecue sauce needs crushed saltines.
My husband never ceases to stun me with his ability to stomach canned meat. He scrapped off the peaches and sauce, because they make Spam gross, and ate so much jelly-coated Spam that his tongue completely dried out within an hour.
He wasn't the only fan. I have two hounds who managed to escape the backyard last week, leading to a wild hound chase in my pajamas. Next time this happens -- and it will happen, because these dogs are stupid and tenacious -- I'm going to barbecue some Spam for them. When I opened the oven door, both woke from dead sleep on opposite ends of the house, ran to the kitchen and covered the floor in drool because oh my God they hadn't eaten anything disgusting since the buffalo poop they discovered on their recent adventure and they need Spam to live!
Next time they go on an unauthorized walkabout, instead of running around the neighborhood in my pajamas, screaming, "Chloe! Murphy! Goddamn it, you morons! Get back here so I can kill you!" I'm going to pop some Spam in the oven, open the windows and wait. Oh, they'll be back.
My husband said that the dogs' monthly meat-flavored heart worm medication has a more realistic meat texture than Spam. No, I don't want to know how he knows this.
Tonight, I'm making ribs and not sharing with him or the dogs. Any creature that has danced in my kitchen because of the presence of Spam doesn't get to have nice things.
Robin Wheeler writes the blog Poppy Mom. After years of making and eating fancy food, Robin is sick of it all. She's returning to the basics: recipes that haven't surfaced in three decades. She reports on the results for Gut Check every Monday.