I visit more restaurants than I have space in the
RFT
to review. Short Order offers brief takes on these dining experiences.
Amigo Joe's
opened in July at
5901 Southwest Avenue
, the former location of Leonardo's Little Italy. As best I can recall, it's the only restaurant where I've seen an "Emergency Exit Only" sign on a patio gate.
Amigo Joe's comes to us from the same folks behind
Chimichanga's
(
5425 South Grand Boulevard
). Like that restaurant, Amigo Joe's has a festive atmosphere -- rainbow lights are draped throughout the large, multi-room space -- and a lengthy menu featuring few variations from the area's many other Mexican restaurants.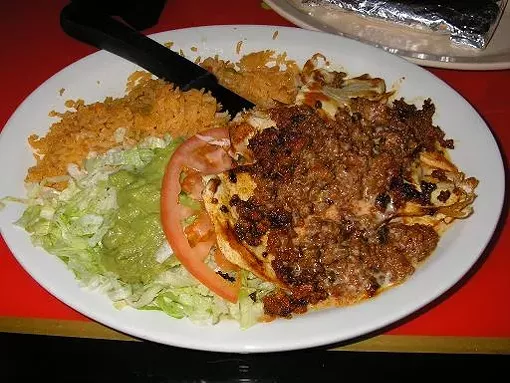 Pictured above is the chori pollo, thin slices of chicken breast topped with melted cheese and chorizo. This presses all of the gringo-friendly buttons: The brightly flavored chorizo is salty and spicy; the cheese is gooey; the chicken is...um...ballast.
On another occasion, I tried carnitas, one of my favorite foods on this or any other planet. Generally speaking, carnitas is pork roasted or braised and then briefly pan-fried in its own rendered fat. It's pretty much fool-proof deliciousness, and while the carnitas at Amigo Joe's might not have had the most complex flavor I've encountered, I still scarfed down most of it.
Those seeking volume for their dollars will be pleased to know that Amigo Joe's offers many mix-and-match combos (one burrito, one enchilada, and so on). Lunch specials are priced exceptionally low.
There is ample seating. The smoking and non-smoking sections are separated by an area that serves as both entryway and bar. Sitting in a non-smoking room, I didn't notice crossover smoke. There is also the aforementioned patio. Remember: Use the gate only in case of an emergency. In all other instances, just stand on your chair and jump over the fence.