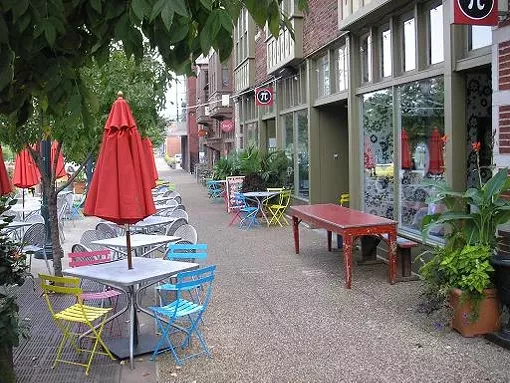 Ian Froeb
The original Pi on Delmar Boulevard.
Got a call from Chris Sommers of
Pi
(
website
) this morning letting me know that the popular pizza restaurant is bringing talented chef Marc Baltes aboard. Baltes, as regular Gut Check readers might remember, last month
prepared a stunning Dorm Room dinner
at
33 Wine Shop & Tasting Bar
.
Sommers told me that Baltes will help out at all three locations of Pi -- the original at
6144 Delmar Boulevard
and the soon-to-open branches at
10935 Manchester Road
in Kirkwood and
4753 McPherson Avenue
in the Central West End -- but will be based primarily at the Central West End restaurant. Sommers said Baltes, whose past experience includes a stint at the acclaimed Oakland pizza restaurant
Pizzaiolo
, will work to round out Pi's selection of appetizers, desserts and other non-pizza fare and, in general, further "raise the bar" in Pi's kitchens.