View Larger Map
Check out this post's sequel: Even More Restaurants in Old Fast-Food Buildings.

As
I posted a few days ago
, a new Vietnamese restaurant is opening at
3737 South Grand Boulevard
, inside a former McDonald's. I'll admit that whenever I see a locally owned business taking over a chain restaurant's location, I smile. After the jump, in no particular order, five of my favorite examples of this phenomenon.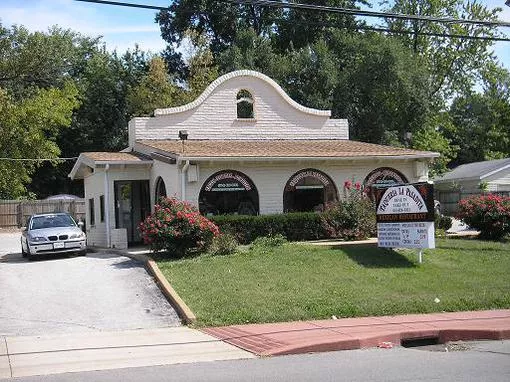 Taqueria la Pasadita
2336 Woodson Road
Used to Be: Taco Bell
You couldn't come up with a more appropriate repurposing: The chain that has done more than any other to dumb down Mexican and Tex-Mex food is supplanted by a joint selling the real, um, enchilada. Or, to be more exact, goodies like tacos with chicharrónes and the best tamales I've had in St. Louis.
View Larger Map
Laganini Pizzeria & Restaurant
4625 Gravois Avenue
Used to Be: Captain D's
The pizza at Laganini, which features the cuisines of Bosnia, Italy, Greece and more, is so tasty it has successfuly vanquished the ghost of popcorn shrimp past.
Nobu's
8643 Olive Boulevard
Used to Be: IHOP
Nobu's is one of the best sushi restaurants in town, but with its distinctive exterior, you'll be forgiven if you ask for the blueberry pancake sashimi.
View Larger Map
Simply Thai
2470 North Highway 67
Used to Be: Taco Bell
Not to keep knocking Taco Bell, but even a medium curry at this Florissant standout packs more punch than any "Lava" sauce.
View Larger Map
Ba Le
(Closed)
3515 South Kingshighway
Used to Be: Long John Silver's
A posthumous award to this Vietnamese restaurant, which specialized in banh mi, the tasty sandwich as cheap as a burger (or fish sandwich, for that matter) at most fast-food joints.
Any examples I've missed? Let me know in the comments.
Related:
"Even More Restaurants in Old Fast-Food Buildings"