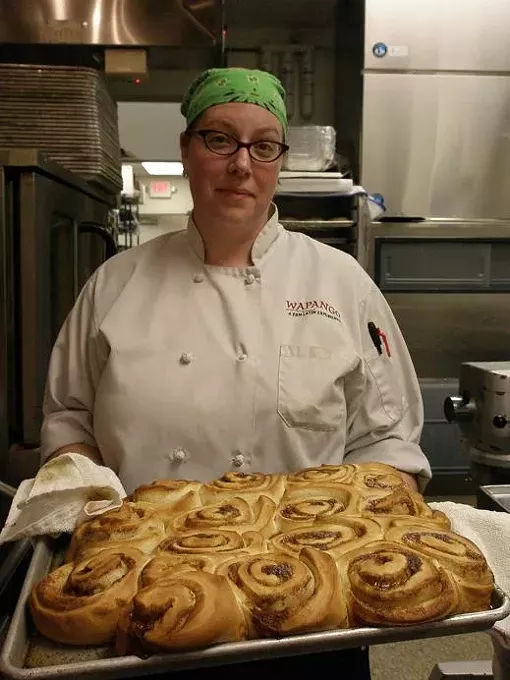 Robin Wheeler
Mary Harden, pastry chef at Chesterfield's Wapango.
When pastry chef
Mary Harden
was hired by
Wapango
(
website
) in 2007, it wasn't much different from any other hiring. "When I interviewed with the guy who hired me and told him what I wanted to do, he said, 'You know what? You're weird. I like you. I need a pastry chef.' I had my second interview with the owner, who said, 'So Chef says you're weird.'"
OK, so maybe not every industry values weirdness how the restaurant biz does. There aren't many professions that would overlook Harden's penchant for wearing mismatched socks on purpose. But it's that same irreverence that's made Harden, 32, a natural among mountains of dough that beg to be turned into much more.
Robin Wheeler
Harden prepares her cinnamon rolls.
She invited me to the restaurant on a Monday morning: "I thought if you come in the morning while I'm making the bread, we can have coffee, and I could make cinnamon rolls with the leftover dough. Just like mom used to make. Yeah, right. My mom never made cinnamon rolls from scratch. She used the whack-'em kind."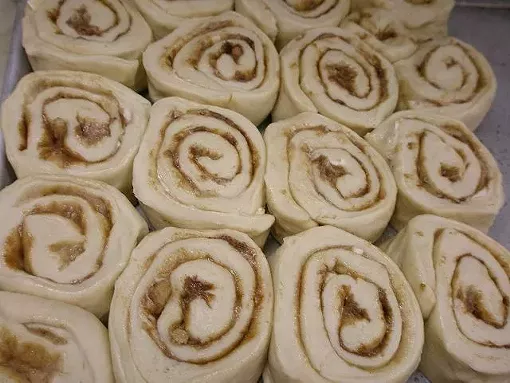 Robin Wheeler
The cinnamon rolls, er, rolled and ready to go in the oven.
Harden's rolls are far from those refrigerator-aisle pressure bombs. Instead of smothering them in sugar, Harden focuses on maintaining the soft texture and flavor of the dough's yeast, going heavy on the butter and using a light hand with the brown sugar. They would have been fine without any topping, but she opted to ladle the restaurant's caramel sauce over the fresh-from-the-oven rolls, a perfect companion to rich black coffee.
Robin Wheeler
Harden weighs bread dough.
While making pounds of Wapango's Cuban rolls and sandwich buns by hand, Harden explained how she found herself in the professional kitchen. She didn't aspire to be a chef while growing up in Indiana. Instead, she chose the in-state college farthest from her hometown --
Vincennes University
-- and picked the only major that seemed remotely interesting: culinary arts.
"I figured I could change if I didn't like it, but I loved it."
From there she worked in restaurants, not intending to work in pastry: "I wanted to work the line, but a lot of people, even women restaurant owners, discouraged me from it because the men wouldn't respect me." Despite the discouragement, she worked the line anyway. When her boss needed a pastry chef, she begrudgingly took the new position. "And I just got it."
Robin Wheeler
Harden, with bread dough, buzzing.
Even now, she still derives the therapeutic buzz hardcore bread-makers get from managing dough. "It gives me time to think," she said as she cut four-pound chunks from the morning's mountain, kneaded them into smooth rounds, wrapped them in plastic and caressed them. Who can blame her? The sleek orbs radiated the warmth of the growing yeast trapped in the plastic. It's irresistible.
Robin Wheeler
Meanwhile, the cinnamon rolls are ready to go!
Harden crafts Wapango's desserts from scratch -- even the cheesecake, unlike a certain cheesecake-themed chain restaurant a few doors down. For a while she did a different flavor of flan every month, but the economic woes have hit dessert menus. While customers forgo the luxury of after-dinner sweets, she still makes the basics and has larger visions of what she'd like to put on the dessert tray.
"The ideas I had were a little outrageous and wouldn't have flown a few years ago. I took mangos and apples and put it into an empanada. I had an idea to do an upside-down cake with fresh mango, cherries and seared brown sugar. We work with
Serendipity Ice Cream
, and [owner Beckie Jacobs] made a banana-cardamom ice cream to go with that."
Harden's family -- husband, Mitch, and kids Alice (six) and Rhys (two) -- benefit from her kitchen creativity. The morning hours of the pastry kitchen give her time with them that she wouldn't have with a traditional dinner restaurant schedule. For Alice's Dr. Seuss-themed birthday party last spring, Harden created a menu filled with Pink Ink to Drink (fruit smoothies), Green Egg Salad and a whole pesto-coated ham and cupcakes topped with pink sugar-coated marshmallow "clovers" with green Twizzler stems, à la
Horton Hears a Who
.
But like most kids, Alice isn't overly impressed with mom's skills. "We were in San Francisco over Memorial Day weekend. At one of the sourdough shops, they had bread shaped like alligators and other animals. Alice said it was the coolest thing she'd ever seen. I had to remind her that I've made her name in bread dough."
Robin Wheeler
A cinnamon roll topped with Wapango's caramel sauce.
Harden and I finished our rolls and coffee at the bar, our conversation veering to our daughters. (Full disclosure: Mary and I are friends, as are our daughters.) As bartenders, servers and line cooks arrived for lunch service, she made sure they all knew about the tray of warm rolls in her pastry room, encouraging them to help themselves. Before I left, she asked if I'd like to take a roll home to my daughter. She returned with a carry-out tray filled with a half-dozen.
She didn't spell our names in dough, but I'm not going to complain.
Coming later today: Harden's recipe for her cinnamon rolls.

Robin Wheeler writes the blog Poppy Mom. She is a regular contributor to Gut Check, including the columns The Dive Bomber and Throwback of the House.