With the release on October 1 of the
Riverfront Times
Best of St. Louis 2009, I decided this is a great time to set the stage with Java Enabled's own Best of St. Louis Coffee. I've decided to break up my Best Of into two umbrella categories: Cafés and Coffee. In this post, I'll list my picks for the best in local cafés. Next week, I'll review my selections for St. Louis coffee, from roasts to drinks.
I wanted to lead off with cafés since their attraction is related to coffee but distinct from it, too. For better or worse, many people choose a café for its ambiance, vibe or amenities over its coffee. So follow me after the jump and see how my list compares with your own favorites.
Best Café to Catch Up: Shaw's Coffee Ltd.
Brunch is overrated for catching up with that friend you haven't seen in a year. There's the awkward wait for your table, the noise of the restaurant -- and, frankly, mouthfuls of food aren't conducive to conversation. Shaw's Coffee Ltd. offers a hip, relaxed atmosphere to enjoy coffee and conversation.
Located at the corner of Shaw and Marconi on the Hill, Shaw's is a great example of urban redevelopment in St. Louis City. Refurbished pressed tin ceilings, ample outdoor and indoor seating (including couches you'd actually like to sit on) big windows, chic lighting and original floors blend the old and the new. Isn't that what catching up is all about?
Taking full advantage of the building's previous life as a bank, Shaw's turned the old safety-deposit vault into an eclectic, if not a tad claustrophobic, private seating area. The hours don't accommodate late night chats, so meet up mid morning or early afternoon. Oh yeah, and the coffee's good, too.
Best Café Patio: Park Avenue Coffee
You might know Park Avenue Coffee better for its ubiquitous gooey butter cake than for its patio, but the Lafayette Square café is a must-see for outdoor lounging. The front of the house is overbranded but walk right through to the hidden treasure in the back. Nestled behind Park Avenue's gorgeous mansard-roofed storefronts, the patio looks like it could host an A-List soirée. Two outdoor fire pits are a striking focal point for the patio. (Don't be shy about asking the staff to light them for you.) Espresso-brown love seats surround the pits with umbrella-shaded tables filling the remaining space. Tall grasses hide the wooden fence, creating an urban oasis feel. Park Avenue's patio is a welcome change of pace from the block's bustling bars.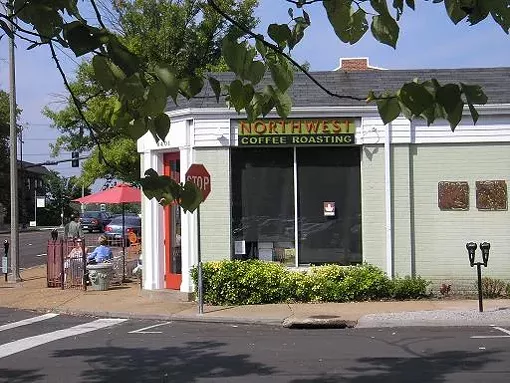 Best Café for Studying: Northwest Coffee (Clayton Location)
The best café for studying is a hard one to pin down. Individual styles, noise tolerance and ambiance all played into my decision, and I think Northwest's Clayton location strikes the ideal balance between available tables, relatively moderate noise and, of course, power outlets.
Northwest isn't a library -- but I find silence more distracting than background noise when I study. The hum of its background banter isn't so loud that I can't pay attention, just loud enough to remind me why I went to a café rather than a library in the first place. Further adding to the ambiance is the casual feel of the place. There's no in-and-out hustle (unless you're there for the Clayton morning rush) and -- I have no idea how this is possible -- the espresso machine doesn't seem as loud as it does in other cafés. The only downside is that it's not a great location for night owls, closing at 6 p.m.
Best Café to Meet Strangers: Kaldi's (DeMun Location)
It's the original and still the best. I know I'm reviving an old
Riverfront Times
Best Of category for this one but I really have met several strangers over the years at Kaldi's DeMun café that turned into legitimate friends.
There was always a young woman who sat in the front room wedged into one of the tables between the wide picture window and the glass-sided vestibule. She was there almost every time I was and finally -- after seeing her for what must have been a year -- I went over one afternoon and introduced myself. It turned out that we attended the same university. Soon, we became fast friends. I've met both a career-conflicted anesthesiologist student and a Concordia graduate and his wife as they were about to move to New Zealand. Once, I stumbled into a quilting bee.
This café is such an established hot-spot of socializing that you have to be ready to watch/put up with someone's kid, keep an eye on another's computer, play with someone's dog or talk to someone about the book you're reading whenever you go. If there were a place known for cruising for friends, it'd be Kaldi's DeMun café.
This is obviously not an exhaustive list, but it's not meant to be. Is there an obvious café category I missed? Do you know someplace with a better patio or study spot? I'm always looking for new places. Exercise your right index finger over the comment button and share your own Best Of.
Zach Dyer is a writer living in Saint Louis. He did his thesis research on coffee farmers in Southern Mexico. Since then, he has visited coffee plantations in Costa Rica and Mexico as well as roasters and cafés across the U.S. He blogs about coffee for Gut Check every Wednesday.