While training for my first 100-mile bike ride last spring, I developed a terrible habit. Although I stocked my saddlebag with the finest in sports goos and my back pocket with peanut butter-and-banana sandwiches, I couldn't help but plan the huge meal I would eat as soon as I got home. When you have twenty miles left in a bike ride, then a drive from the exurbs back to South City, this is probably not the most motivational way to look at your day.
On the upside, I developed a special place in my heart for a well-made torta, or my elaborate smoothie ritual, or whatever highly specific meal would help out with my caloric deficit.
I don't question my hunger, I just obey.
Now that I'm back in grad school, without the constant snack flow of cubical life, the eight-mile ride home is sometimes inspiration enough. Last week, it was the peanut butter-chocolate chip cookies from Black Bear Bakery, conveniently sold in the campus coffee shop. This week, it was a peach pound cake.
I can't explain how a food I've never eaten in my life can develop a kung-fu grip over my entire existence, but this was one of those occasions. For most of July, a friend had been raving about a pound cake recipe that she was going to make using blackberries. That, coupled with a disappointing peach mini-loaf thing that I picked up out of the day-old bin, got my subconscious juices flowing, I guess.
These are the waning days of peach season, so this is an excellent reason to stock up on the last of these lovelies. A warning, though: The nice ladies with the peach stand who had taken up residence on the corners of both the Tower Grove and Maplewood farmers' markets seem to have disappeared with all of their wonderful white-fleshed peaches.
There is hope, though: Joe Ringhausen, who also claims a corner at the Tower Grove market, next to City Seeds, still has some peaches beside -- in case you wanted to be reminded of how fall is creeping up on us -- his expanding apple selection.
Rosh Hashanah, the Jewish New Year, also crept up on me this year. As soon as my pound cake loaves went in the oven, I remembered apples and honeycake, and another idea came to me, as if on a bike ride: apple honeycake! Of course! So I bought some Grimes Golds from Ringhausen, and went to town.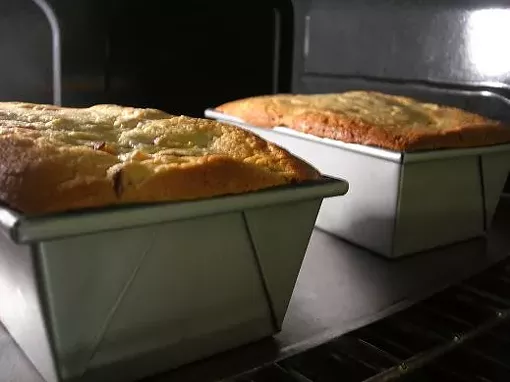 Peach Pound Cake

Adapted from Bakerella
I had this problem this week where I would pour my cake batters into pans and then remember that I hadn't added the fruit yet. Don't do that. It's so frustrating, and everything sticks because I'm too lazy to clean everything out again and regrease the pans.
3 ½ cups all purpose flour, sifted
1 tsp baking powder
1 cup butter, room temperature
8 oz. cream cheese, room temperature
3 cups sugar
1 tsp vanilla
6 eggs, room temperature
1 cup milk, room temperature
4 cups cut-up peaches, tossed with a tablespoon or two of flour (this will keep them from sinking to the bottom)

1. Preheat oven to 325 degrees.
2. Sift flour and baking powder in a medium bowl and set aside. (Incidentally, I always hate this instruction in recipes. I always just measure out the dry ingredients into a bowl and then mix them with a wire whisk. Baker's secret!)
3. Using a mixer, cream butter, cream cheese and sugar for about 6 minutes.
4. Add eggs one at a time, mixing well after each addition.
5. Add vanilla and milk until combined.
6. Add flour mixture until completely combined.
7. Gently stir in peaches. Pour into two greased and floured 9 X 5 loaf pans. Bake for about 60 minutes or until a toothpick inserted in the center comes out clean.
Apple Honeycake
Adapted from Smitten Kitchen
For the uninitiated, honeycake is a sweet spice cake usually associated with the Jewish New Year, when all of the honey signifies our wishes for a sweet new year. It has wonderfully chewy edges and a spongy interior. When I mentioned this idea to my mother, she mentioned that brandy is traditional and that she would usually soak raisins in the brandy prior to baking. Thanks for the liquor inspiration, Mom!
3 apples, peeled, cored, and quartered, then cut into ¼-inch slices widthwise
¼ cup rye or whiskey
3 ½ cups all-purpose flour
1 tbsp baking powder
1 tsp baking soda
½ tsp kosher salt
4 tsp ground cinnamon
½ tsp ground cloves
½ tsp ground allspice
1 cup vegetable oil
1 cup honey
1 ½ cups granulated sugar
½ cup brown sugar
3 large eggs at room temperature
1 tsp vanilla extract
1 cup warm coffee or strong tea
½ cup fresh orange juice

This fits into a smallish bundt pan and one 9x5 inch loaf pan. It would also work in three loaf pans. Or two and two mini loaves. Or whatever! Don't overfill though (more than three-quarters full), or else you will wind up with overflow all over and
muffin top
.
1. Grease lightly and set aside. Preheat the oven to 350. Toss your apple slices with the whiskey and set aside.
2. In a large bowl, whisk together the flour, baking powder, baking soda, salt, cinnamon, cloves and allspice. Make a well in the center and add oil, honey, white sugar, brown sugars, eggs, vanilla, coffee or tea, orange juice and whiskey (drained off of the apples). If you measure your oil before the honey, it will be easier to get all of the honey out.
3. Using a strong wire whisk or in an electric mixer on slow speed, stir together well to make a thick, well-blended batter, making sure that no ingredients are stuck to the bottom.
4. Spoon batter into prepared pan(s). Place cake pan(s) on a baking sheet. This both prevents catastrophe if you DO have overflow, and ensures that the bottom bakes faster than the top.
5. Bake until cake tests done, that is, it springs back when you gently touch the cake center. For angel and tube cake pans, this will take 60 to 75 minutes, loaf cakes, about 45 to 55 minutes. For sheet style cakes, baking time is 40 to 45 minutes. Let cake stand 15 minutes before removing from pan. I didn't remember to do this and my bundt was half stuck in the pan as a result. Whoops!
Alissa Nelson is a graduate student and compulsive buyer of cookbooks. She enjoys scouring seed catalogs and thrift stores alike. Every Wednesday she seeks the bounty of local farmers' markets for Gut Check -- and then cooks it.