Two common obstacles to people who want to explore cuisine are 1) money and 2) feelings of insecurity. St. Louisans as a whole seem obsessed with value in dining. They want a lot for their money -- ever seen the lines outside Cunetto's? -- and in this economic climate, they might not have much money to go around. If dining out, particularly in a fancy place, is a treat, then you want to make sure you get your money's worth.
The insecurity is something I still struggle with. What should I wear? What am I doing with all this silverware? What or how should I order? THEY KNOW I'M A FRAUD.
Really, though, I'm getting better.
If you want to alleviate such apprehensions using a single tactic, I've got two (Frenchie) words for you: prix fixe. A prix-fixe, or fixed-price, menu is when a restaurant offers a set number of courses for a set price. Sometimes it's a very limited menu; sometimes diners have their choice of dishes. In any event, it's something that, when done well, can be an amazing value, not to mention a cost-effective way to determine if a restaurant is worth your money and time.
You can tell a lot about a restaurant by how it treats diners who order the prix-fixe menu. Because these diners have made an economical choice, a restaurant's staff could choose to treat them as somehow subpar. If the staff does this, the restaurant isn't worth its salt -- or your money. Every diner that comes through the door of a restaurant should be treated well.
For example, I'm a big fan of Downtown Restaurant Week, where multiple restaurants feature a $25 prix-fixe menu, and I patronize it annually. One year, I had one of the best meals of my life at An American Place; another, a regrettable meal with a snotty server who, when asking about different, fairly egregious fuck-ups during a meal, said "What do you expect? It's Restaurant Week." I will never go to this place again, and neither will my friends who dined with me.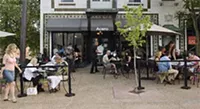 Acero
is a St. Louis restaurant that does prix-fixe dining right. For $25, you get your choice of each of four courses (appetizer, pasta, entrée and dessert), and you can order right off the Italian menu. (NOT St. Louis Italian, by the way.)
I dined at Acero when it first opened and didn't have a very good experience. Our service was indifferent, the noise in the place was ridiculous, and the food was good, but not great. However, I'd heard good things about it of late, so along with my food blogger friends
Annie
,
Kelly
, and
Stef
, I gave it a chance last week.
I'm glad we did. Each of us assembled a different prix-fixe combination so we could try as many dishes from the menu as possible. If you really want to get an idea of how a chef cooks, this is the route to go. Conversation about food is richer when everyone tastes each dish.
The best of Acero's choices are, hands down, the pasta selections. There were excellent gnudi that we could have eaten by the plateful. The egg raviolo was a single giant piece of pasta with a perfectly cooked poached egg inside. It was covered in a beurre blanc so good *someone* was wiping the plate with HER FINGER. And the restaurant didn't even kick us out! Our server even brought us shots! WIN. Most dishes were an all-out hit, and there was more than enough food to go around. We lingered over the food and wine and felt so damn welcome. We left waddling down Manchester.
We had enthusiastic service all around: Our waiter, Garrett, was excited that we wanted to talk food and actually listen to his spiel about from where various foods were sourced; the bartender who made excellent wine recommendations. This is the type of experience that makes people return to a restaurant. In fact, the prix-fixe menu is a fitting segue into a tasting menu, the grown-up, more decadent version where you'll find a chef's very best meal. It comes with more courses and a higher price tag, but a successful prix-fixe experience is a good indication a tasting menu might be up your alley.
Readers: Have you had a prix-fixe dining experience lately? What other places in St Louis do this well? Any places that miss the mark?
Kelli Best-Oliver is on a quest to become a full-fledged foodie. She chronicles her adventures for Gut Check every Tuesday. She writes about any damn thing she pleases at South City Confidential.