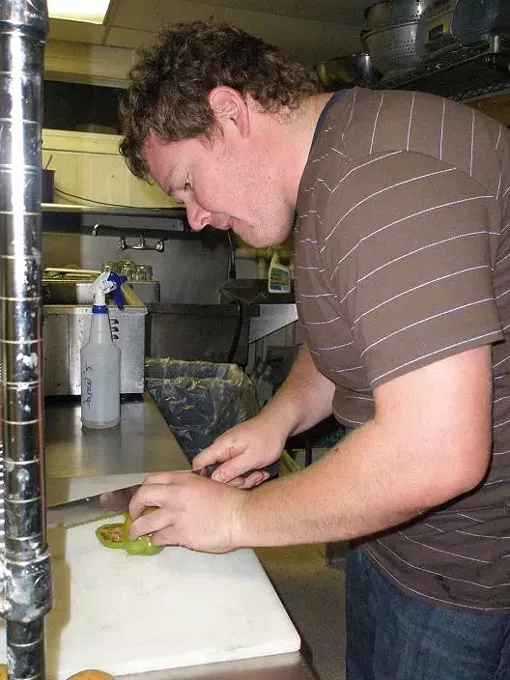 Robin Wheeler
Jerad Gardner at work in the Rotten Apple's kitchen
Introducing Chef's Choice, a new weekly feature in which St. Louis-area chefs cook and discuss some of their favorite recipes.


Jerad Gardner
didn't dream of a career in cooking. The 27-year-old studied to be a teacher and made it as far as student teaching. That career path ended when he called a student a douchebag, got punched in the face and was asked to leave.
What didn't work in the classroom works wonders in the kitchen. Gardner creates dishes as honest and unpretentious as he is. He handles managerial duties for
Amalgamated Brewing's
the
Rotten Apple
and the
Stable
, but his real love is for the smoker and for the craft brews that's made Grafton, Illinois' Rotten Apple a destination for St. Louis beer lovers.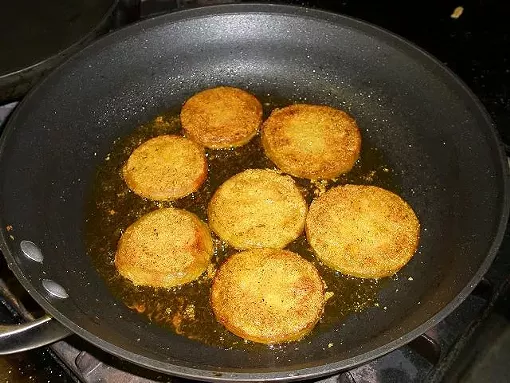 Robin Wheeler
Green tomatoes, frying.
At home, Gardner's girlfriend,
Kelly Schmickle
, claims he's the master of the hot sandwich. She wasn't exaggerating. My morning with Gardner started with thick slices of fried green tomatoes fresh out of the pan. The tomatoes had started to turn red, giving them an extra bit of sweetness. He then piled more of the warm, crisp tomatoes on toast with cheese, a mound of bacon and an egg over-medium for a breakfast sandwich that, on its own, would have kept me full and happy until dinnertime.
An avid hunter, Gardner tinkers with a lot of wild game in his kitchen. The night before my visit, he'd scored a bunch of rabbit livers from
Kitchen Conservatory's Iron Chef competition
. While I devoured my sandwich, he went to work breading and frying the livers. Not that he'd ever cooked rabbit livers, but he couldn't resist the opportunity to give them a try.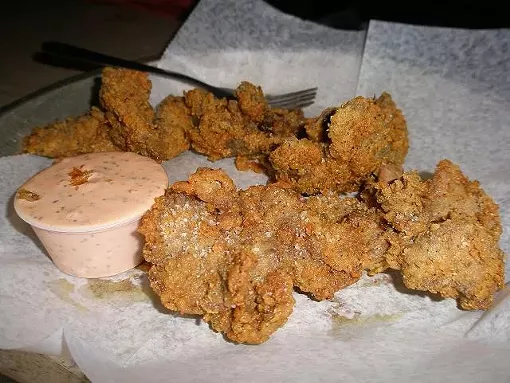 Robin Wheeler
Deep-fried rabbit livers with remoulade sauce.
We took the deep-fried livers with Gardner's homemade remoulade sauce down to the bar, and he quizzed me on my beer likes and dislikes. He started me with the new batch of
Dogfish Head's Punkin Ale
. It's a bold brown ale with pumpkin and spice tones that are subtle enough to prevent the beer from tasting like liquid pie. Deep and hearty, it paired well with the rich, tender livers. Excited by the liver success, Gardner speculated on how to buy them in bulk and add them to the menu. As much as I love fried chicken livers, it's going to be hard to go back to them after experiencing the delicate texture and sweet flavor of the rabbit version.
As we grazed and drank (
Founders' Cerise
and
Devil's Dancer
followed the Punkin Ale), Gardner shared stories of meeting with craft brewery honchos and the relationships he's developed with some of them that allows Amalgamated's restaurants to carry some of the best craft beers in the country. While we talked and ate, he fielded several phone calls from the Stable about getting Founder's Breakfast Stout on tap by noon for the beer geeks who'd arrived an hour early for it.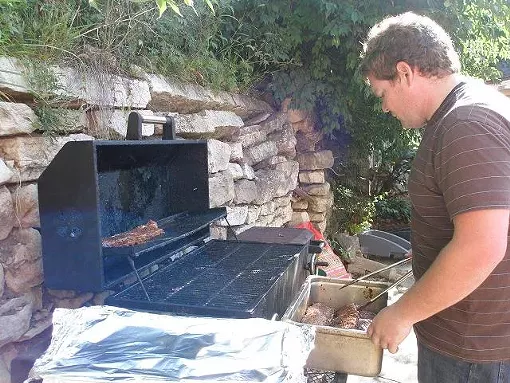 Robin Wheeler
A chef and his smoker.
With the livers devoured, we returned to the upstairs kitchen so Gardner could prep his rib rub and get the next day's batch rubbed and ready before finishing the batch that had been slow-cooking for several hours. The smoker sits on a rocky outcrop above the patio, with a view of the Mississippi River. Gardner brought me an
Original Sin Hard Cider
, the perfect beverage for standing in the noon September sun in a haze of hickory smoke, watching the river roll.
"For all the times the restaurant business is a pain, I've gotta admit this is pretty great," Gardner said as he put a pouch of snuff in his cheek.
It's certainly more relaxing than a high school classroom.
Robin Wheeler
The grand finale.
When the ribs were finished, he chopped a rack for us. We went back to the bar and picked at the still-steaming meat, coated with caramelized brown sugar and coarse bits of black pepper. He offered me a pint of
New Belgium La Folie
, but I declined, knowing that one more beer on top of more food would leave me snoozing in the bar's empty fireplace for at least six hours. I opted for a sample-sized glass, the beer's sourness a great compliment to the spiciness of the ribs. Although they were delicious, we both just picked at a few bones,stuffed from the four-hour feast. After three bones, I stared at the plate, dazed, pondering the concept of leaving ribs, uneaten. This has never happened to me.
As I left, Gardner took the leftovers to one of the neighboring wineries. Later that afternoon, while I was curled in my comfy armchair at home, still food-drunk and swearing I'd never eat again because anything would be a disappointment after rabbit livers and beer, Gardner was in a field somewhere in rural Illinois, making a haul on the opening day of dove season.
I wonder if dove is as good as rabbit liver.

Coming later today: Gardner's recipes for his fried green tomato breakfast sandwich and fried rabbit livers.
Robin Wheeler writes the blog Poppy Mom. She is a regular contributor to Gut Check, including the columns The Dive Bomber and Throwback of the House.