I'm such a superficial produce buyer. If something is even remotely colorful or eye-catching or cute, I go nuts. (No, seriously, don't even get me started on
cute
.) So when I walked up to the Deep Mud Farm stand at the Maplewood Farmers' Market this past week, I was a goner. I mean, there were color coordinated outfits, the most vibrant -- almost luminous -- beans piled high and A DOG EATING THE BEANS. My dog eats green beans, so it was serendipitous.
Naturally I picked up two pounds of mixed haricots verts and jaunes. (That means green and yellow beans, if you're like me and didn't take French in high school). Haricots verts are slim, delicate beans, with almost none of the tendency towards woodiness of normal green beans. These specimens in particular were snappy and flavorful and just plain cute to look at. See, there I go again.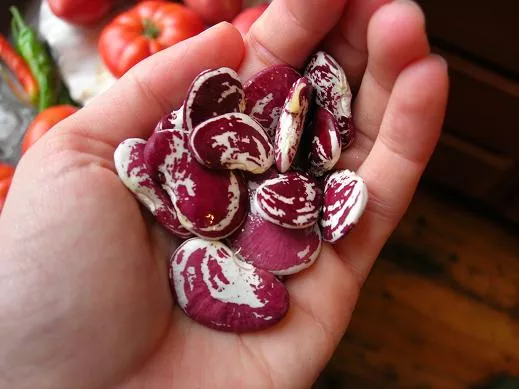 Alissa Nelson
Eat your heart out, Kingsolver.
Much like my food shopping, my seed shopping this winter was a study in optimism and superficiality. Of course, I could grow five different kinds of weird heirloom beans in one of my newly weeded beds. Thanks to Iowa's Seed Savers, I found the gorgeous Christmas lima beans featured on the cover of Barbara Kingsolver's
Animal, Vegetable, Miracle
. Despite some early success this spring, the early heat wave did a number on my bean plants, and my only significant yield came from the lima beans: all of one cup. Small victories, you know? So I wasn't going to make any great dents in world hunger -- or really even household hunger -- with these beans, but at least I could use them.
Between the beans and September's French New Wave film series at Webster, I was on a roll. I was thinking shallots and lemon juice and adorable songs and
bike rides through the country
. Somehow, I managed to fulfill three and a half out of four, since my bike rides didn't take me any further out of the city than Maplewood. This also makes me wonder what will happen if I get inspired to cook by
District 9
...paella?
Oh La La...It's a Haricots Verts Salad
I fully endorse substitutions if you can't find all of the ingredients. I do it all the time -- I understand not wanting to spend your Saturday morning on a wild goose chase. So if you can't find haricots, yellow wax beans and regular green beans are far more readily available locally. I highly endorse fresh-frozen lima beans, though: They're so much faster to cook and tend to be far sweeter than dried beans. If you can't find those, gigantes (available at Mexican markets) are also a good substitution. Just mentally prepare yourself for the cooking time.
1 pound mixture of haricots verts and jaunes (or you can use yellow wax beans), stems pinched off and cut into 1½- to 2-inch lengths
1 cup frozen lima beans, defrosted
1 large shallot, sliced thin
1 tbs and change olive oil
2 tbs toasted walnut oil
Juice of one lemon Zest of half a lemon
Salt and pepper to taste
½ cup walnuts, toasted

Cook the beans in salted water for about 15 minutes, until tender. While this is happening, you can trim the beans. Save yourself some time and dishwashing by using the same water to blanch the green beans, 1 minute for haricots. If you are using yellow wax beans, blanche these for 2 minutes. The beans should be just brightened in color and still have plenty of snap to them. Plunge quickly in cold water to stop the cooking, or just throw all of your beans into the fridge.
Cook the shallots in a little bit of olive oil, until browned and caramelized. Combine these with the oils, lemon juice and zest, and salt and pepper. Whisk until emulsified, and pour over the bean mixture. Toss to combine, and top with walnuts.
Alissa Nelson is a graduate student and compulsive buyer of cookbooks. She enjoys scouring seed catalogs and thrift stores alike. Every Wednesday she seeks the bounty of local farmers' markets for Gut Check -- and then cooks it.