Gut Check's Week in Tweets
by Ian Froeb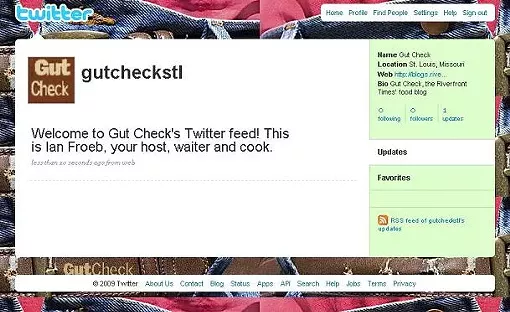 Don't you know? Gut Check has a Twitter account. You can follow me
@gutcheckstl
. Here's some of what you missed this week:
worst meal in quite a while tonight. where is the gin? must. have. gin.




10:07 PM Aug 29th



Adam Wainwright of loves Gut Check favorite Pappy's BBQ, notes @ in today's column
3:44 PM Aug 31st


off to dinner. say a prayer for me. it ain't always foie gras and tacos al pastor.




5:40 PM Sep 1st



tonight's solo meal began with waitress asking if i wanted "a Menage a Trois or something to start."




8:49 PM Sep 1st



she meant the wine.




8:49 PM Sep 1st



i thought she was just bad at math.




8:49 PM Sep 1st



Brandt's in Delmar Loop misspelled its own name (Brant's) on sign advertising its happy hour.




3:05 PM Sep 3rd



Support Local Journalism.
Join the Riverfront Times Press Club

Local journalism is information. Information is power. And we believe everyone deserves access to accurate independent coverage of their community and state. Our readers helped us continue this coverage in 2020, and we are so grateful for the support.

Help us keep this coverage going in 2021. Whether it's a one-time acknowledgement of this article or an ongoing membership pledge, your support goes to local-based reporting from our small but mighty team.

Join the Riverfront Times Club for as little as $5 a month.
Euclid Media Group, LLC
Read Our Sister Publications