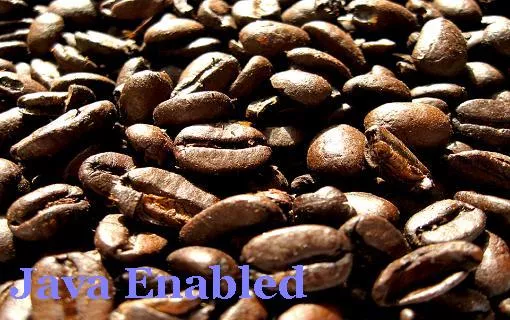 In
What to Drink with What to Eat
, sommelier Steve Beckta writes about the challenge of finding that perfect bottle of wine to meet the different tastes of every diner at the table: "Scientifically, there may be a bottle of wine they 'should' have. But...they're not going to like that at all. What they're going to love is a big-ass red from Australia. And their enjoyment is more important to me than getting the perfect wine and food match." The answer isn't having that Dionysian bottle of wine but understanding what the diner really wants.
The same is true for coffee. If you're looking for the comfortable "big-ass red" of coffee, you're looking for a dark roast from the Pacific.
There are many names and regions within the Pacific group -- Java, Sumatra, Indonesia, Papua New Guinea -- but, just as Kenyan AA is known for fruity notes and large beans or Central American coffees for their notes of dark chocolate, the same basic elements are always present. Specifically, Pacific coffees are typified low acidity and a lot of body. The body imparts a pleasingly smooth taste, while the low acidity addresses the common complaint of new coffee drinkers that the drink is too bitter. Combine these qualities with its dark roasting, and you have what most people think of as "good" coffee: strong, bold, easily identifiable and, most importantly, satisfying.
A dark roast is the key to the big-ass flavor of Pacific coffee, giving it a richer, more caramelized taste. Both
Shaw's Coffee Ltd.
and
Northwest Coffee Roasting Company
specialize in a "Full City" darker roast. As a testament to the "drinkability"-- if I can borrow a phrase from another (once) local beverage maker -- of these darker-roasted Pacific coffees, Northwest won
Sauce Magazine
's 2009 Readers' Poll for Best Coffee.
Northwest's Mocha Java, one of the its best sellers, is a great example of the way Pacific coffees are used. This is a blend of bright, fruity Ethiopian coffee and dark, full-bodied Sumatra. "We take the Sumatra beyond
our typical Full City roast
, almost burning it -- I mean, 'carbonizing' it. It's got a broad range of flavors," Northwest owner Rick Milton said. "It's intense."
(Not all South Pacific coffee have this loud flavor, however. Milton said that the Papua New Guinea they roast has a smoother, lighter flavor.)
Another reason why Pacific coffees are dark roasted has to do with how the picked beans are processed. Coffees from the South Pacific are water processed. This means that the coffee cherry's fruit is cleaned from the coffee before it's dried. Fruiter, more acidic coffees -- like the Ethiopian from the Mocha Java -- are sometimes dried with the fruit still on the bean. This "natural" processed coffee has an even sweeter taste thanks to the cherry's additional sugars. By water processing the coffee, there's less sweetness to pull out of the beans.
Of course, the skill of the roaster,
the brewing technique
and the quality of the bean are all variables that affect the flavors of the coffee. Coffee, unlike wine, is not a finished product when it reaches your kitchen so be sure you do your due diligence when it comes to buying,
storing
and brewing your beans. These caveats aside, dark roasted Pacific beans have all the flavor people look for in a great cup of coffee, from the connoisseur to the average Joe. Remember, there's a reason why coffee is synonymous with "Java."
Zach Dyer is a writer living in Saint Louis. He did his thesis research on coffee farmers in Southern Mexico. Since then, he has visited coffee plantations in Costa Rica and Mexico as well as roasters and cafés across the U.S. He blogs about coffee for Gut Check every Wednesday.