Any foodie can tell you there is just as much satisfaction to be had from delicious food on the cheap as there is from a multi-course haute cuisine dinner. One way to find reliably delicious, cheap food is to hit up the ethnic areas of town, so I decided a taco crawl down Cherokee Street, home to several Mexican taquerias, would be apropos. While I've never done a taco crawl, per se, I'm no stranger to the bar crawl, so I figured I could knock out tacos from at least three establishments, possibly four.

I enlisted my friend Christine to accompany me on a gorgeous St Louis Saturday to the land of agua fresca and meats of all kinds. The parameters were as such: no food other than tacos (except, perhaps, chips and guacamole); agua fresca is the only acceptable beverage. My own personal parameter was that I must try at least one type of meat I hadn't before.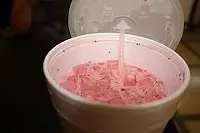 Lesson #1 when attempting to complete a meaningful, successful taco crawl: Don't blow your symbolic wad in the first taqueria. Which is exactly what I did. I essentially fasted before heading down to Cherokee for what ended up being a later lunch, so when we examined the menu at our first stop, Taqueria el Torito, I threw caution to the wind and ordered three tacos (chicharones, carnitas and al pastor) and a strawberry agua fresca. The lovely teenager working the counter asked if I wanted a small agua fresca. Mistakenly thinking I was exercising moderation, I ordered a medium, which was gigantic -- at least 44 ounces.

Agua fresca is a cold, sweet, fruit-based beverage, often creamy, always delicious. I knew I wanted strawberry, and Christine got lime, and neither disappointed. We slurped these, with free chips and salsa verde, while waiting for our tacos, which we could see being prepared in the large kitchen behind the counter.

I think a lot of people might feel intimidated visiting ethnic enclaves like those on Cherokee. Everyone speaks Spanish, and I'm always painfully self-conscious that I'm "doing it wrong" because I'm not an insider and no habla Español. I got over this while living in Germany for a while, where I'm sure most Germans I encountered regarded me as just another idiot American speaking broken German, subsequently shattering any pride I had in terms of intercultural fumblings. Now, when I go places where I'm the minority, I just go with it, ask questions and eat whatever I end up with. I like to observe everything happening around me so that next time, I'll be slightly less of an idiot.

There's plenty to watch at El Torito. The giant kitchen behind the counter was a hub of activity. A man stacked and packaged tortillas spit out by a machine, while several women stirred giant cauldrons of stewing meat. Neighborhood people came in and out, getting to-go boxes from the buffet.


When our tacos came, we both dug in. Taqueria tacos, if you're a Chipotle/Taco Bell/El Maguey-loving gringo, are a simpler affair: two small corn tortillas topped with your chosen meat, chopped onions and cilantro; on the side is a lime wedge to squirt over the whole thing. I added a drizzle of the aforementioned salsa verde. My favorite was the al pastor; spit-grilled pork with pineapple, which makes for a sweet and salty combination that is downright addictive.

By the time we finished at el Torito, I knew I was heading for trouble. My stomach was already feeling full, bloated with an ocean of agua fresca, but we must soldier on in the name of bold food exploration. However, in my heart of hearts I knew my taco crawl was heading for epic failure. I doubted I would last much longer. We waddled next door to La Vallesana, home to a crowded patio and an incredibly awesome braided rattail on the patron next to us. I ordered another al pastor, along with a lengua (beef tongue) and a horchata (a sweet drink often made from rice), as they were out of their fruit-flavored agua frescas. We chomped on radishes, brought to our table instead of chips, while we waited.

I was only able to eat half of each of my tacos, as delicious as they were, before feeling as though I was going to pass out, so we got a to-go box, and, weeping in the desperation of our failure, headed home, where I put on sweatpants and watched reruns of Degrassi and lamented my failed attempt at epic taco consumption.

I thought of my original plans, to slowly eat a dozen small tacos, maybe a torta, all washed down with agua fresca, and realized the laughable idealism that damned me from the start. No matter. I can return again, to conquer the other taquerias of Cherokee, Taqueria el Bronco or Garduño's, wiser in my strategy: no more than two tacos per taqueria, go easy on the sides, and when the girl at the counter suggestively sells you a small agua fresca, take her advice.

Kelli Best-Oliver is on a quest to become a full-fledged foodie. She chronicles her adventures for Gut Check every Tuesday. She writes about any damn thing she pleases at South City Confidential.