pimento cheese
. These days, I usually make my own with
Scott Peacock's gussied-up recipe
, but a few times a year I need the processed-orange-crap-in-a-deli-tub cheese from my childhood.
Thanks to
Pyrex Prize Recipes
, I'm over it. With its Salmon Rice Casserole recipe, Pyrex hasn't just turned me against my beloved pimento cheese, but I don't think I'll be able to eat rice, salmon or olives in any form ever again.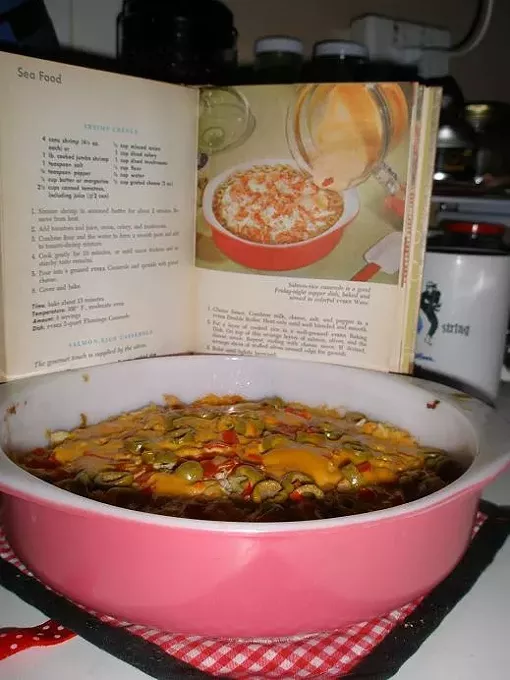 I'm also thinking about selling my grandma's vintage Flamingo Pyrex baking set on principle. I only made this awful recipe because I had the pan featured in the photo.
In a saucepan try to melt a bunch of commercial pimento cheese with some milk, salt and pepper. With homemade pimento cheese, melting's not an issue. The commercial stuff, though, is impervious to heat. You will have chunks.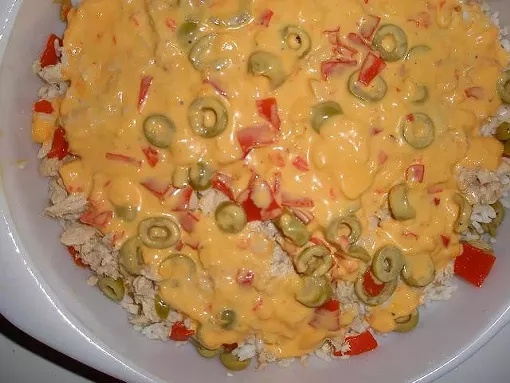 Take a pretty pink Pyrex dish with lots of sentimental value and layer cooked rice, canned salmon, sliced Spanish olives and pimento cheese sauce. Repeat. Bake.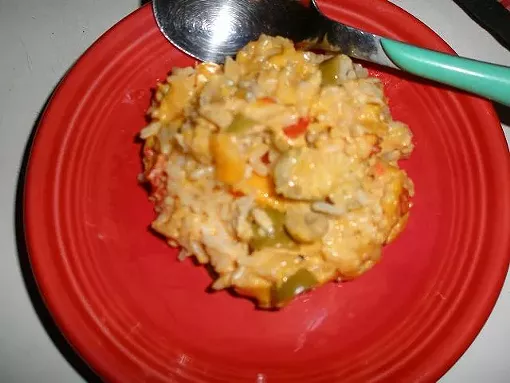 One bite of this crime against Southern culinary history sent me to the trash can to wretch. Not even my husband, who voluntarily ate a large portion of
Vienna Sausage Shortcake
, could swallow this mess. We stood over the trash can, mutually horking this slimy, briny low-tide nightmare.
And this was with somewhat decent canned salmon without fish oil, skin or bones. Back in 1953, they would have used a seafood product I'd hesitate to feed my cat.
After taking the remains to the outside trash can, where the neighborhood stray cats probably threw a rave after we went to bed, we quarantined my pretty casserole dish in the dishwasher. Other dishes sat in the sink, unwashed, because we dared not open the dishwasher and release a salmon and pimento cheese stink that would surely suffocate us in our sleep.
Twelve hours and one super-hot sanitation cycle later, I still can't bring myself to check on my precious heirloom. It either still stinks, or the preservatives from the pimento cheese have eaten through that fire-proof Pyrex glass. And, thus, my Pyrex and pimento cheese love is gone.
Robin Wheeler writes the blog Poppy Mom. After years of making and eating fancy food, Robin is sick of it all. She's returning to the basics: recipes that haven't surfaced in three decades. She reports on the results for Gut Check every Monday.