Show
:
The Hangover
, the caviar of immature-dudes-take-a-Vegas-roadtrip comedies, watched as late as possible in a theater in Vancouver's Chinatown to stay awake long enough to catch a red-eye flight back to the States.
Food
: Andres Baby Canadian Champagne, a British Columbian wine of low alcohol content and questionable vintage.

Difficulty
: Surprisingly easy. Even though the movie theater had prominently placed (and polite) signs prohibiting outside food and drink, nobody looked twice at my international sneaking tote. In fact, I was one of the few people in the theater without a backpack.
This past week, I traveled to lovely Vancouver with the Doctor, my long-time mysterious gentleman caller. I was absolutely there on vacation and not, as some insidious rumormongers have suggested, laying low after realizing that the recipe for a solid-state vodka gibson is chemically identical to napalm in an unfortunate conflagration. Never happened. Those scorch marks are a natural phenomenon and should be ignored.
Whenever I go somewhere new and then try to explain it to other people, I unconsciously transcribe whatever information I'm trying to relay over the culturally indelible framework of dialogue from
Pulp Fiction
. Anyone reading this blog is already privy to the shameful things I do in the dark of a movie theater, so while I try to hide my inner Tarantino from people I want to think well of me, I'm free to those who already know otherwise. Unblinking electric eye: It sees all, so I hide none!
Jules: OK, now, tell me about the polite Canadians?

Vincent: What do you want to know?

Jules: Well, they're really are as polite as people joke about, right?

Vincent: Yeah, they're polite, but not a hundred percent polite. You're still going to get hassled for change on the streets, but mostly by broke American backpackers.

Jules: But the Canadians are polite?

Vincent: Yeah, it breaks down like this: servers in restaurants are always genuinely happy to see you, and when the bus is full or out of service, it actually flashes the word "sorry" on the front and back display. Everybody -- I mean everybody -- thanks the bus driver when they get off at their stop.

Jules: That did it, man -- I'm fuckin' goin' and that's all there is to it.

Vincent: You'll dig it the most. But you know what the funniest thing about Vancouver is?

Jules: What?

Vincent: It's the little differences. A lotta the same foods we got here, they got there, but there they're a little different.

Jules: Examples?

Vincent: Well, in Vancouver, all the restaurants that don't have bars close at 10 p.m., even on the weekends. They also don't seem to have a concept of Sunday brunch, even in trendy downtown areas.

Jules: They don't eat brunch at all?

Vincent: Nah, too busy hiking and being wholesome. Probably something to do with the metric system.

Jules: So what do they eat?

Vincent: Fish and chips, except they use salmon instead of cod.

Jules: Salmon and chips. How about the Asian food?

Vincent: Asian food is Asian food, except the dim sum and sushi are better because it comes fresh outta the ocean down the street.

Jules: What about the Italian food?

Vincent: I dunno, we didn't go to that neighborhood because we at two meals a day at this bakery in Chinatown.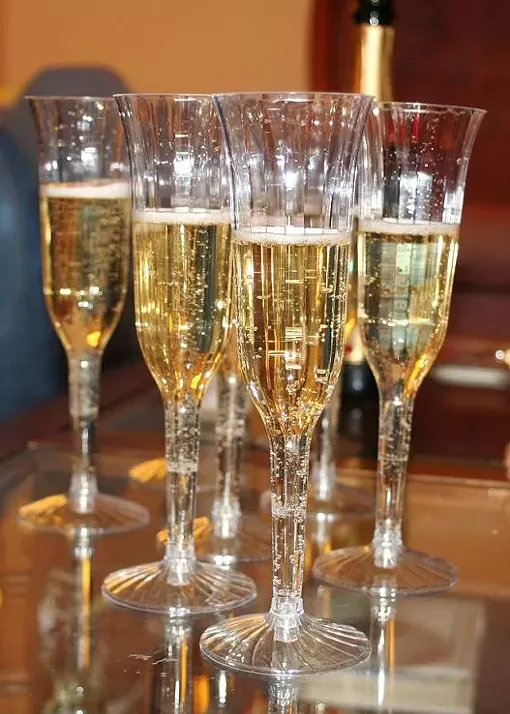 If this were baby Champagne, you could drink all of that.
One of the other small differences about British Columbia in general was the wide popularity/availability of a family of "baby" wines. I was somewhat disappointed upon purchase of a bottle of Andres Baby Canadian Champagne by the following:
1) Not made from real babies
2) Not necessarily designed for ingestion by babies
Instead, Baby Champagne is more accurately designed for mothers, most specifically for
my
mother: someone who would like to have a few glasses of a light, sweet sparkling wine with the same risk of intoxication as drinking a large Fresca. Baby Champagne has but 7% alcohol content, putting it on par with a stronger beer and at two-thirds to as little as half of the alcohol content of standard champagne. You could double-fist the stuff all through a
Lord of the Rings
trilogy marathon and still recite
Ulysses
from memory.
Wait, I thought Canadians were a beer loving people, surviving cold winters through group conviviality and barley. How did they end up with weak champagne? The same way we ended up with avocado shag carpet, burnt orange fondue sets and Cold Duck: the 70s. Wine producers wanted to broaden their market by competing with another major beverage market player -- not beer or liquor, but soda.
British Columbia, like Washington and Oregon to its south, produces an incredible variety of good wine, though the colder climate tends to favor rich reds and sweeter whites. After the better grapes have been chosen for the many finer wines, lesser ones get mixed together for the fun, lower alcohol "baby" wines that maintain a strong popularity. In many ways, they are the perfect sneaking wine because there's no need to even carry cups: just bring everyone their own bottle and drink straight from the source. It feels as decadent as something Marie Antoinette would do in a fit of pique, tossing a solid-gold shoe tree through one of Versailles' windows, say -- but with the lasting physical consequences of a series of hard sneezes.
Like the Baby Champagne,
The Hangover
is an interesting confection perfect for enjoyably passing time without fatiguing while pulling an all-nighter to catch an early flight. When it first came out, I was resistant to see it because it looked like another in a long line of hastily attempted bastards out of the bottled lightening of
There's Something About Mary
and Judd Apatow's literate stoners. These movies usually commit two crimes against me: the women, if they exist as any kind of characters at all instead of sexy plot-furniture, are heinous, shrieking, joyless vacuums where everything fun goes to die. Not that the male characters get it a whole lot better, but I have ovaries, and they resent that
particularly
. My primary complaint, though, is that the movies just tend not to be funny enough to justify all the teeth-grinding in the long spaces between laughs.
I'm happy to report that
The Hangover
left me looking for places to breathe between laughs rather than places to laugh between sighs. It's not going to revolutionize comedy, but perhaps it will eliminate paler imitators by leaving behind a trail of hilariously scorched earth. All you need to know about the plot is that nothing ever goes the way you plan at a Vegas bachelor party and Mike Tyson plays a pivotal role.
I can't be sure if it was that I was because I was unfamiliar with Canadian corks or because travel fatigue had dulled my fingers, but when I opened the bottle of baby champagne, it made a tremendously loud POP, completely unmistakable in a theater about one-third full of people.
I got the biggest laugh in the entire movie.
Dara Strickland is a leading expert on sneaking food and drink into the movies. She reports on her exploits for Gut Check (from an undisclosed location) every Monday.