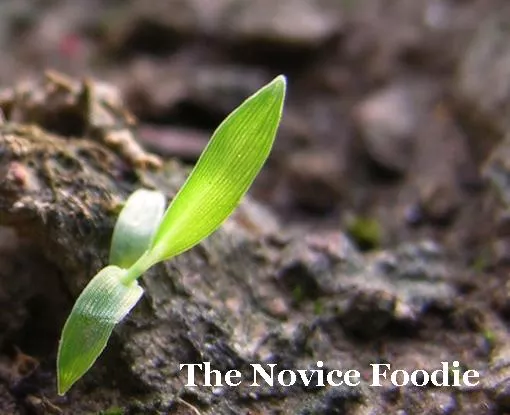 Kelli Best-Oliver is on a quest to become a full-fledged foodie. Beginning this week, she will chronicle her adventures for Gut Check. She writes about any damn thing she pleases at South City Confidential.

I have no formal culinary training. It's been ten years since I worked in a restaurant, waiting tables at a bar and grill in my hometown during college. I can't always afford to eat at the best restaurants in town -- unless it's lunch or a special occasion. But I love food. I love cooking from scratch, I love growing my own herbs and tomatoes, I love watching
Top Chef
, and I read
lots
of food blogs. I read menus online for fun.
Read: Geek for food.
I may be into food, but I'm not in the St. Louis food scene. You know,
the food scene
. The folks who refer to local chefs by first name only, dropping
Gerard
or
Josh
like they're Madonna or Diddy. Who champion an amazing foie gras special the same way they talk about tortas. Who know exactly which restaurant to recommend for any situation. Who cure their own bacon using closely-guarded recipes. That food scene.
So how does someone whose DVR is full of
Iron Chef: America
and who subscribes to
Food & Wine
, but who probably needs to sharpen her knives -- literally and figuratively -- become a bona fide foodie? How do I meet the men and women behind the stoves of my favorite restaurants? How do I know where the best banh mi sandwiches are? How do I persuade myself to eat things I might not normally try, or, better yet, cook things I think I've got no business cooking?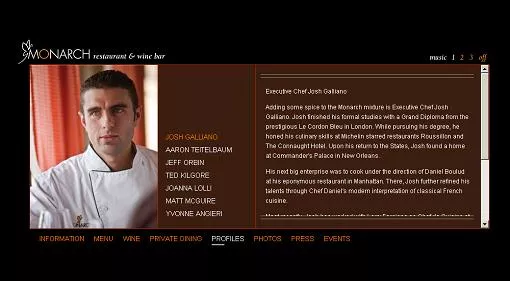 www.monarchrestaurant.com/
Plan A: Stalk the local food scene on Twitter. This is how I scored my first invite to a food event in St. Louis. Approximately one hour after tweeting that the
RFT
, in its infinite
folly
wisdom, had agreed to let me pontificate weekly on my road to foodie-dom, I got a direct message from Josh Galliano, the executive chef at
Monarch
, inviting me to Cook's Night Out the following Monday. I assumed this
had
to be a mistake. Why would I warrant an invite before I'd had a single word published outside of my own blog? Who cares either way? If a mistake, it was one I would nonetheless shamelessly capitalize upon.
Cook's Night Out is an annual dinner where local food industry folks get together for food, booze and socialization. Only a fool would turn down an invite to what basically amounts to an industry potluck. My good friends Kelly and Annie were also attending, so I would know at least a few people. I immediately began stressing about what to bring, telling myself that, at the very least, I could bring a cheese plate or booze, but knowing there was no way in hell I was bringing food I cooked myself to this veritable pantheon of St Louis culinary greatness.
Unfortunately, my workday on Cook's Night Out was harried and hectic. I didn't get home until about a half hour before dinner started, so I didn't have time to make food -- or be nervous. Luckily, Kelly saved the day by popping up her infamous truffled popcorn for me to bring, so I completely dodged the bullet in terms of having others undoubtedly identify me as an outsider, a downright imposter.
No matter. Serving dishes stretched as far as the eye could see (or at least to the end of the bar), an unbelievable spread of food. Beer and wine flowed. I ate pulled pork, banana pudding, chanterelles, pasta, berry shortcake -- the list goes on. It didn't take too many cups of sangria to realize that, just as St Louis itself feels so often, the food community is small and, for the most part, friendly. If anyone was snarling and saying, "What is
she
doing here?", they had the tact to say it behind my back without killing my buzz. Soon I was chatting up Mike Emerson of
Pappy's Smokehouse
, arguably the king of pork in St Louis. Turns out he not only grew up in my neighborhood, but he's a really nice guy.
The thing about food is that it's a commonality for people. I only "knew" Mike through his pulled pork and brisket, but we had no shortage of things to discuss once we got on the topic of restaurants on Ivanhoe. I met many awesome people: cooks whose food I admired, producers from whom I regularly buy food, bloggers, front-of-house folks, spouses and cooking educators. Once I showed my enthusiasm for their professions, everyone was more than happy to talk to me about what's going on in St Louis in terms of food. Granted, they may have shunned me a little more had they actually eaten something I cooked myself, but they certainly loved Kelly's truffled popcorn. That counts, right?