Alissa Nelson is a graduate student and compulsive buyer of cookbooks. She enjoys scouring seed catalogs and thrift stores alike. Beginning this week, she will seek the bounty of local farmers' markets for Gut Check -- and then cook it.
St. Louis, I have a message for you: Be grateful that you are not on the East Coast this summer.
I know it's hard. You've absorbed the sense of inadequacy. You've grown accustomed to bitching endlessly about the weather. You've accepted the trek to other cities for gigantic music festivals. But look at us! Right now! Farm Aid chose St. Louis as a venue this year because we have a vital farming community that embraces both biodiversity and small farmers, as evidenced by our growing farmers' market options in the metro area.
And perhaps most important of all: We have tomatoes. Lots of them. Dare I say we are bathing-suit-area-deep in tomatoes, while our friends up and down the eastern seaboard are lamenting the
Great Tomato Famine of 2009
. Not just red ones either; there are yellow and green and purple tomatoes, and tiny orange candy-like gems.
But before I go on, let me make a confession: I used to hate tomatoes. I would avoid them. I would take them off sandwiches and beg my mother not to include them in salads. And then I had a for-real tomato. It was fresh off the plant, it had ripened in the sun, and it was delicious. From then on (with minor bumps in the road), I learned never to eat supermarket tomatoes, and my summers were forever changed. Now I look forward to tomatoes. I grow excessive numbers of plants, and I scramble for uses. I eat them raw and cooked, alone and in combination with whatever I can get a hold of. And they are amazing.
And so I give you the height of summer, which my friends and family in New England can only imagine right now, in the form of gazpacho. It both perfectly highlights all that is great about fresh tomato flavor, and it doesn't involve turning on the stove when it's already ungodly hot. I want to give you a couple of options to avoid scaring you off, so please do let me know in the comments if you prefer more basic recipes, or if you don't mind my fanciful food-blogger flights -- because sometimes a girl just goes a little nuts at the farmers market.
Storage notes: Sometimes you will buy a tomato with cracked skin. This doesn't indicate that anything is wrong, and it can actually demonstrate an especially ripe tomato. To avoid quick spoilage, just leave it on your counter with the stem side down. For the love of all that is delicious, do not refrigerate your tomatoes! They will lose flavor and become mealy. So buy frequently and eat fast!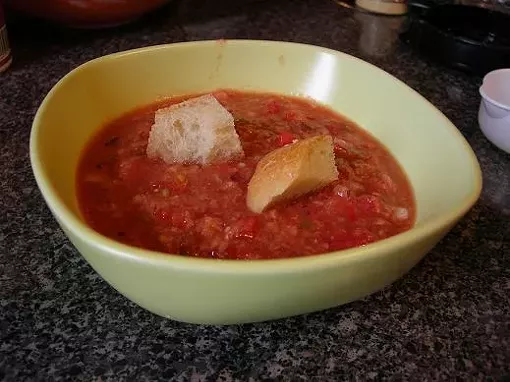 Traditional Gazpacho
This is a great use of bright red, juicy higher acidity tomatoes, so I wouldn't necessarily recommend the more mellow Cherokee Purples that I wound up using. Save those babies for a sandwich.
About 2 pounds tomatoes (6 medium)
2 tsp course sea salt
1 small green bell pepper
1 cucumber
2-inch piece of stale baguette (half-price day-old bread to the rescue!)
1 small red onion
2 cloves garlic, minced
4 tsp sherry or red wine vinegar
2 tsp hot sauce
1 tsp paprika

1. Core the tomatoes and cut them into thick slices, about a centimeter thick. Toss with the salt and set aside.
2. While the tomatoes are sitting, chop the rest of your ingredients into manageable chunks.
3. Purée about two thirds of the vegetables and all of the bread and garlic. Finely dice the rest, or just toss into the food processor and chop finely. Mix everything together in a large bowl
4. Add vinegar, paprika and hot sauce to taste. Chill for about an hour before serving.
Watermelon-Tomatillo Gazpacho
For this, I was facing half an uneaten watermelon, no barbecue on the horizon and a wealth of farmer's market booty. Tomatillos are especially great this time of year and are cheap! The banana pepper offers a light heat that isn't bracing. I like green zebra tomatoes and used a combination of those (from Three Rivers Farm) and some Great White tomatoes (actually yellow, from Earthdance Farms).
8 cups yellow watermelon chunks
3 medium yellow tomatoes
1 banana pepper
Juice of 1 lime
8 tomatillos
2 small green onions
2 tsp coarse sea salt

1. Roast tomatillos and onions under the broiler, about 3-4 minutes per side until lightly charred.
2. Put everything into a blender or food processor in reasonable batches and blend until smooth.
3. Mix in a large bowl and refrigerate until just cool (30 minutes max).