I graduated from high school in 1989. No, it wasn't in St. Louis, so don't waste time wondering which one. In celebration of blowing off my 20th reunion, and being two decades removed from the trying social experiment called high school, I decided to pull a wine from the 1989 vintage for this week's post.
Now, I didn't purchase this wine when it was originally released back in 1991 or so. Some wineries will cellar bottles at their facility and then release them years or even decades later. To my mind, this is generally a more reliable method of finding well-preserved older bottles than the auction market is -- although in fairness I've yet to experience a problem with poorly-stored bottles that I've purchased at auction.
Today's bottle is the 1989 Chinon Les Picasses from
Olga Raffault
. I purchased this about five years ago from Chambers St. Wines for around $40. At the time, the current release of Ms. Raffault's Chinon Les Picasses went for around $16, so this was not too steep a premium given that the property had cellared it for more than a decade at the time I bought it.
Chinon is one of the great locations for cabernet franc, which is unfairly much less popular than its offspring cabernet sauvignon (the other parent being the
white grape sauvignon blanc
). Cabernet franc rarely reaches the lushness or ripeness of cabernet sauvignon, but it showcases a more complex array of herbal, spicy, animal flavors, which make it an outstanding compliment to a much wider array of food. The climate in the Loire results in lower alcohol levels and higher acidity in most vintages, which add to cabernet franc's utility at the table.
I'll be delving into Loire cabernet franc in detail in a future post, but opening this older bottle allows me to touch on yet another complex and poorly understood wine ritual -- decanting. There are two benefits of decanting, one clear and easily understood, the other complicated and subject to myth, misconception and viciously-defended blind faith. I'll be decanting this bottle for the first reason: to separate the wine from the sediment that has formed over 20 years of storage.
Geoff Parsons, Wikimedia Commons
As wine ages, a number of substances precipitate out of solution, forming a deposit of solids in the bottle. The impact of these solids on taste is primarily aesthetic. They don't look nice, and they have an unpleasant grittiness to them. Decanting is an easy way to remove them.
The other purpose served by decanting is the introduction of oxygen into the wine through its agitation. This process seems (the science is severely lacking here...) to stimulate the release of aromatic compounds and soften the perception of tannins in the decanted wine.
There are numerous variations on the methodology for this sort of decanting. If you're not concerned about removing sediment, you can be as rough and tumble with it as you like. The more you decant the wine, and the more time that elapses between decanting and serving, the more impact it seems to have. I've run across wine folks who will triple decant (bottle into decanter, back into bottle, back into decanter) a wine in the morning and then leave it sit in their cellar until dinner that evening. There is a lot of leeway here, and you can experiment at will.
If you're not trying to remove sediment, any container will do for a decanter, as long as it is clean, dry and big enough to hold the contents of the bottle: decanter, carafe, coffee pot, measuring cup, vase, bowl, whatever. This technique works best with age-worthy wines that you can't help from drinking way before you should.
If you are decanting to remove the sediment, a duck decanter is the easiest to use. It can be found relatively inexpensively (unless you feel the need to stump up for a lead crystal one for some reason), and it's what I am using in the pictures below. The long, almost level neck of the duck decanter makes it very easy to see when the sediment approaches the mouth of the bottle.
Dave Nelson
Step 1: Remember to stand bottle upright. (For once.)
Decanting to remove sediment is an actual skill. However, with a few simple rules and a bit of practice you will soon be decanting fearlessly. The first step (and one I usually forget) is to remember to stand the bottle up vertically and let it rest before you decant it. It's best to do this a day or two before, but even a few hours will help, and a week or two won't hurt. This procedure allows gravity to settle any loose sediment to the bottom of the bottle, which will help guarantee its arrival towards the end of the decant.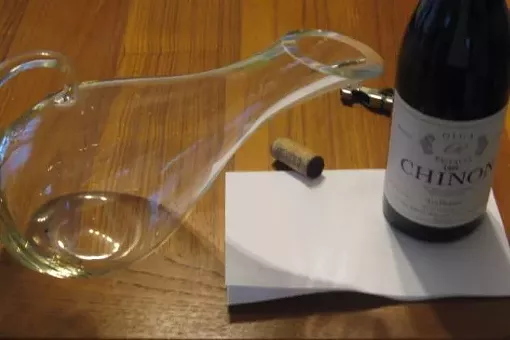 Dave Nelson
Ready to decant
Next, open the bottle gently, trying not to rouse the sediment you've worked hard to settle. Position the decanter so that you can easily see down through the neck of the bottle and the decanter to watch for approaching sediment. You can add a sheet of white paper below the spout to add contrast. If the bottle is very dark, or the light is poor, a flashlight can really help.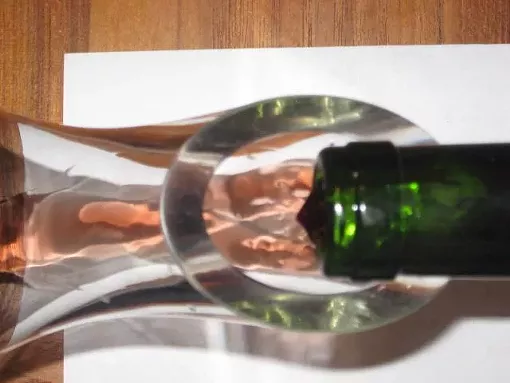 Dave Nelson
And we're off!
Now you can begin to pour. The key here is to pour slowly and steadily. You want to avoid "glug, glug, glug" as the disturbance is likely to rouse the sediment. Once you begin pouring, do not stop until you see sediment approaching. If you need to pause, you can gently tip the bottle up until the wine stops pouring, but do not tip it higher than necessary to stop the flow. As the sediment approaches, you can moderate the speed of the pour to trap more sediment in the shoulder of the bottle. Once you can't get any more wine without sediment, go ahead and stand up the bottle.
Dave Nelson
The sediment
Don't worry about the wine that's left in the bottle. You can either drink that while you're cooking -- or after the rest of the wine has been drunk and no one will likely care whether there's sediment in it or not. Theoretically, you could pitch it too. Or so I'm told.
So, how was the wine? Delicious, actually. And I'm willing to bet it was more interesting, compelling and memorable than my reunion would have been. Thanks for asking.
Dave Nelson is the author of the blog Beer, Wine and Whisky. He writes about wine for Gut Check every Tuesday.