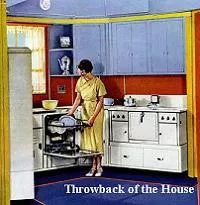 Todd Ehlers, Wikimedia Commons
Throwback of the House - Now on Mondays!
Good old Betty Sullivan. She was a 1965 Superwoman. Not only did she manage to make three squares a day for her six kids and husband, but she also maintained a busy career heading the test kitchen at Hamilton Beach. With so much happening in her go-go life, Betty somehow still had the focus to write
The Blender Way to Better Cooking
-- 200 pages of recipes, all requiring a blender.
I think Betty was probably mixing some pretty potent Mai Tais when she developed Jellied Chicken Loaf. I've seen variations of this disaster in many old cookbooks, but Betty's is the most pulverized and contains the highest number of unnecessary steps.
Soften unflavored gelatin in cold water in blender. Add hot water and chicken bouillon and take it for a spin with cooked chicken meat. Working mothers like Betty and I are far too busy to stir. Pour the chicken sludge into a bowl and chill.
Place cut-up celery, pimentos, onion, green pepper and parsley into the blender. We're way too busy for chopping, too. Mutilate the fuck out of it. Fold into semi-hard chicken sludge, place in mold and chill until hard.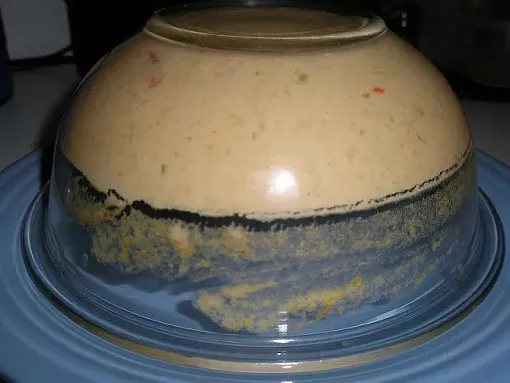 I'm sure my family would have starved if I was a mother during the Great Gelatin Era, because I can't unmold gelatin. This is the fourth gelatin-based recipe I've done for Throwback, and they've all been ugly and panic-inducing in their unwieldiness. My jellied chicken sat on a plate, upside-down, clinging to the mold with bat-like prowess for an hour before I held it aloft and shook until it made the twelve-inch drop onto the plate.
Have you ever taken a skanky old kitchen sponge, wiped it on a counter covered with chicken juice and veggies and then chewed on it? Don't. You can get the same experience by eating Jellied Chicken Loaf, which is slightly safer. Any remaining members of the Gelatin Generation can still enjoy Jellied Chicken Loaf, because it doesn't require things like chewing. Or digesting.
The good news: one serving has only 110 calories. This doesn't account the calories that will come from the ice cream and rum you'll need to erase the experience from your palette and mind. Hey ... you could put that in a blender.
Robin Wheeler writes the blog Poppy Mom. After years of making and eating fancy food, Robin is sick of it all. She's returning to the basics: recipes that haven't surfaced in three decades. She reports on the results for Gut Check every Monday.